When my husband and I asked our children if they wanted to spend the week at the desert or the coast, 3 out of 4 said ….THE DESERT!!! We were not sure if we would have enough things to keep us entertained for a whole week. So just to be on the safe side we planned to stop by a few places before and after Anza-Borrego. Silly us because Anza-Borrego Desert State Park is the largest state park in California so it is bound to have lots of things to see and do. This park has interesting and unique things for everyone to discover. If you have never been to this park or have a limited of time to spend at this state park then below are 5 must see places in Anza- Borrego.
Pumpkin Patch at The Nearby Ridges of Ocotillo Wells State Vehicular Recreation Area:
To get to the pumpkin patch you will  first pass 17 palm springs as well as 5 palm springs. We took our time to get out and enjoy both of the palm oasis. The desert can get very hot so when we finally reached the palm trees and found some shade our children and I could not help but do a little line dance. 🙂
Go north by taking the Cross Over Trail driving from S-22 to Tule Wash.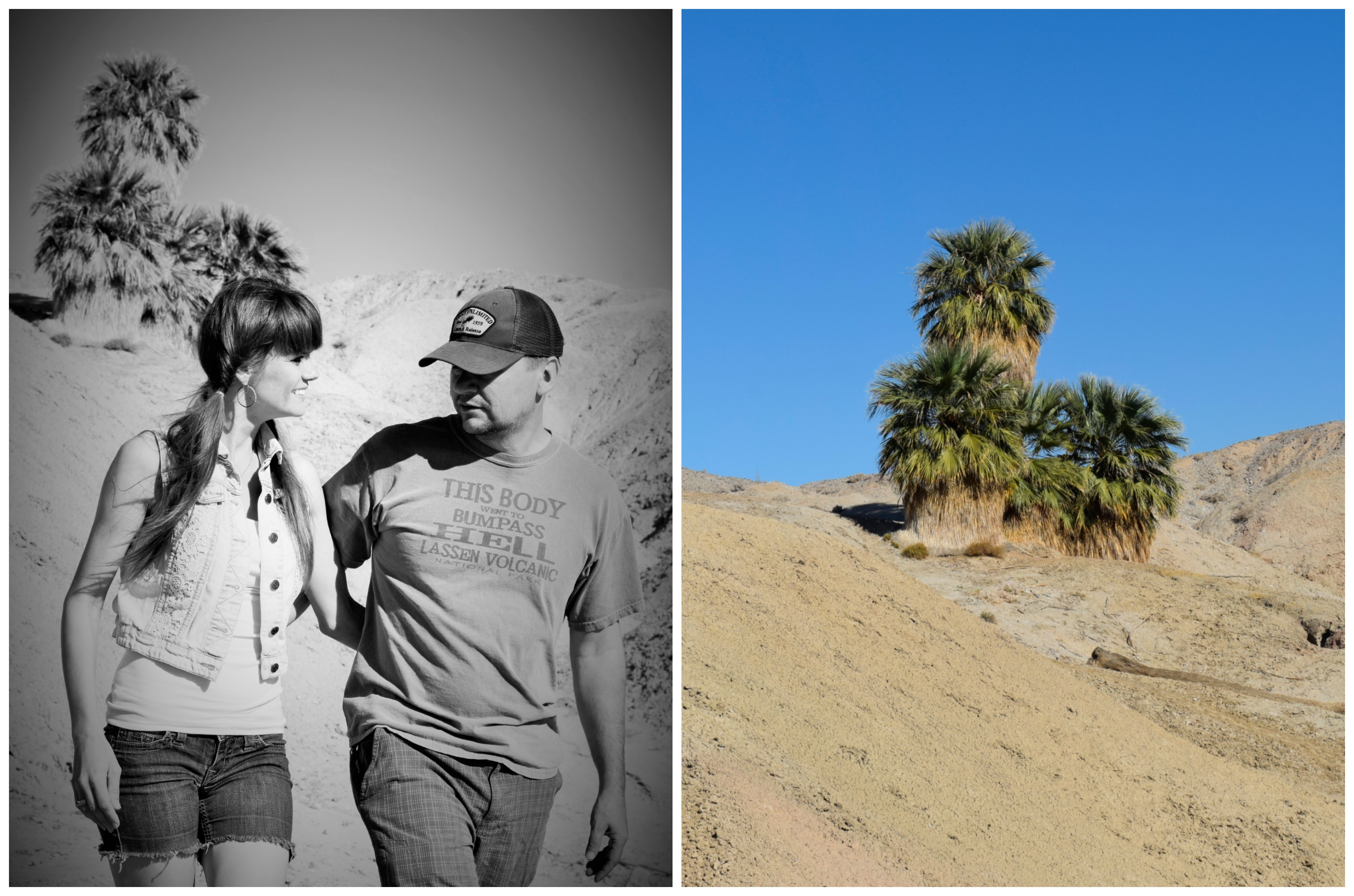 This pumpkin patch is nothing like we have seen before.
You will find a sign that reads… "This unique landscape is the result of wind and water continuously eroding the surface soil and revealing these globular sandstone concretions. Such concretions are beloved to be formed by the natural cementing of sand particles to a small object such as a piece of shell, a grain of sand, or even an insect. " We had a great time sitting around in a circle and sharing made up stories on how this pumpkin patch appeared. Our girls also found a concretion man which they enjoyed decorating.
Palm Canyon Hike:
If you want to see the largest palm oasis in California then this is the place to do it at. It is a pretty neat sight to see since you do not expect to see palm trees in the desert.
To get here you need to go north of the visitor center past the campground. You will see a sign that reads Palm Canyon trail. Grab a pamphlet and start walking. This loop is over 3 miles long. There is plenty of wildlife to see especially the closer you get to the palm oasis. This trail is also known for a great place to spot the Bighorn sheep. This is a popular hike and you will come across plenty of other hikers along the trail.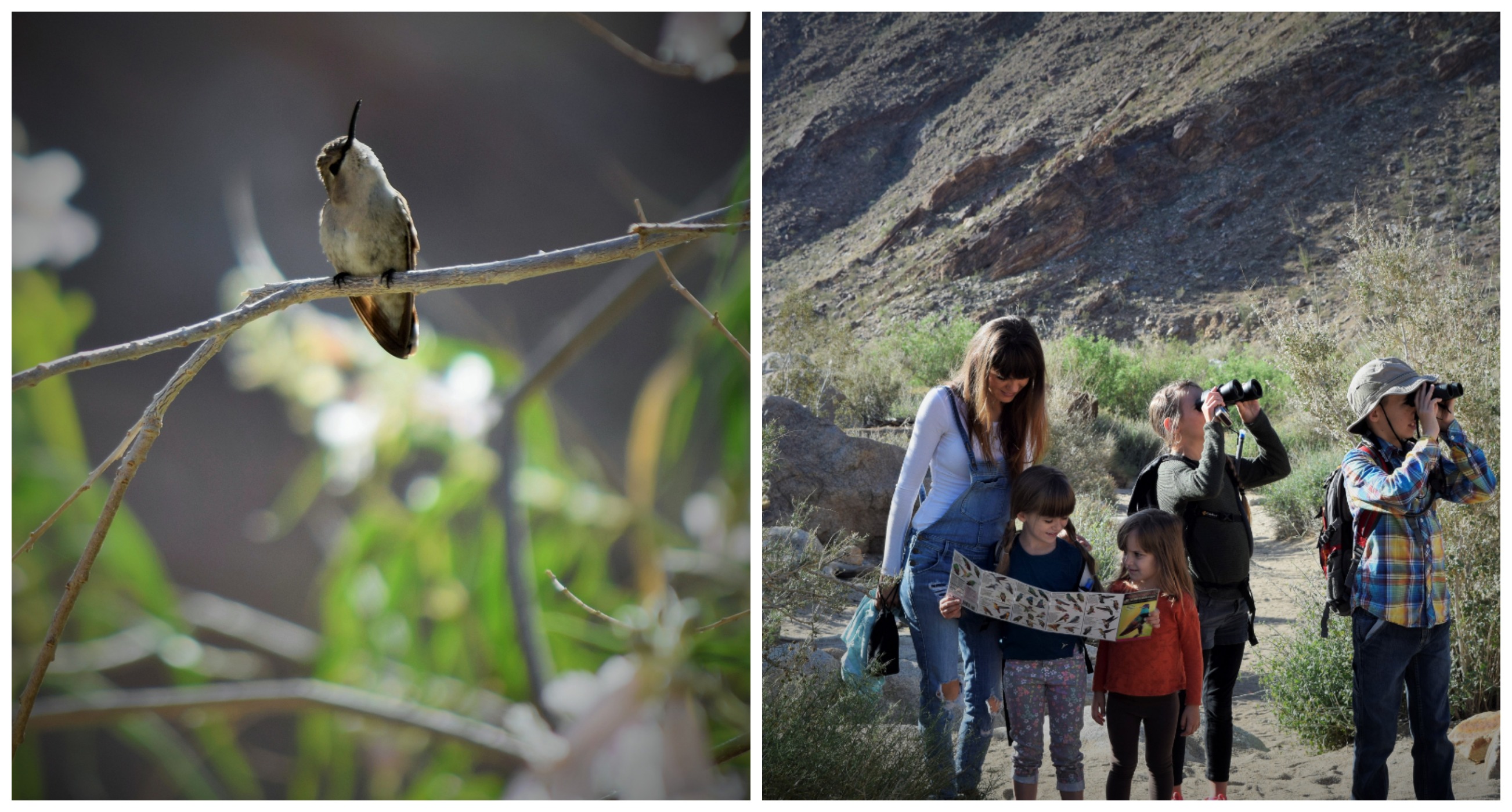 Slot:
The name says it all. This narrow opening will remind you of a maze. A maze that is no more than 1 mile long but one that will give you an amazing canyoneering experience. On this hike you will have to navigate yourself around rocks and bends of the canyon walls because at some spots the canyon is less than 3 feet wide. As you walk past the slanted rock bridge above you, you will ask your children not to touch the walls, scream, or run fast underneath because it looks as if at any second the rock will collapse onto you and you would relive the 127 Hours movie for yourself.
To get here turn left on Route 78 East for over 1 mile and then turn left to Buttes Pass. In about another mile you will need to turn left again onto Borrego Mountain Wash. The parking area will be up the road in about another mile. You will need to go down the canyon which is right across from the parking lot.

Wind Caves:
Wind Caves are not limited to age because everyone who sees the playground is bound to explore every hole, crack, or hiding place. Wind Caves overlooks Carrizo Badlands.
To get here you need to turn right on Fish Creek Wash Area. There will be a sign that will say Fish Creek Wash Area, Split Mountain. Keep going down the wash for less than 3 miles. Remember to keep moving at a constant speed so that you will not get stuck. The drive in it self is worth coming to Wind Caves. You will see a sign on the left side that reads Wind Caves just after you exit the large mountains. It is not a large sign and can be easily missed if you are not paying attention. This hike is only 1.25 miles long and you do have to hike 250 feet up hill, which is not difficult to do even for a 4 year old.
We also found a great place to work on some addition problems. We felt as if we went back in time and did math the way it was done many years ago.
Front Point:
If you are able to see only one thing at Anza-Borrego then I would have to say that Front Point is that one place. Have you longed to see Grand Canyon but still have not had the chance to do so then come to Front Point because its nickname is California's Grand Canyon. Here you will see the best views of the badlands with little work at all. To get here you only need to drive 4miles south from the Borrego-Salton Seaway. Four-wheel drive is highly recommended.