Do your children ask you to spend time with them? I get asked every single day from each of my children. Sure I'm home with them all day and we do so many things together but it is not the same as spending time because spending time involves doing what your children are interested in. When I was a young mom I believed I was a good mom because I drove my son to so many activities but I was wrong because I was stressed out and had rushed my son from one activity to the other leaving very little or no time to play with him. I'm so sad to share with you that I had complained in the past that my children wanted to spend time with me. I was so wrong. I shared with other mamas and asked others if their children want to spend time with them and just about everyone I spoke with told me that their older children hardly ever wanted to spend time with them. I started thinking that there must be something wrong with my children. How wrong have I been. They ask to spend time with me because they know that I would most likely say yes. They want to spend time with me not because there is something wrong with them but because they enjoy our friendship. Our children feel loved and important when we spend time with them. The kind of spending time that has no hidden agenda. Adolescents need adults because by observing and interacting with us they learn how to become adults.
That is why we love traveling because we are able to simply enjoy each others company while taking in the new sights, experiences, and places.
We had such an amazing time in Astoria and will never forget acting out scenes in a movie set, learning how it feels to be a weather man, experiencing the high winds of a tornado, and sleeping under the bridge.
 Museums
Oregon Film Museum:
This county jail is the building in the opening scene of The Goonies and being one of Oregon's most popular films a proper place to host The Oregon Film Museum. The county jail opened 1914 and stopped operating in 1976. Then in 2010 to celebrate 25 years of The Goonies, The Oregon Film Museum began. As you walk towards the museum you will see a replica of the Jeep Cherokee which was used by the memorable Goonies villains. This museum contains all the memorabilia for The Goonies and when I say that I mean all of it. There are also sets for multiple films filmed in the State of Oregon which you can act out. Movies such as Short Circuit, Stand by me, Teenage Mutant Ninja Turtles 2, and many more have been filmed in Oregon. There is also a replica for the opening jail scene which is ideal for photos. This museum is surely a must see for any Goonies fan.
If you have wanted to be on a movie set this is the perfect place to experience it. You can read the lines and act out the movie parts from The Goonies, Come See The Paradise, and Short Circuit. We laughed so hard and had a blast making up our own lines. The cool part is that you can record all of this and have it sent to your email.
Located at 732 Duane St, Astoria, OR 97103.
 Heritage Museum:
This is a pretty small Museum. It used to be a City Hall. There are two floors with a variety of diverse exhibits. You'll learn about the Native American and before the European settlers got here, the early pioneers, John Jacob Astor, the Chinese Community, the Astoria Bridge, and you'll see a Saloon Bar. If you want to learn the history of Astoria then you don't want to miss this museum. We loved that the exhibits had something for our children as well as for us.
Located at 1618 Exchange St, Astoria, OR 97103.
 Flavel House Museum:
This beautiful Victorian style building was constructed in 1885 by Captain George Flavel which is 11,600 square feet in size. George Flavel was one of the first millionaires to live in Astoria and sadly died in 1893, 8 years after building his home. The home stayed within the family until 1933 when his last child had passed away. Today it is a historical home owned by the Clatsop County Historical Society.
Located at 441 8th Street Astoria, OR 97103.
Columbia River Maritime Museum :
This is a great museum with lots of hands-on learning experiences for children. You'll learn how the Columbia River meets the Pacific Ocean and all the danger the sailors have to face especially when weather is not on their side. If you or your child ever wanted to be a weather reporter you'll love giving the weather forecast. We were surprised to learn so much about weather. You can learn about hurricanes here. For an additional price you can watch a 3-D Hurricane movie.  You can also experience the winds in a hurricane wind simulator. You could easily spend half a day here. After visiting this museum you sure will have profound respect for the U.S. Coast Guard.
Located at 1792 Marine Dr. Astoria, OR 97103
Must See
The Astoria Column :
We were so fortunate to have come on a clear morning. The scenery from above is so worth all the 164 steps it takes you to get up this 125 feet high column. You'll see the city below, Columbia River, Astoria Bridge,and Pacific Ocean.
The column is rich with murals of Astoria's history.  You'll see Indians greeting the explorers, Lewis and Clark crossing the mountains, and so much more.
It is windy up here and if your afraid of heights you might not want to be up here for too long. We read that a man jumped from this column on a speed glider and was arrested because of it.
Located at 1 Coxcomb Dr. Astoria, OR 97103.
Maritime Memorial:
When you're in a town that celebrates sailors and fisherman you could expect an memorial. The Memorial is placed in a significant location because it's right on the waterfront where you get to see the open waters right in front of you and it's right near the Astoria Megler Bridge so you also get a great view of the bridge from this spot. The memorial is a great reminder of how short our life really is. This memorial honors those who labored in the maritime industry. The bar pilots who guide other ships safely in and out of the Columbia River Bar have an extremely dangerous job since they have to cross a fast flowing river that is three miles wide and six miles long.
Located at 10 Bay St, Astoria, OR 97103.
Food
 Baked Alaska:
This is a great pizza place offering brick oven pizzas.  The location is right on the pier with windows all around. We ordered two pizzas and enjoyed them very much. On top of your pizza you'll receive a handful of amazing potato chips. They also offer a variety of brick oven sandwiches, soup, salads, small plates, and dessert.
1 12th St #1, Astoria, OR 97103.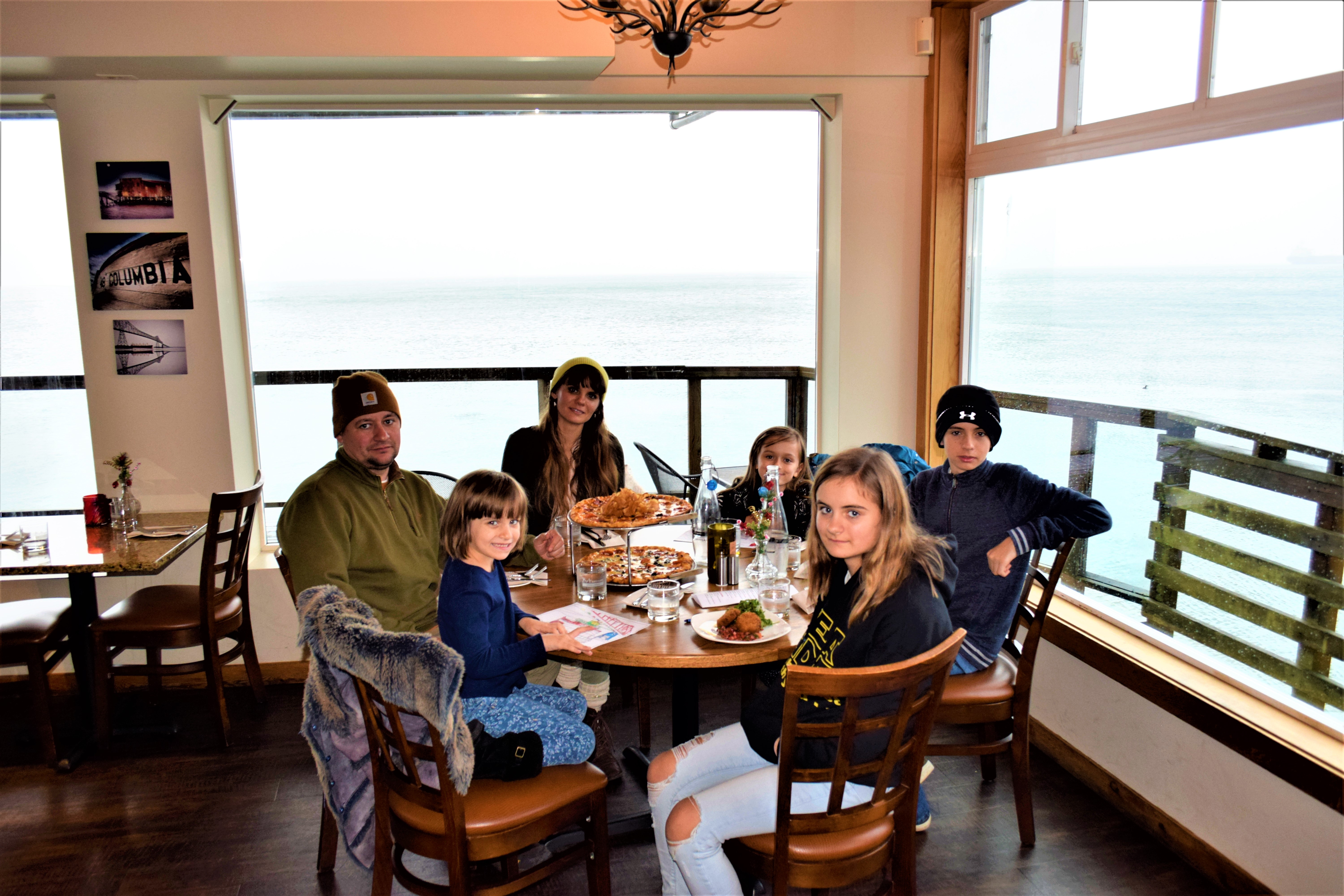 Bridgewater Bistro:
Another place with a great view of the water Bud from this location you also get a great view of the bridge that connects Oregon and Washington all the food was great and tasted really fresh but I really loved their house salad it was the best salad I've had in a long time. Their clam chowder was so good. I've never had one that tasted this unique.  We finished all our food because it was so good.
Located at 20 Basin St. Astoria, OR 97103.

 Buoy Beer Company:
Great tasting beer, good food, and beautiful view. As you enter the restaurant you will want to look down because there is glass on the floor where you are able to see underneath the docks and you can see sea lions just chilling. They offer a variety of local fresh seafood. We ordered a sample of their beer which is perfect for those who want to sample what they have to offer.
Located at 1 8th St, Astoria, OR 97103.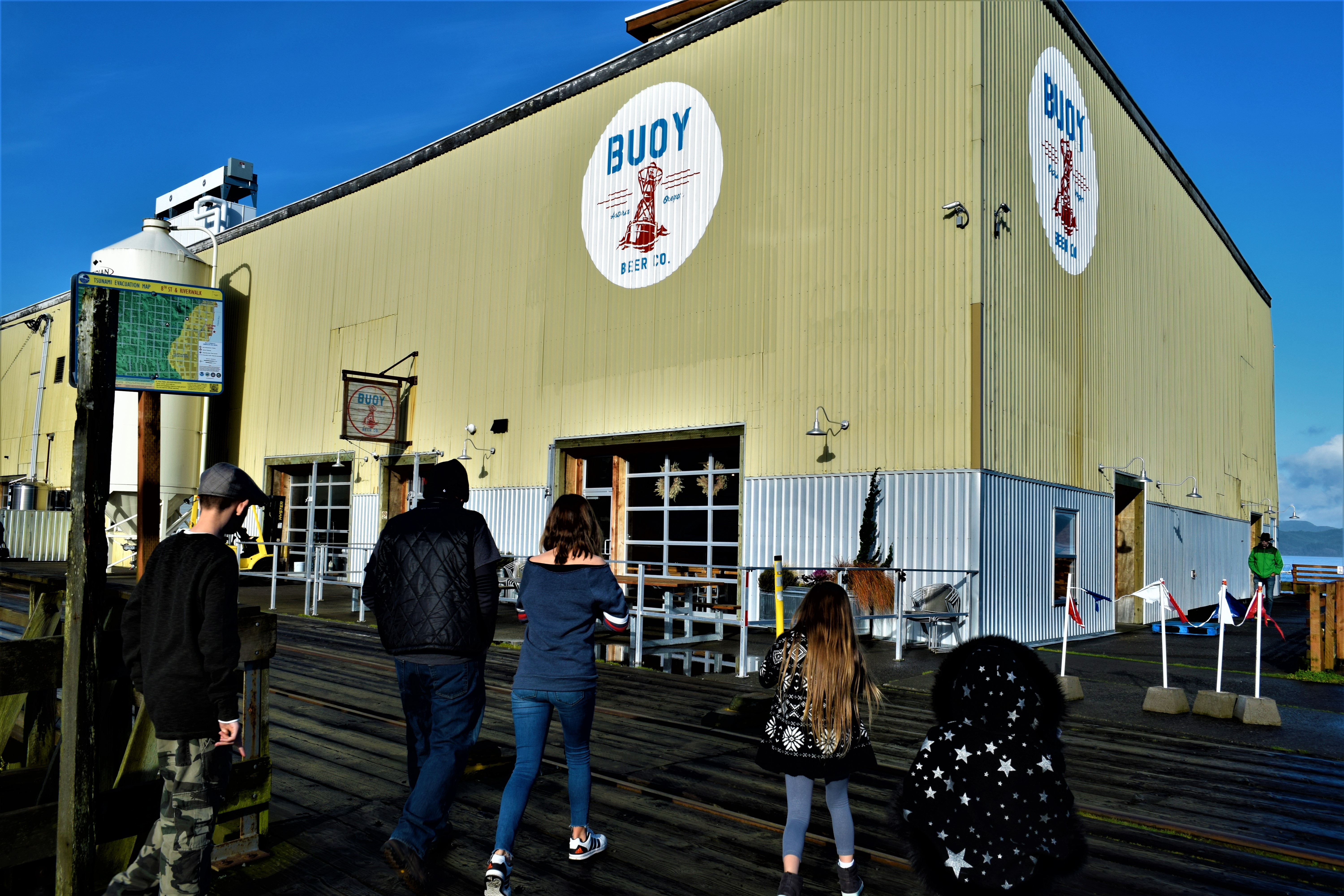 Frite & Scoop:
You can never go wrong with ice-cream. This is such a cute and friendly ice cream shop. Esther got bubblegum ice-cream. You can choose from sixteen different ice-cream flavors.
Located at 175 14th street, Astoria.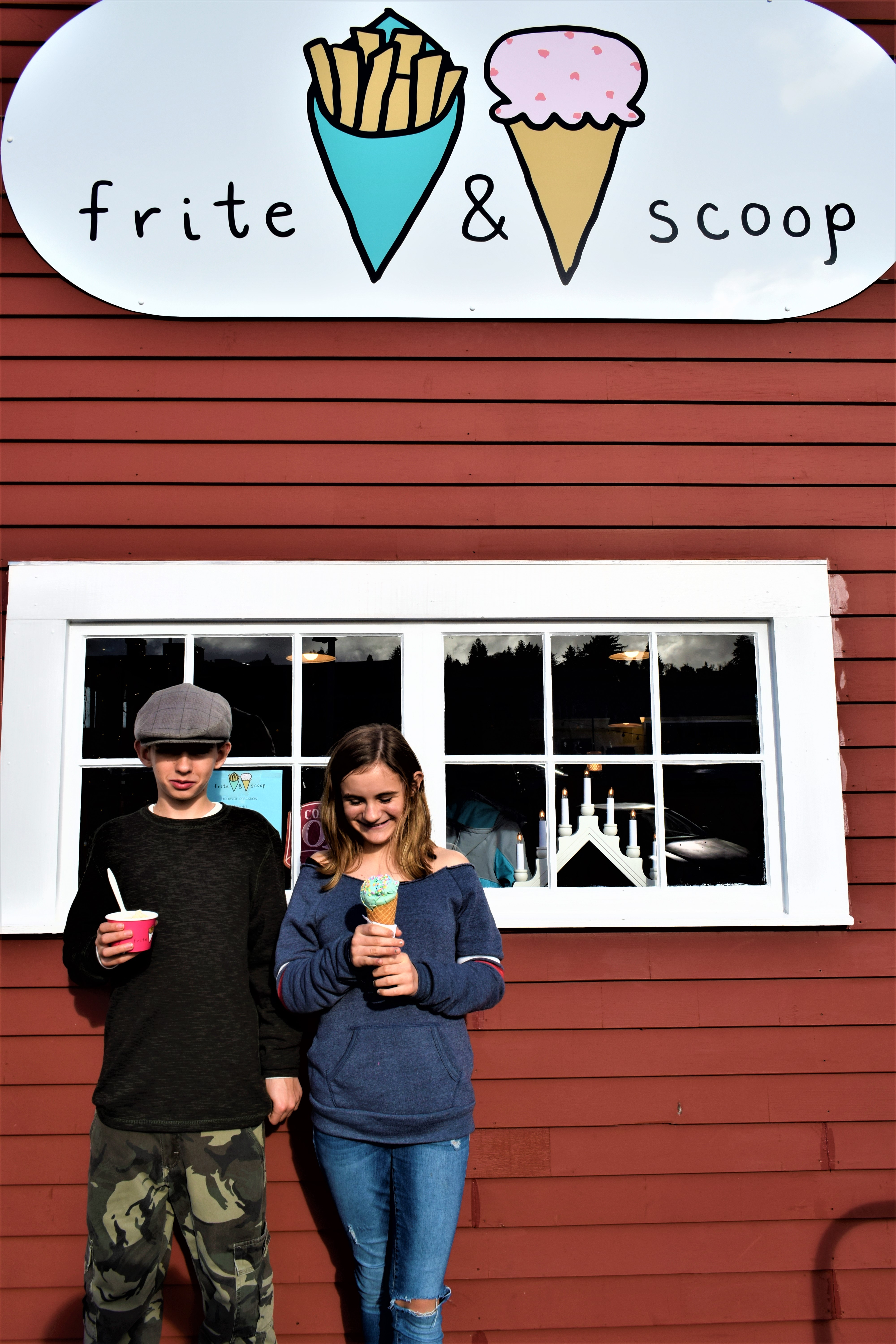 Hotel
Holiday Inn Express:
Have you ever slept in a fancy, warm, and clean place under the bridge? You can do that in Astoria and surprise everyone with the news that you have slept under the bridge. Astoria bridge as well as the historic river front can be seen right from your room. There is a wonderful walkway that connects you to some amazing restaurants and Maritime Memorial.
The rooms are spacious and clean. We had two connecting rooms which works so well for us.
Thank you for reading our post. We share a new post every Tuesday and Thursday at 8pm.
Thank you Travel Astoria for hosting our stay.