What draws you to the beach? Is it the sound of the waves crashing, the sight of such a large body of water infront of you, the idea of running barefoot without a care in the world, or the tug in your heart reminding you that God is great and has everything in control? When the word vacation is brought up our mind suddenly drifts to a fond memory at the beach.
With so many beaches to choose from here is a list of 4 beaches in California that you don't want to miss.
Black Sands Beach:
This beach has black sand. Ok, I know the name gave it away but still black sand is pretty neat. Also, not too many people know about this beach because we only spotted a few fishermen. You have to hike down to get to this beach. Its a short hike but is a bit steep and you might feel it going up. Towards the bottom there are wooden steps. We loved that it was partially sheltered from wind. I'm not a big fan of wind.You can also see Point Bonita Lighthouse from the distance. We have heard that this beach is clothing optional however, we have been her twice (first time with hubby) and both times everyone was clothed.
Black Sand beach is located at Conzelman Rd Sausalito, Ca 94966. Once the road becomes a one way road, you will want to turn left on the first parking lot you see.
" Joy does not simply happen to us. We have to choose joy and keep choosing it everyday. "

-Henri. J.M. Noumen.
Pescadero State Beach
Who says that playing at the beach can't be fun or educational during a storm? If the storm is big enough and there is a lot of muddy water coming down the creek you can actually see how the fresh water and salt water mix together. A great place to see this is at Pescadero State Beach which is located
right where Pescadero Creek and Butano Creek come together and fall into the ocean.
We were fortunate enough to see it after one of the biggest storms that hit California in a long time which sent crazy amount of water rushing towards the ocean. It was super muddy so you could totally see the mixing of the water and you can watch it going away with the current way off the shore. You could also see right off the mouth of the lagoon the force of waves coming in from the ocean and clash with the flood waters that are coming down the creeks. So instead of the waves crashing into the shore they are crashing in off the shore into the flood waters.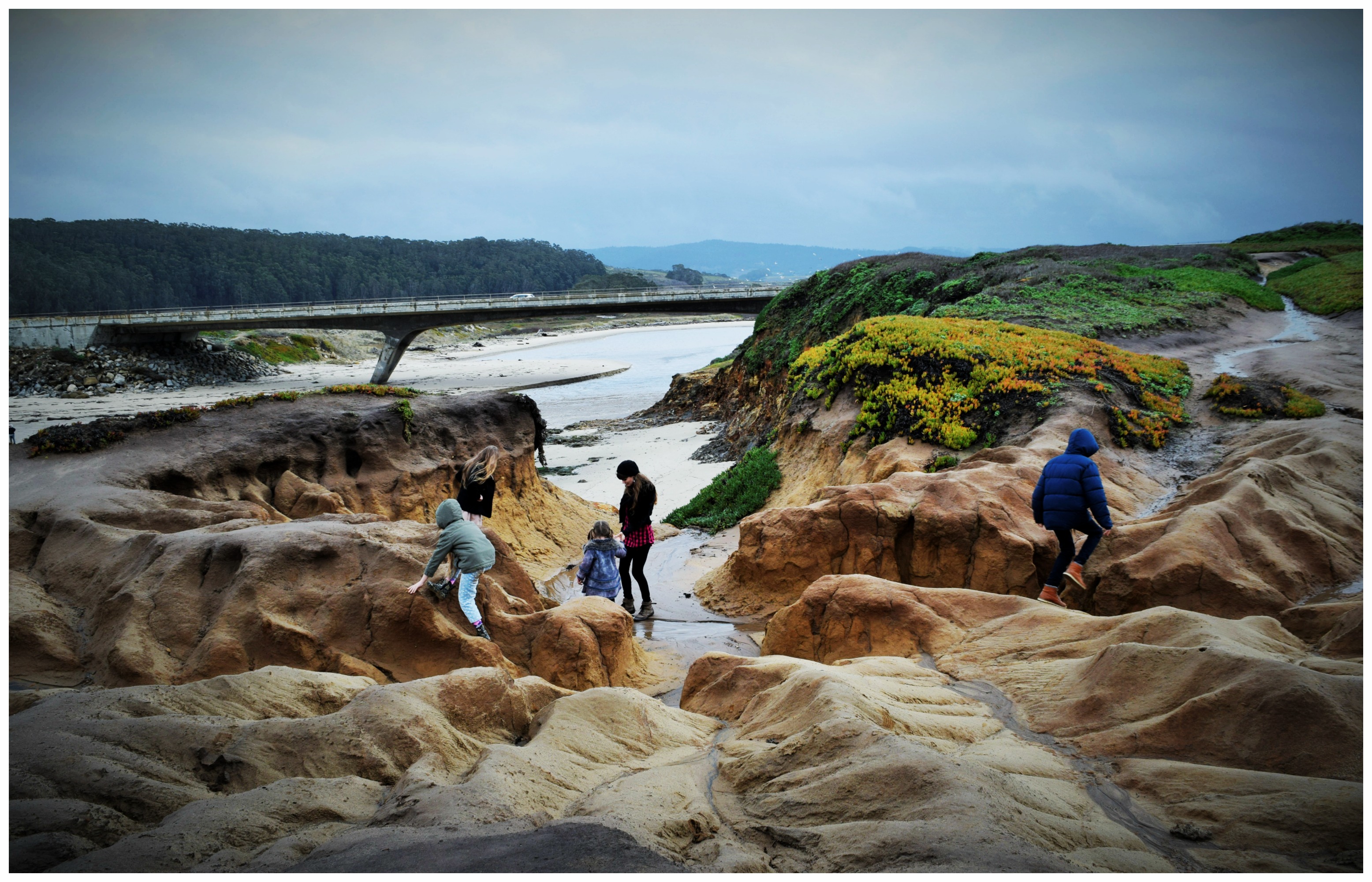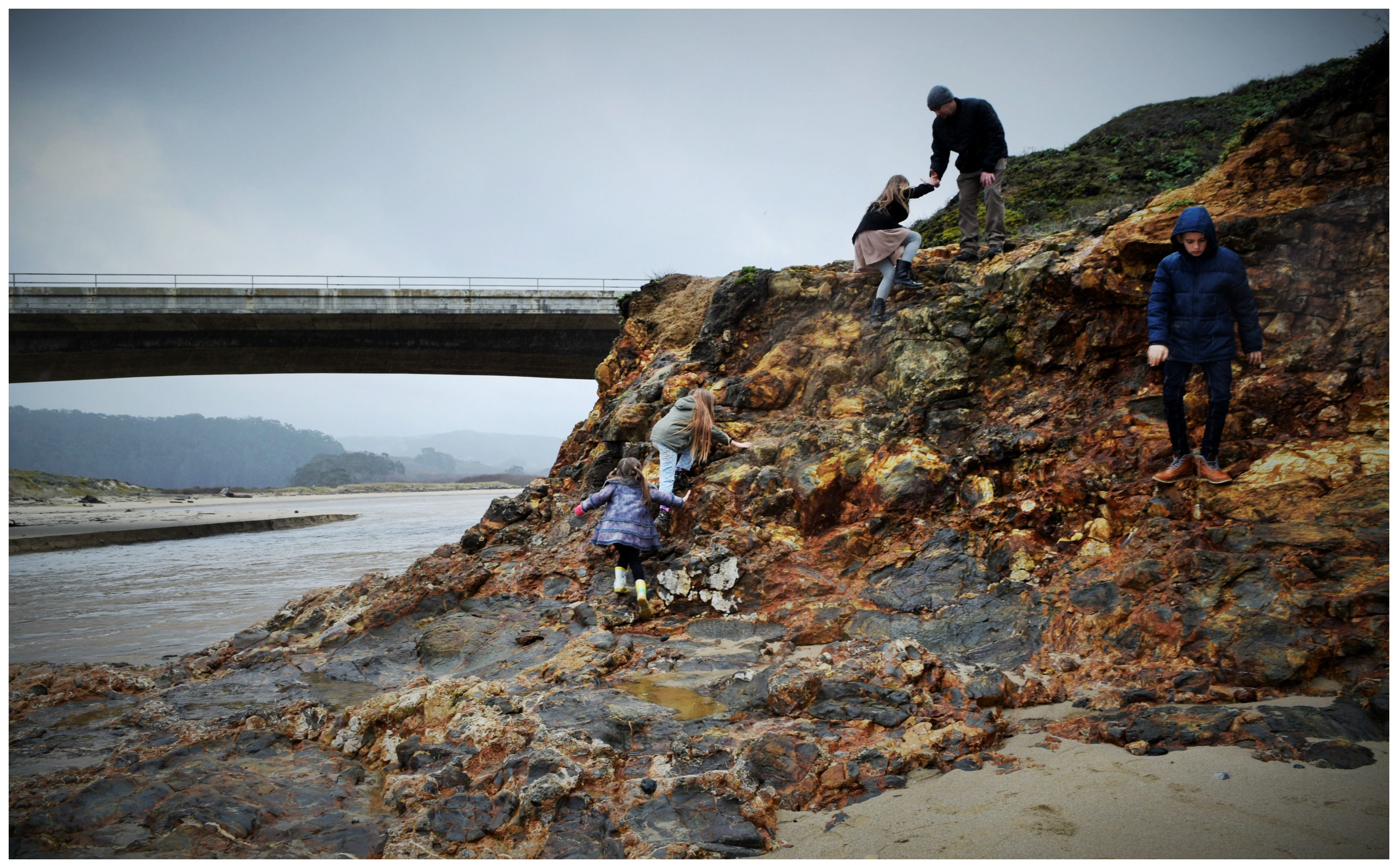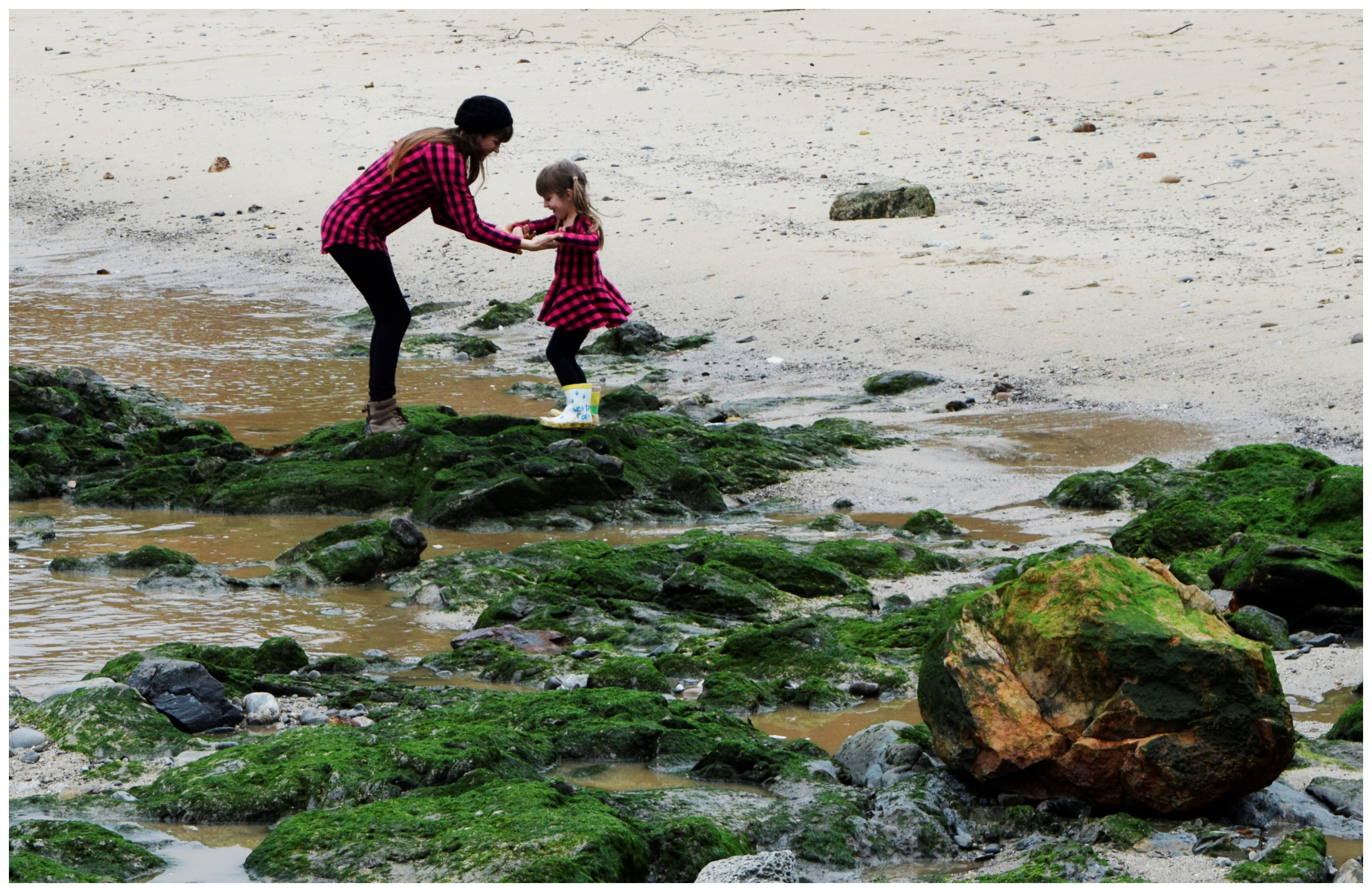 Our beautiful pink-squared shirts are from http://www.sewchill.com . You can receive 15 % off your purchase if you buy something on Jan 24,2017. Use the code scfriends15 to receive 15% off. I loved these shirts. I love wearing leggings but I had a hard time finding shirts that covered up.
Rodeo Beach:
This beach has Jade. Yes, you will find small particles of Jade on the ground. Waves hit the beautiful large rock formations and some are even brave enough to climb these rock formations. Some of the large rock formations are hangout places for birds.  This beach is far more crowded then the black sand beach but there is still enough room to run and play in the cold water.
We hiked around Rodeo Beach and saw the fresh water lagoon where if you love watching birds then this is a perfect place for you because on a good day you can see a pelican, tern, scoter, loon, hawk, and many more amazing birds.
Address: Ggnra at Marin Headlands, Sausalito, Ca 94965
Goat Rock Beach:
This beach was one of our favorite. It is so beautiful and there is so much to see. First of all it is right near the Russian River so you will be able to see where the freshwater meets the saltwater. You can also watch a colony of harbor seals as they mate and take care of their pups. On the other side of the beach you will find a place where you can search for crabs, starfishes, clams, and more. This is also where you can see the Arched Rock which was formed by waves.
Swimming is highly not recommended on the ocean as well as playing in the water on the North end of the Goat Rock Beach. However, you can swim on the river side but I have to worn you that the water is cold. This beach has warm sand, at times too warm to have your shoes off.
This beach is located on Highway 1, between Jenner and Bodega Bay, Sonoma, California.