There is so much to see and learn in one beautiful preserve. You get plenty of history, wild life, and stunning views while you get a great workout going up and down rolling hills of Black Diamond Mines Regional Preserve.
This preserve was once the biggest coal mining operation in California. As much as 4 million tons of coal was removed from the earth, hence the name Black Diamond. There are 65 miles of trails to explore, walk, or bike on. This is a 6 mile round trip hike with a elevation gain/loss of 1,450 feet. The trail is well marked and a pamphlet is provided at the visitors center.
We learned that 50 million years ago Black Diamond Mines Regional Preserve looked like a beach. Then over 100 years ago Somerville was home to 900 people who worked on the coal mine.
Coal was mined from 1850s to the 1900s here. This coal was used to heat homes and power steams engines.
Knobbers was the name used for boys (as young as 8 years old) who worked in the coal mines.
After the coal mines closed at Black Diamond Mines Regional Preserve sand mining began here from 1920s to 1940s. You can actually tour the sand mines but only a few times during the year and children have to be 7 years of age.
It is amazing how once this place was a dangerous work place for so many boys and men and now it is a place that so many are able to enjoy.
Coal is a sedimentary rock made of carbon and hydrocarbons. It takes millions of years to make coal because coal was formed from plant life which was buried in the earth millions of years ago.
Coal is used to produce electricity in manufacturing facilities as well as making steel.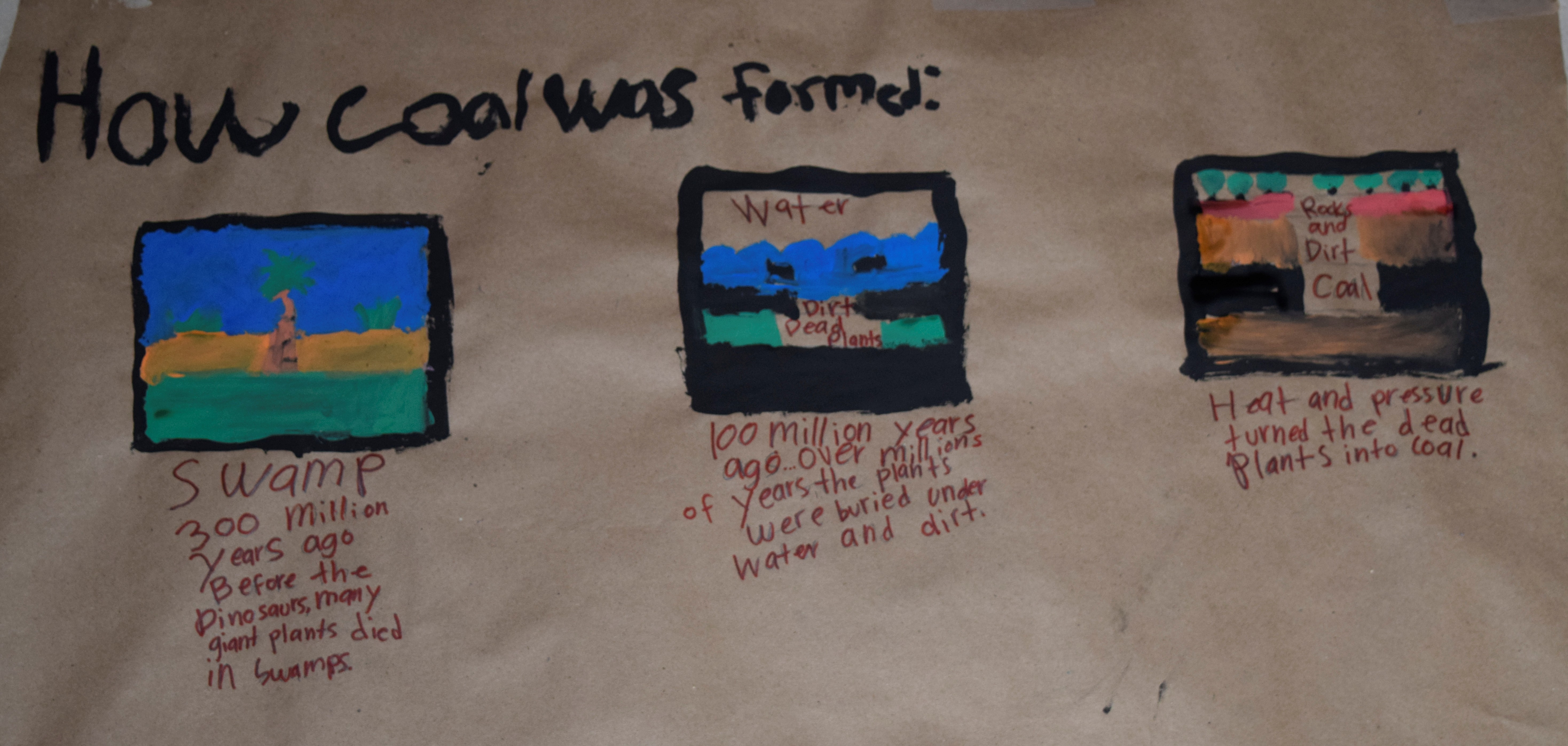 Making Crystals from Coal:
Do you want to know what mining families did for fun with their coal? They made coal flowers or crystals.
What you need:
-3 tablespoons of salt
-3 tablespoons of ammonia
-6 tablespoons bluing
(mix the above ingredients together)
-pan
-spray bottle with water
-food coloring
-8 charcoal pieces
Place 8 pieces of charcoal in a pan. Pour the salt, ammonia, and bluing mixture on top of charcoal. Add food coloring to the charcoal. Spray water on top of the charcoal. You can also do this with crushed charcoal. I think for better results it is best to get the charcoal completely wet then shake off the water and place on the bowl and proceed as described above. The below pictures are after 7 hours of mixing the solution. You want to add more of the salt, ammonia, and bluing mixture in two days. I recommend wearing gloves and doing this outside due to the smell. This is so beautiful and fun to watch. Who would have thought that something that looks like ashes can be turned into something that looks like crystals.