I know this might sound weird but this was the first time we ever had cobbler. Cobblers are American deep-dish fruit desserts with a thick crust and fruit filling. This dish is full of taste and not so big on looks. Cobbler all started when early settlers of America had to improvise with what they had. This was often served as a breakfast dish. It was in the 19th century that cobbler was considered a dessert.
Have you heard of Fruit For Thought? Well this amazing company delivers Fruit For Thought Boxes to your door every other month. The June/ July theme is blueberry peach cobbler. The August/September theme is pink lemonade.
This box smelled so yummy and the organic peach cotton candy was so good that there was barely any left for mom to try. 🙂 You can order your box at https://fruitforthought.cratejoy.com. Use the code GROW10 and receive 10% off your first month.
What is included in the June/July box :
-blueberry basket flour sack dish towel
-blueberry peach shortcake pedicure kit
-blueberry lip balm
-fused stained glass trinket dish tray
-peach cotton candy
-peach shampoo and conditioner
Spa Pedicure:
This was such a treat. Our girls absolutely loved getting a pedicure from big sister. It is important to teach children to learn to take care of themselves. This spa pedicure is free of sulfates, parabens, and mineral oil.
Girls first filled the foot bath with warm water. Then they dropped the Foot Bath Bomb (this was included in the box). They soaked their feet for 5 minutes.
They then removed one foot at a time and Esther applied Solid Foot Scrubs (included in box). Once this was done to both feet the girls removed their feet and dried their feet off. Then they applied the Activated Coconut Charcoal Foot Mask (included). They let the mask sit for 5 minutes. They then applied Light Weight Cream (included). They loved it so much and it was such a joy to watch our eldest daughter Esther love and take care of her two younger sisters feet.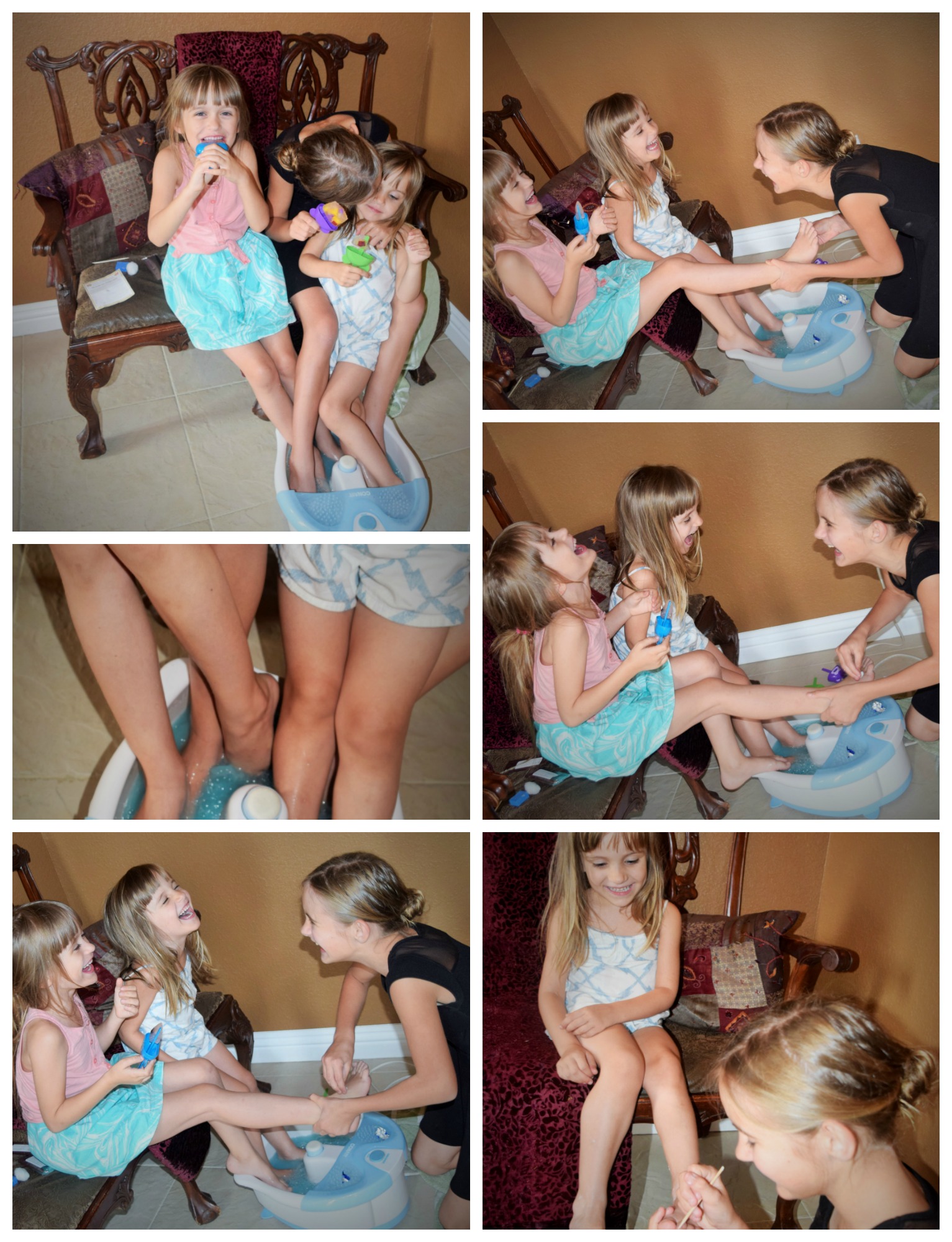 Picking Blueberries:
My incredible hubby took a day off and took us blueberry picking. There is something so magical about picking your very own berries. We went to Bolster's Hilltop Ranch which is located at 2000 Larsen Dr. Camino Ca. They are opened from 9am until 4pm. They have an abundant amount of blueberries.
Blueberry Peach Lemonade Popsicles:
What you need is freshly squeezed lemon juice, water, sugar, chopped up peaches, and blueberries.
Add sugar to slightly warm water. This helps sugar dissolve better. Squeeze 2 lemons. Place fruit in you popsicle molds. Add your lemonade mixture to the fruit. Freeze and enjoy.
Blueberry Peach Cobbler:
What you need:
5 pounds of peaches
2 tablespoons of fresh lemon juice
1 cup granulated sugar, divided
3/8 teaspoon salt, divided
1 1/2 cups of flour, divided
cooking spray
1 teaspoon baking powder
1/2 cup butter, divided
2 large eggs
1 teaspoon vanilla extract
3/4 cup buttermilk
2 cups fresh blueberries
Preheat oven to 375 degrees.
Chop up peaches and place them in a bowl. Drizzle with lemon juice, toss. Add 3/4 cup granulated sugar, 1/8 teaspoon salt, and 2 tablespoons flour to peach mixture; toss to combine. Arrange peach mixture evenly on a ceramic or glass baking dish which you have coated with cooking spray.
Combine flour, 1/4 salt, and baking powder in a bowl. Stir well with a whisk. Place 1/4 cup of granulated sugar and butter in bowl and beat with mixer on medium speed until light and fluffy (about 2 min). Add eggs, 1 at a time. Stir in vanilla extract. Add flour mixture and buttermilk alternately to butter mixture. Stir in blueberries.
Spread batter evenly over peach mixture. Sprinkle with turbinado sugar. bake at 375 degrees for 1 to 1 1/2 hours. Until topping is golden and filling is bubbly.