Canyonlands National Park is the largest National Park in Utah and because the Green and Colorado river shaped this beautiful landscape it is hard to see everything in one visit. The rivers divide the park into three sections: Island in the Sky is probably the most well known and most visited section of the park due to its close proximity to Moab. The Needles is also fairly easy to access but it is a longer drive for most visitors. We did not try to visit the Maze because it is so remote that it requires a 4 wheel drive or you must hike primitive routes to enjoy it so we decided to leave it for another time.
Island in the Sky:
Mesa Arch:
We chose Mesa Arch as our fist stop because of its popularity. We knew it would be very busy so we figured that the earlier we arrived the less busy it would be. It's an easy 0.5 mile hike, perfect to do with children especially when you've been hiking for the past four days. The payoff is incredible and one that you don't expect for such little effort. It's a beautiful arch almost hanging off the edge of the cliff which you can say serves as the window to the canyon below, truly an amazing sight.
Grand View Point Overlook:
This overlook is one overlook you don't want to miss. It is truly an amazing view to behold but this is where most people stop, take some pictures, get in their car, and leave. If you want an even better view and your traveling with kids do the Grand View Point trail which is only a 2 mile round trip but do hold your kids close to you. Even though this is a pretty easy trail it does go right to the side of the canyon without any guard rails and with me being an overprotected mama bear almost had a heart attack with some of the picture ideas my husband chose. My husband had to walk me to the ledge to show me that their was another ledge not too many feet below which made feel a little safer. I'm not a big fan of heights. On this trail you can take some extreme looking pictures without being a dare devil. The trail ends at the point that opens up a grand view to all the sides of the canyon below and standing here at this point you realize why they called this section the Island in the Sky.
Viewpoints:
As we were eating lunch, it started to get cold and windy and it looked as if it was going to rain so we decided not to do any more hikes which made our 5 year old very happy. Instead we decided to check out the parks view points.
Orange Cliffs Overlooks:
Gives you the view of the cliffs down below and is probably also the safest spot to take on the edge pictures with your family because of the wide ledge below.
Needles District
Newspaper rock:
Before you make your way into the park, stop by newspaper rock. This rock gets its name from looking like the news paper the ancient people in this area used. It's not like most of the cave drawings you see, little smaller drawings here and there, this rock is completely covered in messages that the ancients left us. This stop is totally worth your time.
Slickrock Foot Trail:
This easy 2.4 miles round trip hike usually takes 2.5 to 3 hours to complete but it took us longer. We were so blown away with the views that it seemed like we explored every nook and cranny on this trail and had a blast doing it. This trail consists of 4 viewpoints which gives you pretty amazing, cool views. View point Number 4 was the most impressive and the one we enjoyed the most. But overall, this is a trail of never ending views and ever changing landscapes. You get to see views of Needles, Abajo Mountains, Molly's Nipple, North Sixshooter Peak, Needles Overlook, La Sal Mountains, Colorado River Basin, Ekker Butte, and Elaterite Butte on this trail.
Big Spring Canyon Overlook:
You get to see lots of unique formations at this very picturistic overlook and even if there are a lot of people taking photos you can easily find a spot to take photos in a way as if no one is near you.
Hands on Learning:
Here you can see how you can't visit the Maze, the Island in the Sky, and the Needles all in one day. Our girls loved creating this visual map by using marshmallows and paint.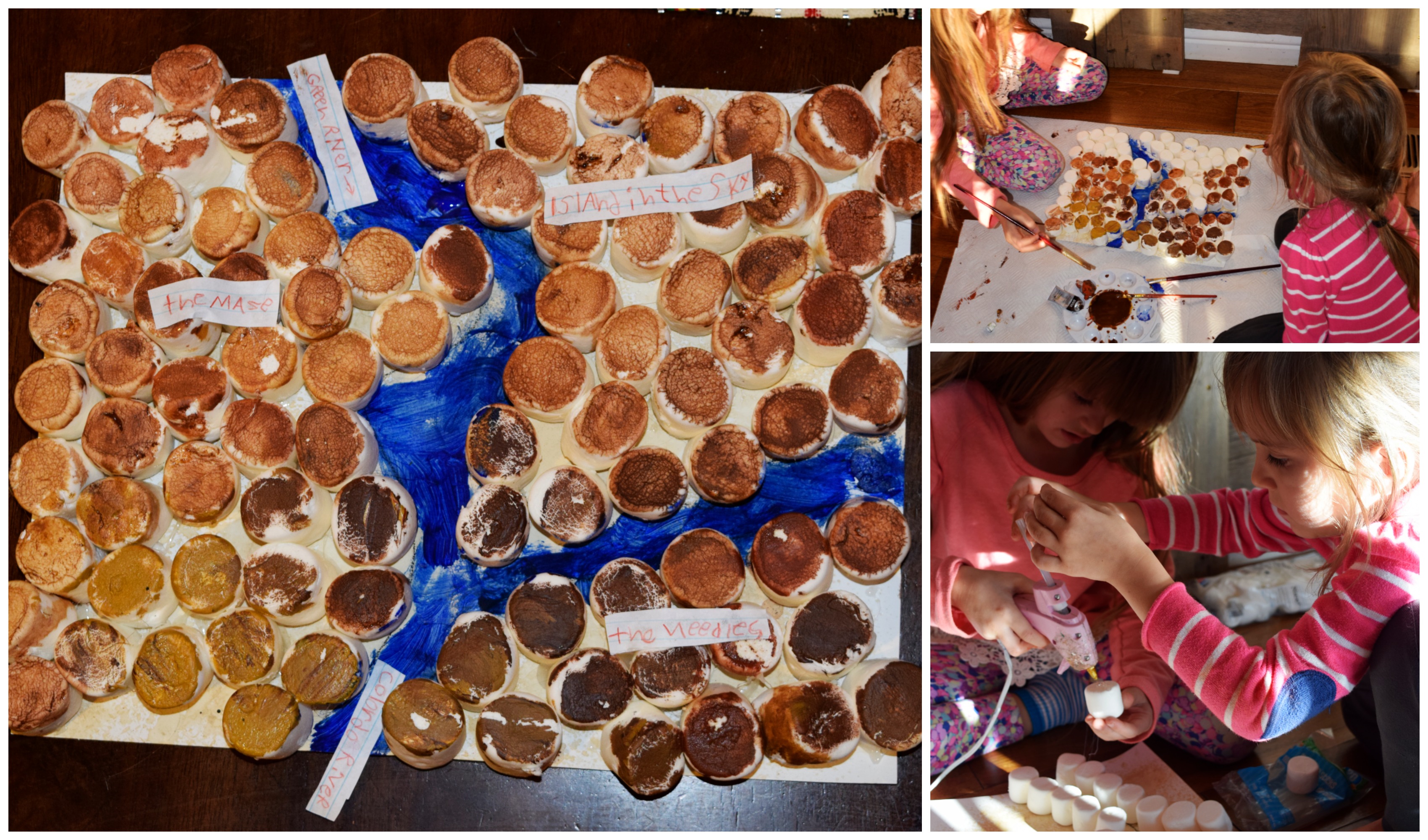 Canyonlands is so breathtaking. I hope you get a chance to visit it one day. If you have been to Canyonlands National Park what did you like the most?
Thank you for reading our post. Don't forget to subscribe. We are always learning new things and going places.
We share a new post every Monday and Thursday, 1 pm Pacific Time.