Keep close to Nature's heart…. and break clear away, once in awhile, and climb a mountain or spend a week in the woods. Wash your spirit clean. -John Muir
This state park is no ordinary state park because you can actually do some rock climbing here. The thought of rock climbing sounds fun but we did not prepare ourselves for rock climbing and to be honest with you we don't know the first thing about rock climbing and this was not the day to cling onto a wall for dear life.
This is a pretty good size park with multiple trail head entrances. Since we've never been here before we decided to start at the trailhead parking lot for Castle Rock itself and it turned out that we made a great choice because we were hiking with our four kids and our youngest does not like to hike. She can run around all day and not complain about her tired feet but as soon as we start hiking she starts saying her feet are tired. This trailhead offers you easy access to multiple highlights of the park so you can do as little or as much hiking as you please. When we got on the trail we hiked right past Castle Rock split because we figured it would be easy enough to get it on the way back.
Castle Rock Falls
The Saratoga Gap trail to Castle Rock Falls has very little elevation gain and it is the farthest outpoint from the parking lot that we were planning to hike. It is a very shady trail with very little sun. You will be following a creek majority of the time with some great picture opportunities. What we liked the most about this part of the hike was the moss covered trees. The moss reminds you of the North West forest. When you get to the falls there is a well built observation deck that lets you safely enjoy the waterfalls.
Goat Rock Overlook
As we back tracked on Saratoga Gap trail from the falls to the parking lot we took Ridge trail to get to Goat Rock. This trail is very different from Saratoga Gap trail. It is more open so more sun shines through. Since we were hiking on a sunny day we were able to see Monterey Bay multiple places on this trail which is a great payoff of its own. This trail also has a lot more elevation gain on the way in with a few spots on all fours trying to climb up. There are some great rock playing opportunities along the trail which are great for both adults and children because when you get to goat rock and look up you will realize that it will take some great technique to climb up this one but don't worry the great folks of the park service took care of that and built steps on the side of it so you could walk to the top of it. You will have to do little bit of climbing but this is much more doable for non-climbers like us. From the top of the goat rock you will get an incredible view of the park and of Monterey Bay. Even if you are scared of heights you will not regret climbing up after you take in the views.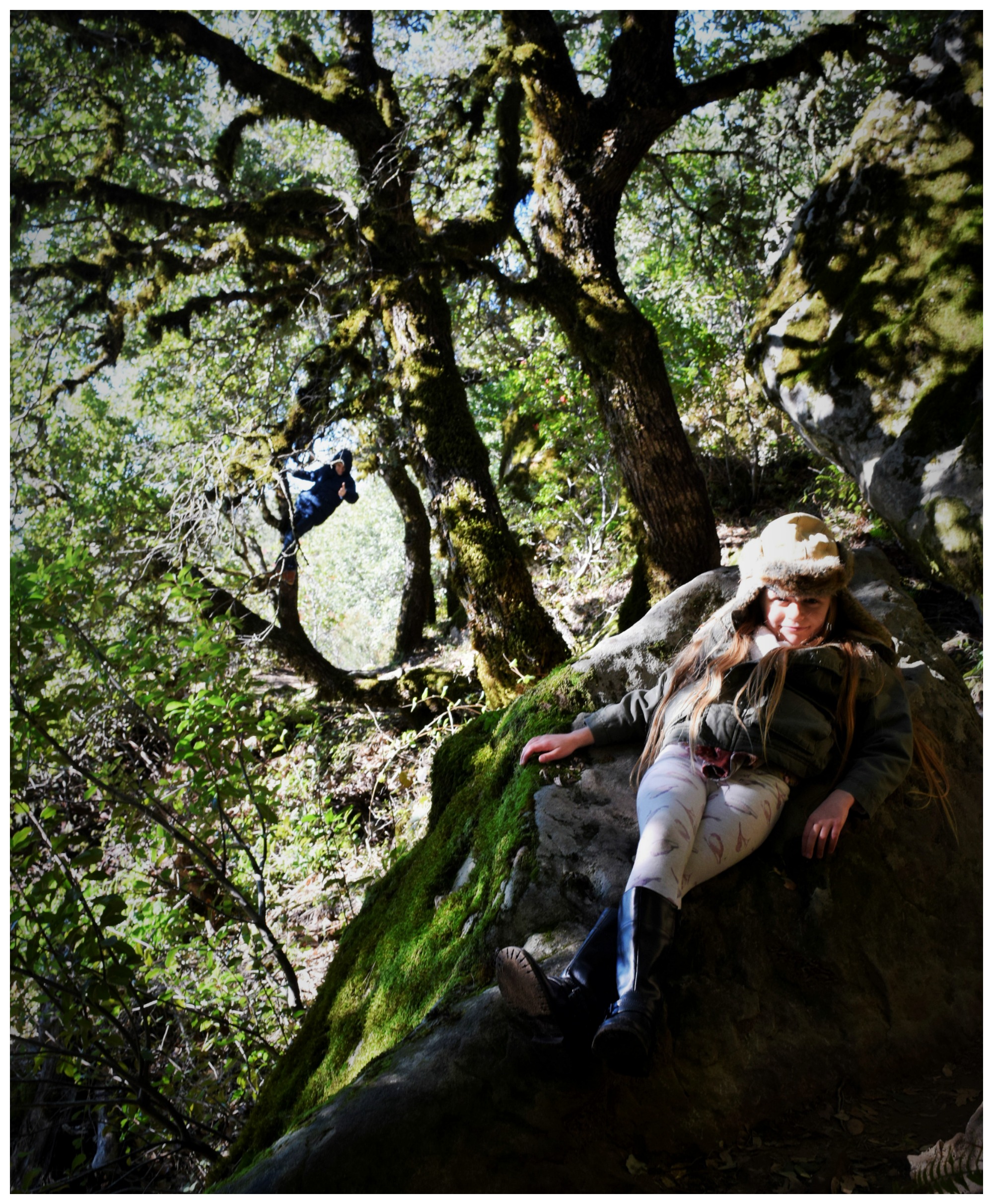 Castle Rock
Castle Rock lives up to its name because it stands like a castle and it does not matter on which side you approach it, it will be very difficult for non-climbers like us to get to the top of it. But it is a lot of fun with all the unique tafoni patterns that you can climb into. This was our kids favorite stop of the day. Sure looks like climbers love Castle Rock as well because you will see many individuals with harnesses, lead ropes, chalk bags, carbine, and belay devices. You can sit and enjoy your lunch as you watch how different people with different levels of expertise take on the castle.
Thank you for reading our post. We share a new post Monday and Thursday, 8 pm Pacific Time.