Lake Tahoe is one of those lakes that is impossible for you to see everything on a single day trip. However, you can easily go all around the lake and see it from both California and Nevada side. There is a lot of stops to choose from but here is our easy five that we suggest you do. Lake Tahoe is one of those unique places where the road trip to the destination is worth the trip all by itself because you get stunning and amazing views right from the seat of your car.
Isn't it amazing how when we give up something we quickly find something else to hold on to and identify our self as? Maybe it is just me. When I first became Christian I chose to identify myself as some holy person ( really bad mistake). Then I liked being identified as super clean and I literally cleaned from the time I woke up. Yes, you can find thousand of things to clean and re-clean especially if you have a little one or children. Then I went to college and I was this educated person. Now I sometimes fall into identifying myself as a hands on mom. But do these identifications satisfy us? Do they make us who we are? What if something goes wrong and I'm not able to identify myself the way in my mind I'd like to because of some unfortunate reason? I've seen movies where athletic people became paralyzed and they no longer wanted to live because their identity was gone. Gosh that is so sad and awful? For many years I drove on my way past a home where a woman around the age of 50 always tended her yard. I could see that she found joy in making her yard so beautiful. At that time I also loved caring for my yard so I could relate to her. Then one day I noticed that a wheel chair accessible ramp was added to her yard and I never saw her working on her yard. She had a stoke that paralyzed her. I visited her a few times and prayed for her. My heart was so sad for her and I prayed that her identity was in Christ since she was not able to do anything or speak. You see when we give our all to something and It is taken away we become lost. A week ago my blog stopped working and I was freaking out guys. My 14 year old stopped me in my tracks when he asked, "Mom can I pray for you? " Why didn't I go to God in the first place? Our identity should be in Christ. Too often we base our identity on what we do and when it is taken from us we are lost. What are your thoughts on identity?
Hope Valley
In our previous house we had so many tress in our backyard so we had piles of leaves to rake up and play with but now we have no leaves. We miss the leaves but not all that cleanup so when we want to see fall leaves we have to drive. our neighbors have a few trees so in previous years we would walk down the street with a bag and collect some of their leaves so we could do art projects. So thankful for sharing neighbors. Anyone else have the same problem as us? We drove to Lake Tahoe and had such a great time playing with leaves. Fall in Tahoe is breathtaking. Just about every year we drive to Tahoe to enjoy fall.
Girls Star cape in olive green and black are from Bandits London
Inspiration Point
This is the best place to get inspired before you drive around the lake because from this point you get amazing views of Emerald Bay and the Fannette Island. Here you can see all the way clear to the other side of Lake Tahoe.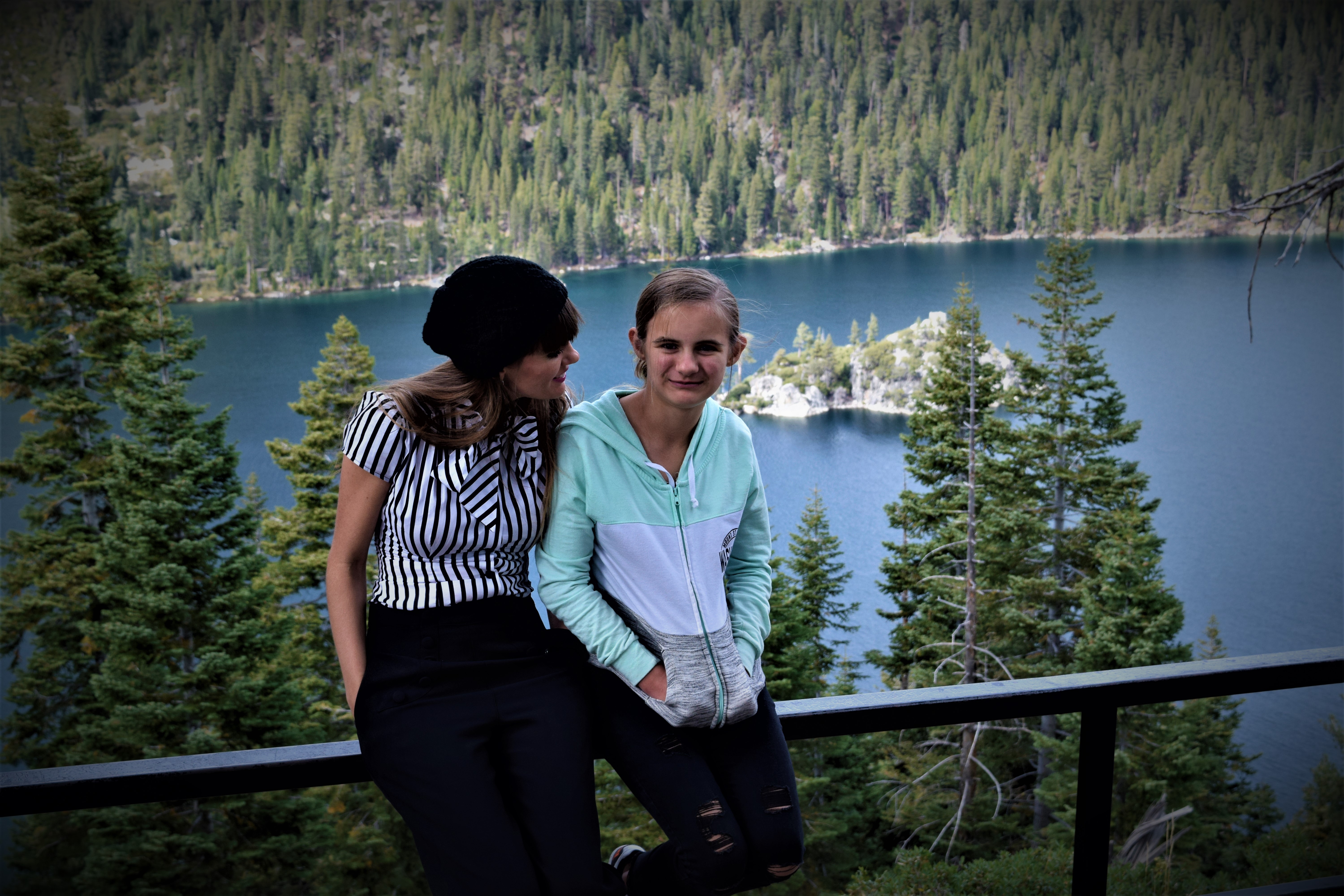 Eagle Falls
There is a lot of beautiful and amazing waterfalls around Lake Tahoe and Eagle Falls is by far the easiest waterfall to see because it is right off the road. This waterfall falls in two large drops known as upper and lower waterfall. The upper falls can be seen off the road and is around 50 feet high.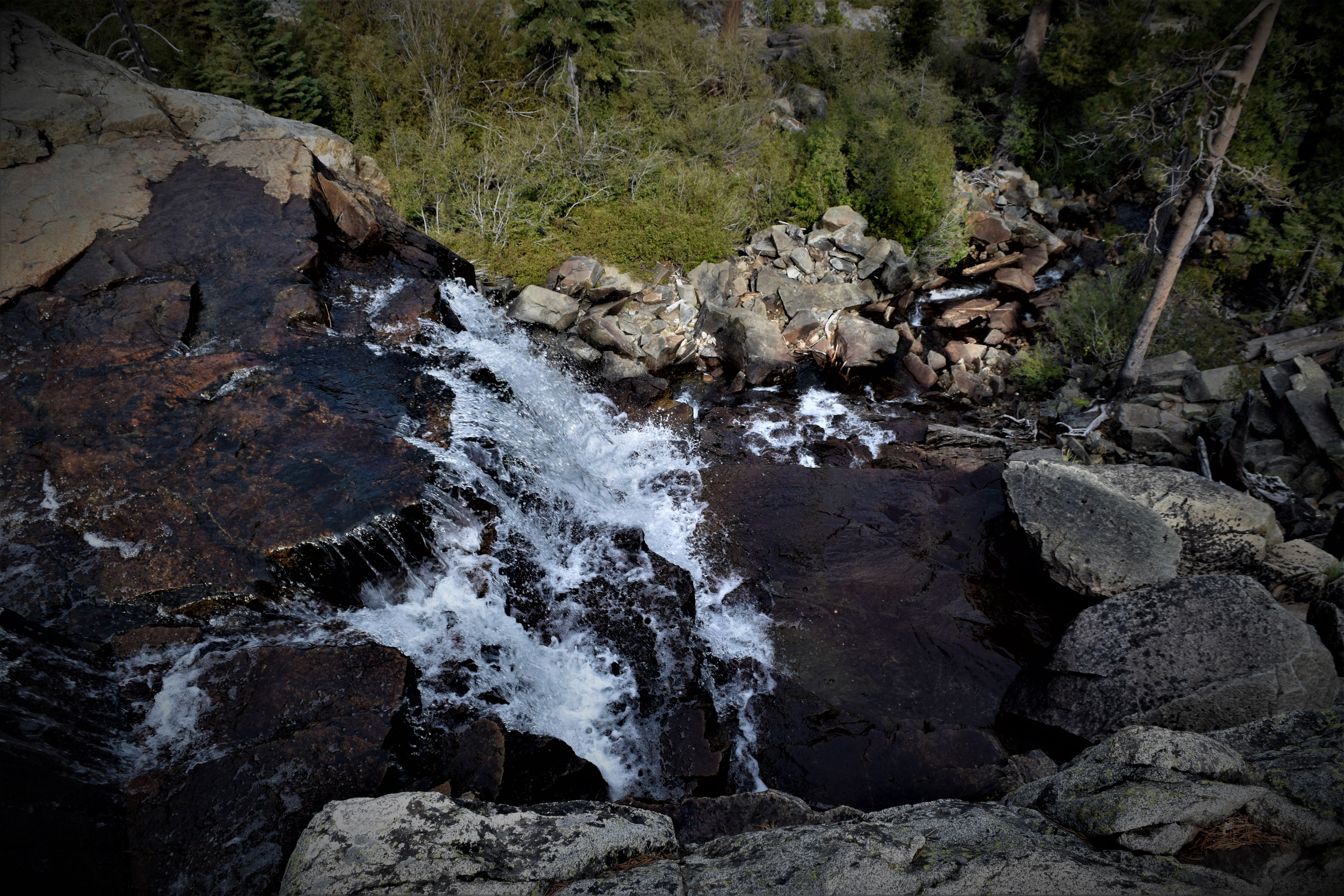 Thunder Bird Lodge
Here you can experience and see the life of a wealthy mans lodge. George Whittell Jr. had pretty much the whole side of Nevada's Lake Tahoe his summer getaway. 40,000 acres and 20 miles of Nevada's shoreline to be exact. The house was designed beautifully to match this rocky shore line with fountains and walkways. What we were most impressed by was the tunnel that takes you from the main house laundry room into the boat house. This 600 foot tunnel was blasted out by miners to make it easy to get the provisions from the boat to the house. George also had a lion known as Bill the Lion. Bill the Lion had the freedom to roam the Lodge freely. The architecture was beautiful and we saw how money can buy you just about anything but not true joy or peace.
Located at 5000 NV-28, Incline Village, NV 89451
Rainbow Trail
This trail which is only a 0.7 mile loop takes you right to the creek where you can observe hundreds of sockeye salmon going up stream to spawn. What is really cool on this trail is how it takes you down below where you can observe these fish in their natural habitat through glass. During the Fall season the trail is full of beautiful Fall colors. Even the fish add to the festival of colors with there dark red. Here you can see beaver dams. Here you can watch fish in their natural habitat.
Girls jackets are from Juju Bunny Shop.
Thank you for reading our post. We share a new post every Thursday at 8 pm.