I've always wanted a farm when I was young. Having a goat sounded like a better idea than keeping a cow. However, I heard stories of how goats will and can eat clothes if left hanging on a clothes line to dry. I thought that this was a myth until hubby took kids and I to Redwood Hill Farm & Creamery. Here we were able to pet the goats and even hold the kids. I was so surprised at how curious and social goats are. The goats put everything that they could into their mouths. They sure liked shoe laces, jackets, backpack strings, and anything that was loose. We thought it was funny at first but I can see how one could get annoyed by this fairly quickly. Eve on the other hand had climbed up on me and was holding for dear life. I think she was thinking that they were going to eat her no matter how we tried to convince her that they were harmless she decided that it was safer in my hands.
Girls were able to milk a goat and that was so neat to watch. I wish that I had tried milking the goat.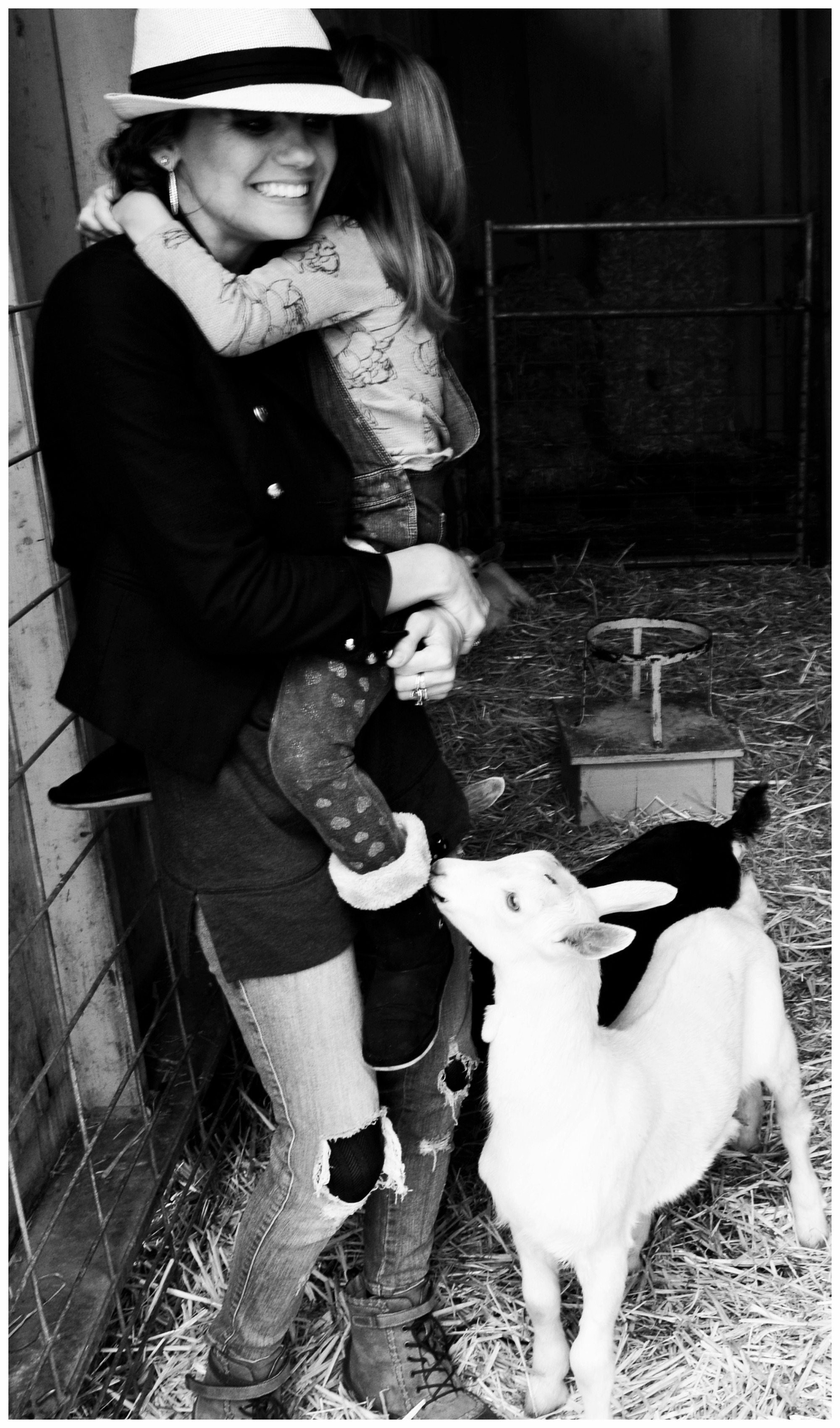 Hands on Leaning at Home
If you've been following us for some time you know we love our drawing and reading time at the dinning room table. Oftentimes, we use an art program. This time we decided to watch a YouTube tutorial and since there were no words in the video I read while they drew.
Milking the Goat
I wish we actually had a goat so that we could milk it, maybe one day. Did you know that goat milk is easier to digest than cow milk? This is because goat milk has around 13 % solids and 87 % water.
We got a latex glove and filled it with water. I then showed and told them how it should be done by following instructions online.
I told them that they needed to apply pressure with their thumb and index finger so that the milk does not go back into the udder. With the rest of their fingers they needed to move the milk downwards.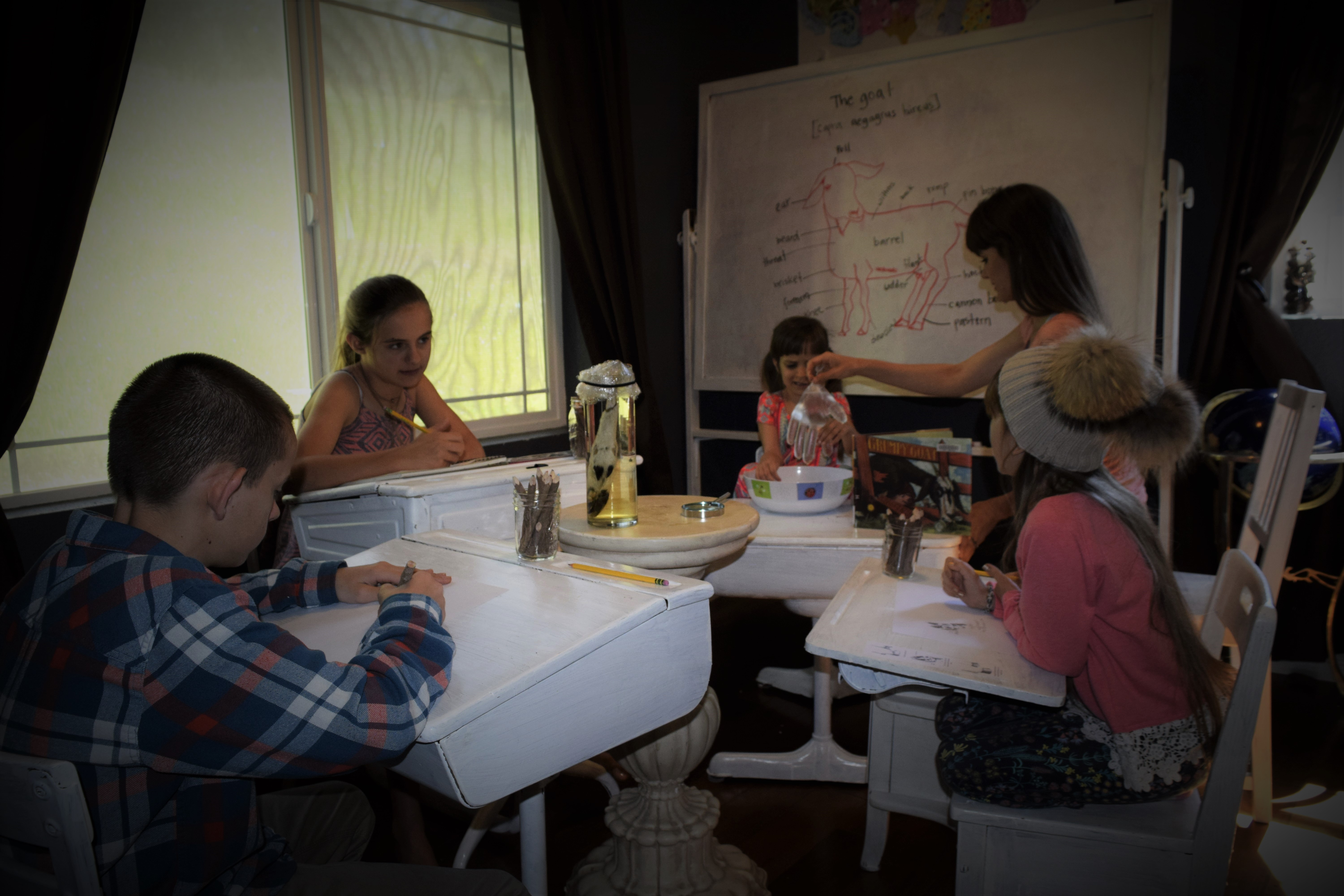 Hooves
Last Fall my husband and I stumbled upon a deer hoof while hunting so we decided to take it home and share it with our children. I am aware that this is goat unit study and not a deer study but we thought we could compare and take a closer look at the deer hoof so that we could get a better understanding of the goat hooves.
We were so surprised to learn how much work goats are. I thought cutting kiddos fingernails was hard. Some of my children bite their nails so I never had to cut them. Some of them don't mind nail cutting but then again I have one who when he/she was younger would scream and kick. I tried to reason with my child and remind them that I never hurt them before but that did not help. I can imagine how hard it would be to trim the hooves of a goat because you could never reason with them, sounds very much like one of mine.
We learned that it's best to trim goats hooves after it has rained. You need to grasp one leg by the ankle and bend it back. It's wise to put it over your ankle. You first want to scrape away dirt with the point of the shears then cut off long growth at the front of the hoof. After that you want to snip off the flats that fold under the hoof. The last thing you want to do is trim the bottom of the hoof, one tiny slice at a time and you want to cut toward the toe.
Division Bead Board
I have an confession to make: you would think that since I try to make all our lessons fun and hands on that there would never be any crying. I wish this was the case. However, when I teach a new topic and when kiddos don't understand what I'm trying to teach they sometimes cry. I honestly try to avoid this from happening. Math is one of those subjects that can make children feel frustrated. This week we are learning about Goats and Elizabeth learned about division. The division bead board is so amazing and it helped her understand the concept of division. Elizabeth was getting all the correct answers without any fuss. Today I asked her if she had a certain amount of goats and she had a certain amount of friends who wanted her goats. She needed to be fair and give each of her friends the same amount of goats so that none of her friends get their feelings hurt. Elizabeth now looks forward to doing her division problems.
We received our division bead board from Montessori Shop

Homemade Products with Dry Goat Milk
I love living in a small town but one thing that I'm disappointed by is the lack of products that are sold here. I could have drove 40 minutes one way to Trager Joe's and buy some goat milk but to be honest I knew that we would be too tired afterwards to get things done so we decided to get dry milk and make two homemade beauty products out of dry goat milk.
Shampoo
We are starting to make more and more homemade things. I hope to make everything on our own one day. It sure is a learning process and does take some time but with each time you do it the easier it all becomes. Making homemade shampoo is quite easy.
What you need:
2 ounces of castile soap
4 to 5 ounces of infused water
1/4 teaspoon of carrier oil (olive oil, almond oil, and so on).
As many drops of essential oil as you would like (5-15).
5 drops of tea tree oil
The first thing you want to do is bring some water to a boil. Add herbs (dandelions, chamomile, orange peel, and so on). Let the infused water cool. Drain the infused water and add all the ingredients into a container.
Every few weeks you'll want to add 2 tablespoon of baking soda to 1 tablespoon of dry goat milk. When your in the shower add the baking soda and dry goat milk to your scalp. Rinse with water. In a spray bottle add some vinegar and spray your hair. Then rinse.
Elizabeth's outfit is from Persnickety
Eve's dress is from Lucy & Leo
Bath Bombs
If you have a child who doesn't like taking baths then maybe adding a bath bomb is a great idea. These are easy to make.
What you need:
Silicone tray
1 cup baking soda
1/2 cup citric acid
2 tablespoon oil
1/2 tablespoon water
1/2 cup powdered goat milk
Clay ( any beauty clay)
Color (for color we used clay or dried flowers).
10 drops of essential oil
Dry herbs of your choice.
Place all the dry ingredients in a bowl and mix with a whisk. Then stain it so that there are no clumps. Add all the wet ingredients together and slowly add to the dry ingredients.
In the silicone mold you can first add dry roses, lavender, orange peels, or whatever dry herb you have. Only add a little bit because adding too much will cause it to crumble. You want to work quickly before the mixture dries up. Pat the mixture into the silicone tray. Let it dry for 5 minutes. Place a cutting board over the silicone tray and flip it over. You want to leave them for 24 hours before using.