We love fruits and vegetables because they taste so good and are so colorful. There is nothing that can compete with a ripe fruit or vegetable. One of our favorite fruits is the papaya which is also know as paw paw. This tropical fruit is rich in carotenoids, antioxidants, Vitamins C, potassium, fiber, and papain. Papain helps to reduce inflammation.
Opening a Papaya:
We bought a large papaya which weighted almost 8 pounds. When buying and picking your papaya you want to make sure that the skin has turned from green to yellow. You also want to make sure that the papaya is soft when you press your fingers against it. First cut the papaya in half lengthwise. Next open up the papaya and separate the two sections. You will want to spoon out the seeds and save the seeds. The amazing thing was that our 8 pound papaya only had about 10 seeds in it. Next peel the skin using a knife. You don't want to slice too deep because you will lose some of the fruit. I think using a vegetable peeler is a great alternative.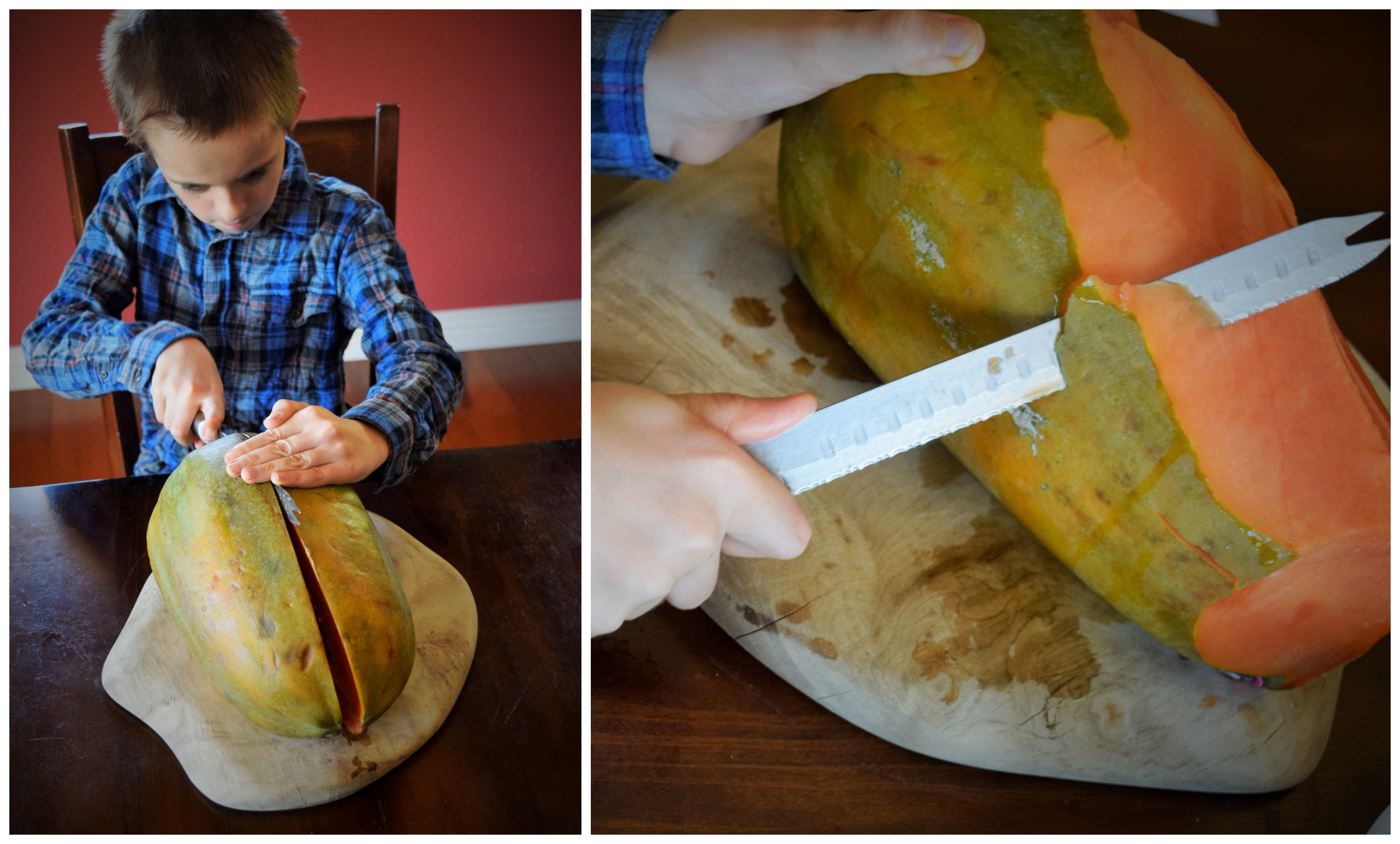 Seeds:
You can actually eat the papaya seeds and they taste just like black pepper. You can simply chew the seeds or add them in a dish. You don't want to add them to a desert dish or smoothie because it will turn your dessert dish or smoothie bitter. We added the seeds to our appetizer and loved the taste.We also put them out to dry and will add them as a supplement for peppercorn. You can crush the seeds and season your meats with papaya seeds. Papaya seeds are actually really good for you. You can use papaya seeds to detoxify and strengthen your liver. Papaya seeds help to prevent germs from causing infections. "In one study done with Nigerian children, 76.7 percent of the children got rid of intestinal parasites after consuming papaya seeds daily for one week."- Health Diaries.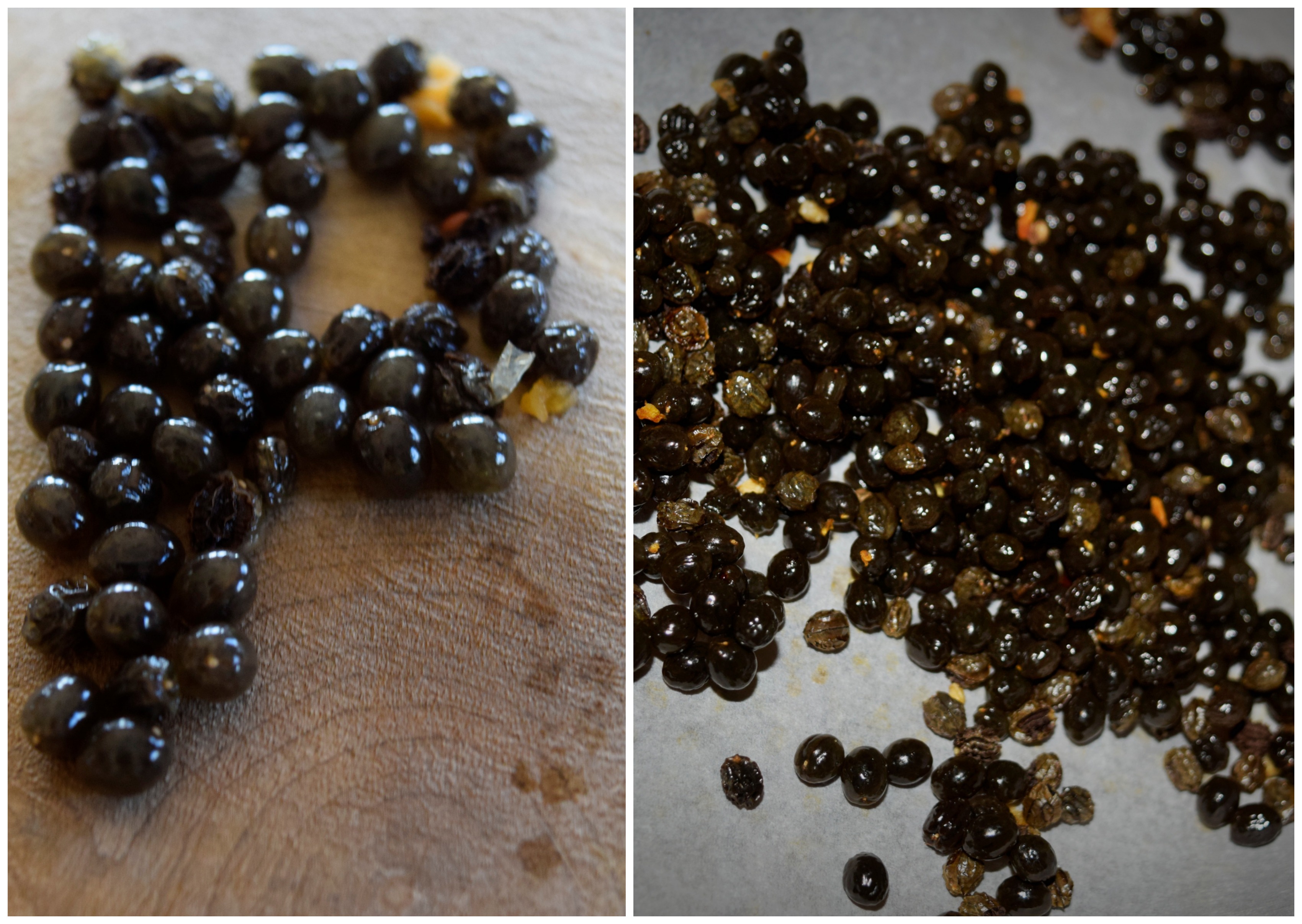 Papaya Salad:
This salad turns out so beautiful. What you need is 1/2 papaya, 1 mango, 2 kiwis, 1/2 cup of freshly squeezed orange juice, and some mint. Take seeds out of the papaya and chop everything up into small pieces. Add orange juice to it and let it stand for 15 minutes before you enjoy it, this way you can taste the orange juice dressing better.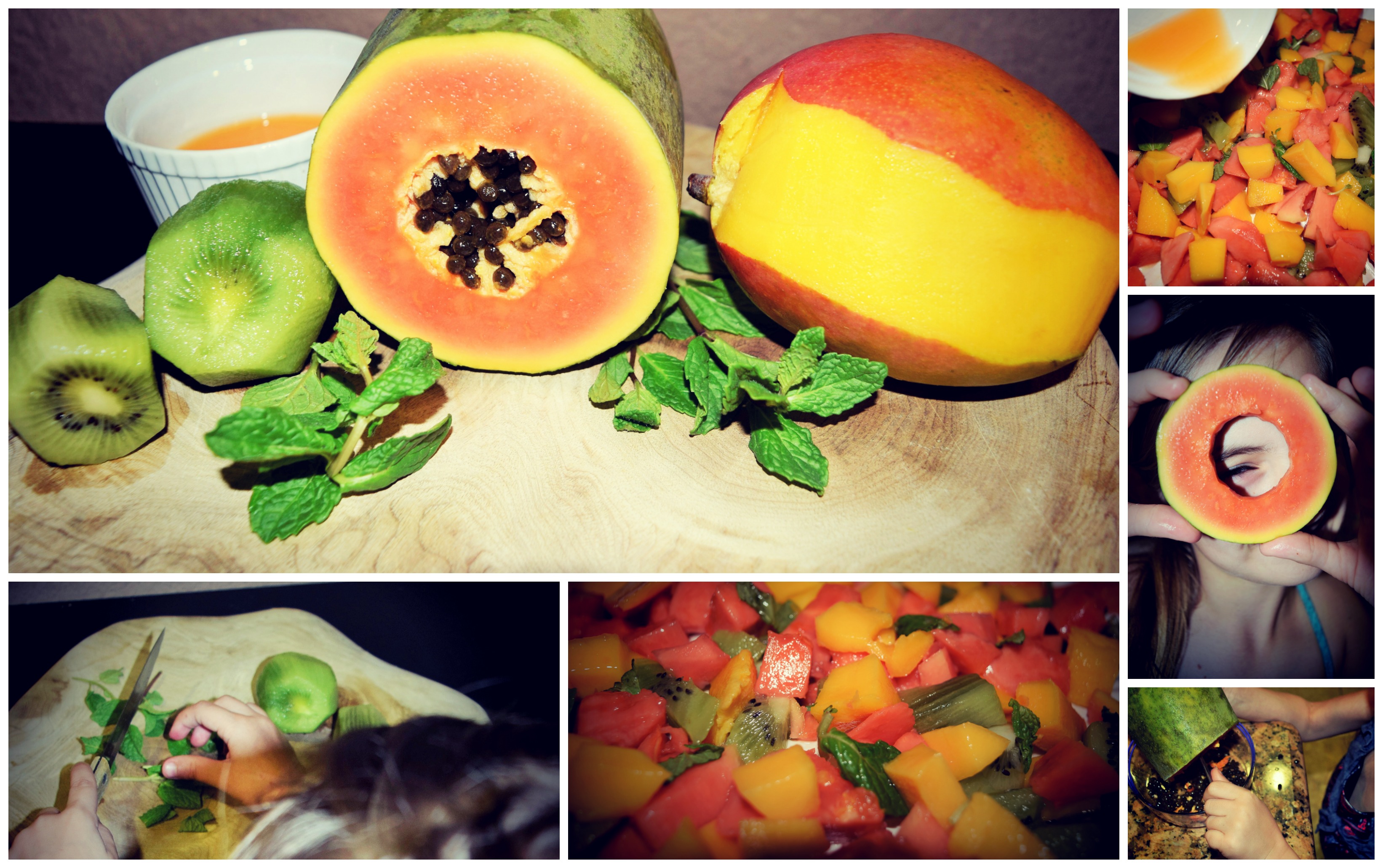 Papaya Appetizer:
The combination of papaya and cucumber is so surprising tasty. Our kiddos and I quickly ate up this appetizer so we forgot to leave some for daddy. Oops. 🙂 What you need  is a cucumber, some papaya, cream cheese, ginger, green onions, and papaya seeds. Cut the cucumber into thin circles. Spread cream cheese onto the cucumbers. Add a thin slice of papaya. Next add green onion, one or two papaya seeds, and shred a small amount of ginger to the top.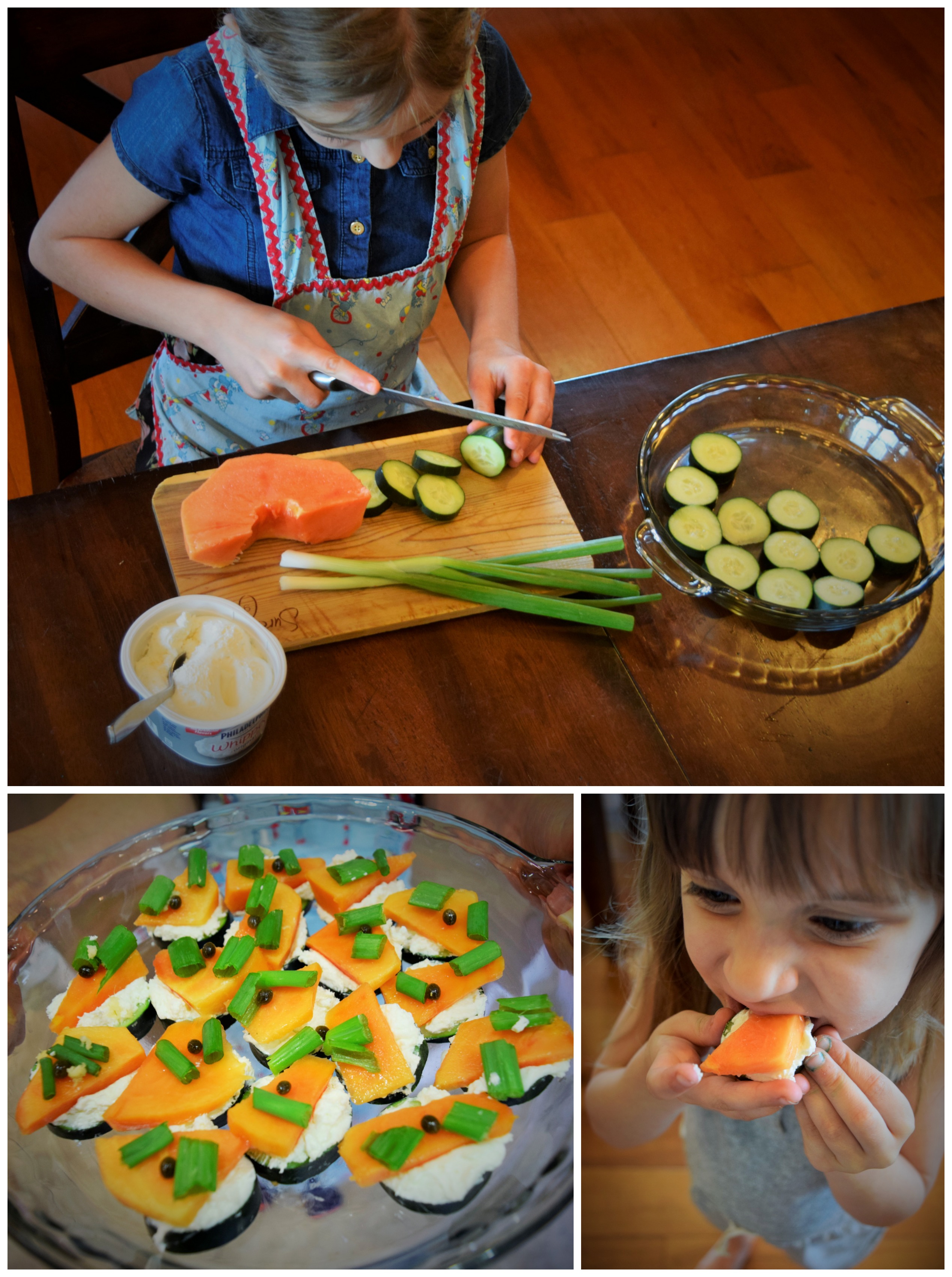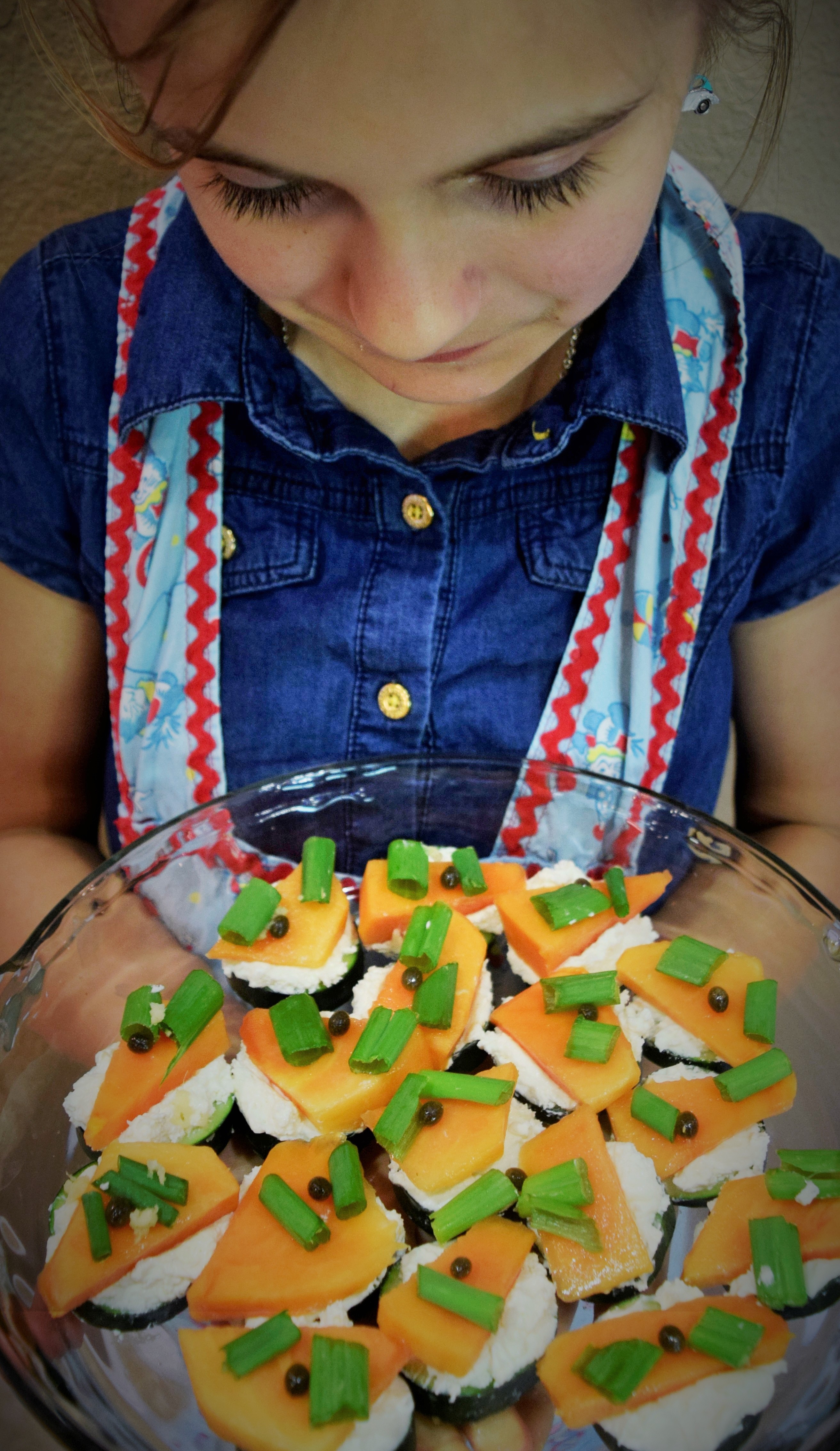 Papaya Smoothie:
We love smoothies because you can't really go wrong when making a smoothie. Our Elizabeth loves making smoothies. For this smoothie, Elizabeth added 1/2 papaya, two bananas, 6 large strawberries, 1/2 pineapple, and 2 tablespoons of chia seeds.  We did not add any juice or milk to it but orange juice would go great with this.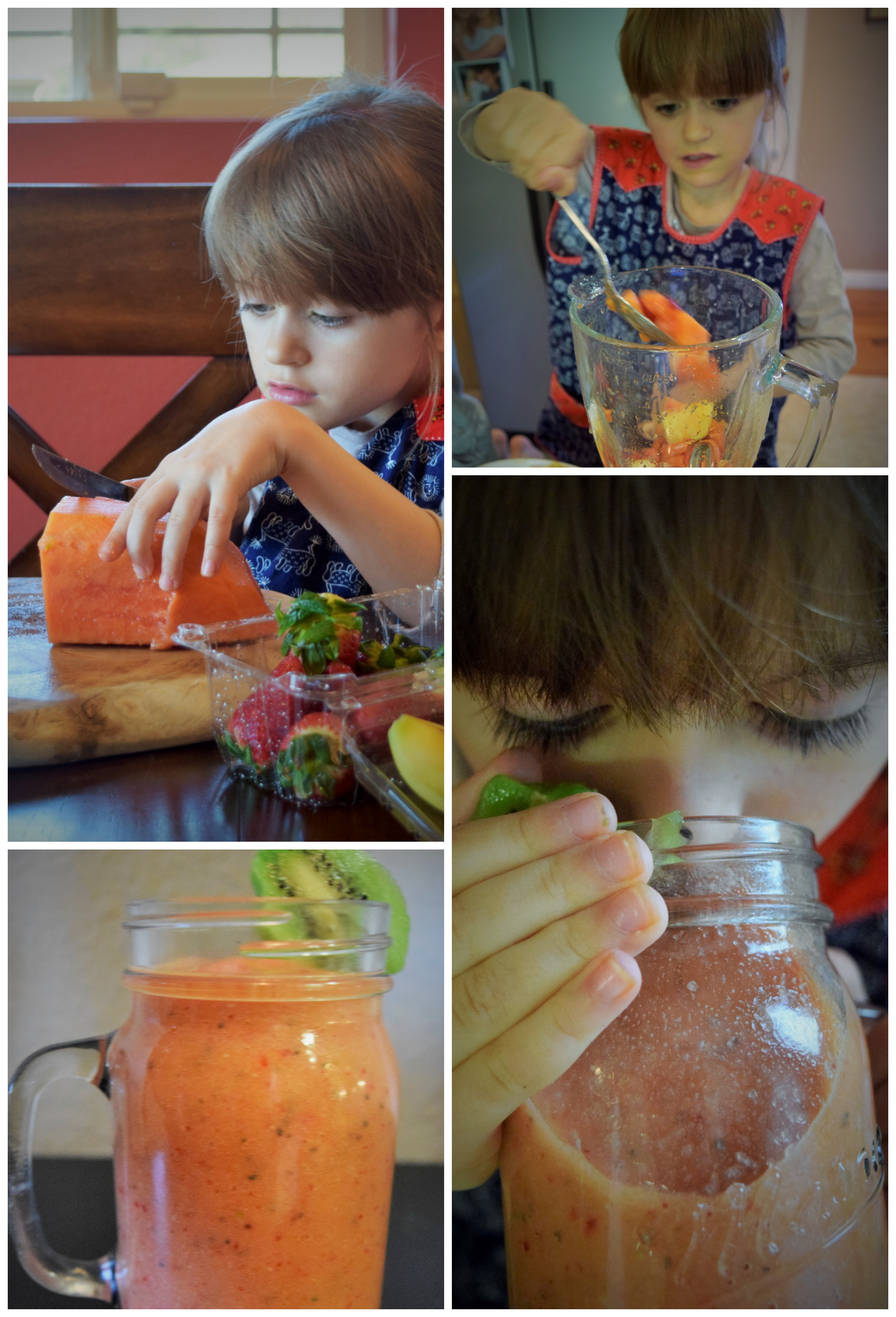 Papaya Leather Candy:
It is actually so easy to make your own leather candy. All you need to do it put cut up papaya into a blender and add some sugar to it. Place parchment paper on your baking pan and pour an even thin layer. Put your oven on 170 degrees and leave in the oven for six to seven hours. Next you want to cut the parchment paper and leather candy into strips. Roll the candy and tie it with a string so that it stays in place. Place the leather candy in a zip lock bag to insure freshness.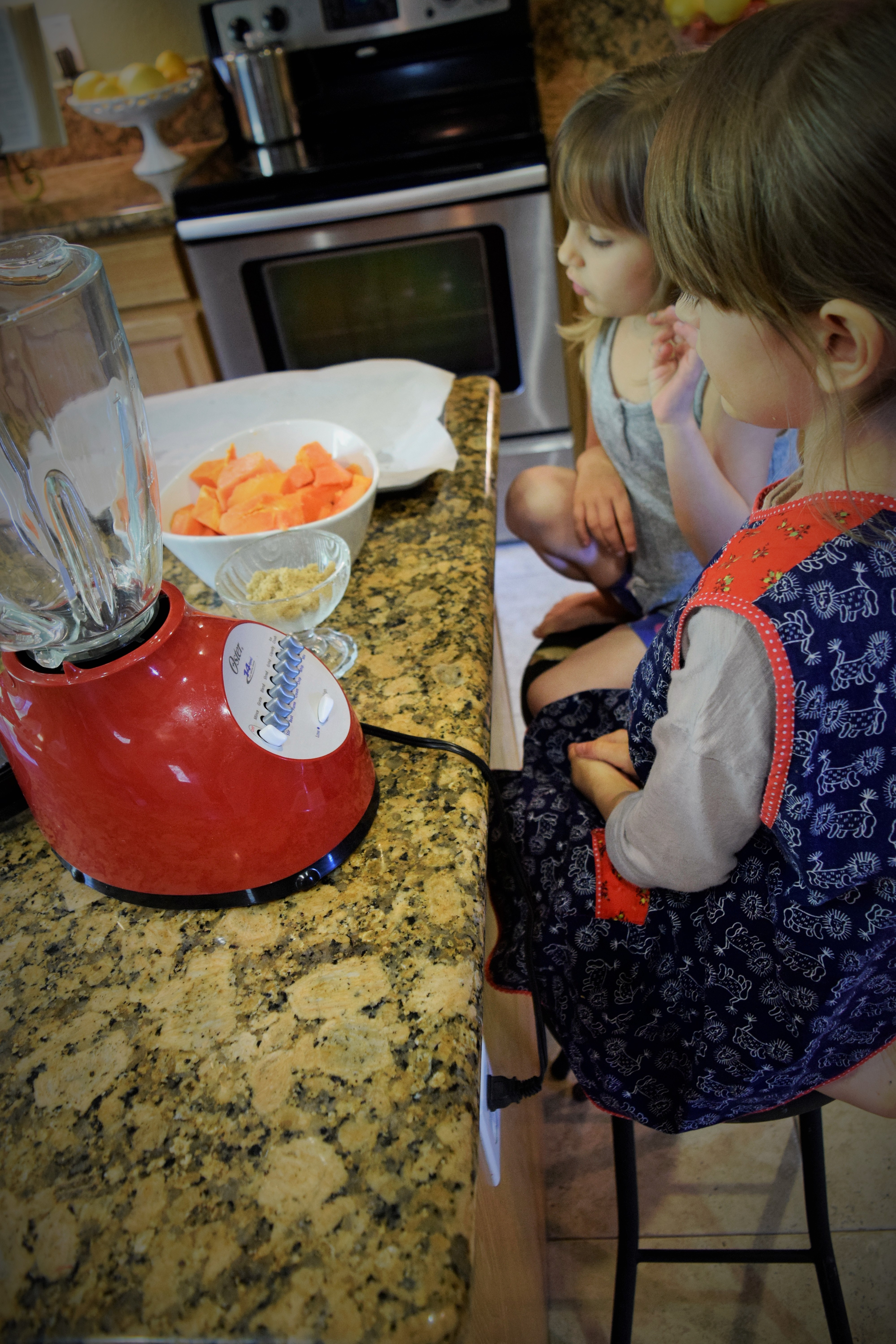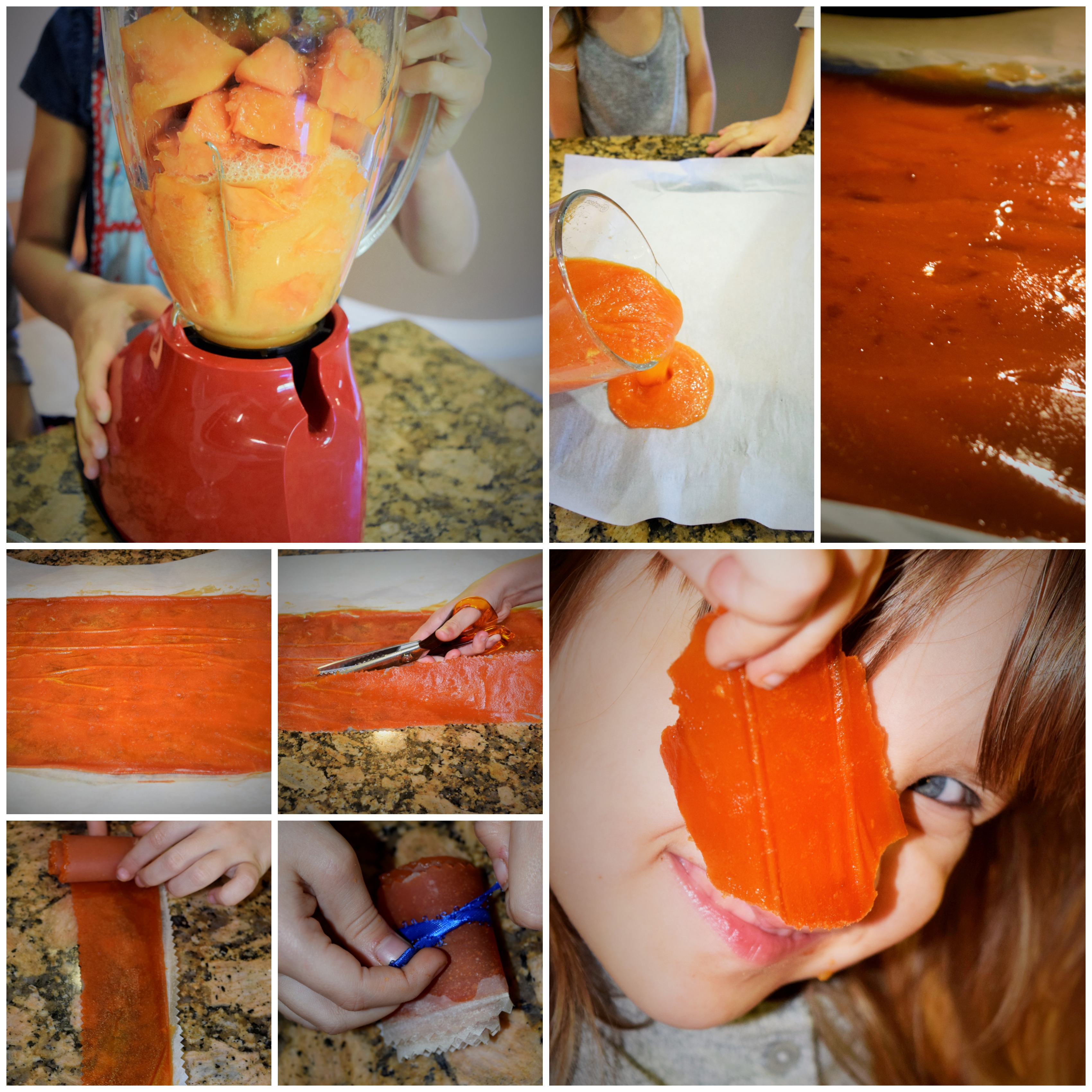 Papaya Ice Cream:
To make the ice cream you first need to cut up the papaya in cube pieces. Then place the papaya in the freezer for 12 to 24 hours. We kept our papaya in the freezer for only a few hours because we did not want it to be too cold. We also bought the dessert bullet at Walmart for $33.00. Our kids love making ice cream with it. What can be healthier and better than frozen fruit ice cream? Peter added honey and walnuts to his ice cream.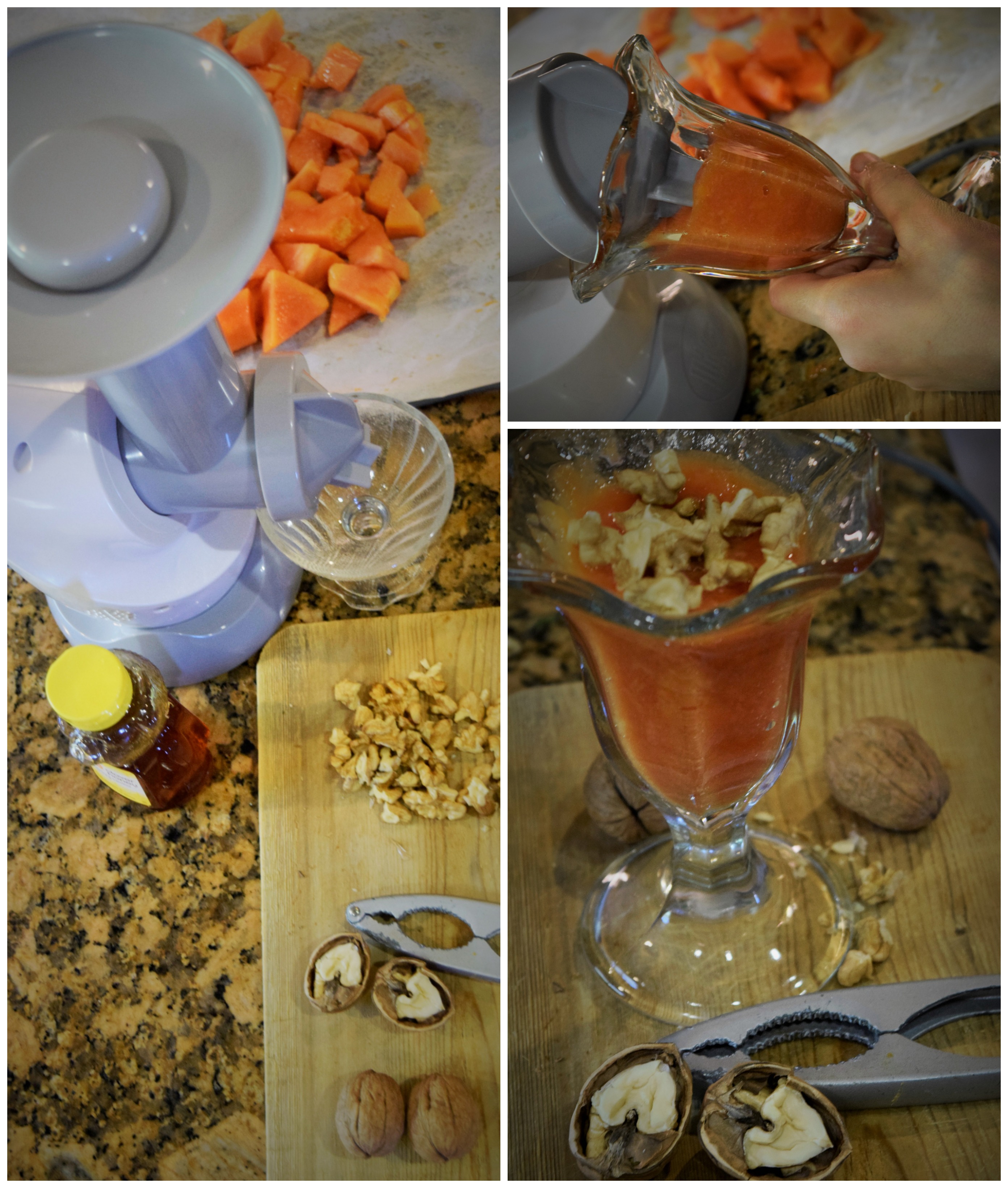 Let's create a papaya:
There are so many ways that you can create a papaya look alike but we decided to paint an egg shell and fill it up with papaya seeds. You could use black beads instead of papaya seeds.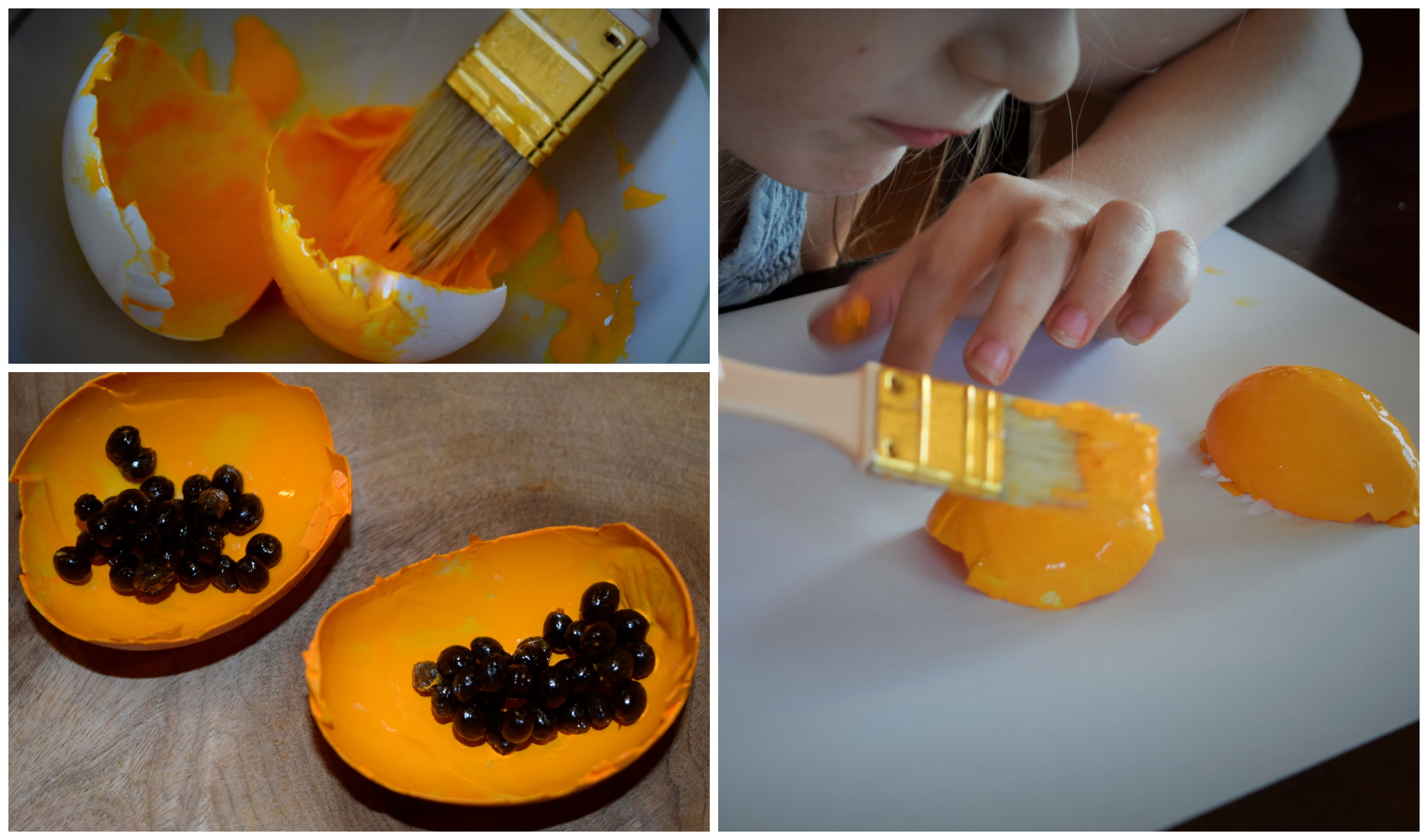 Still Life Drawing:
Our kiddos absolutely love doing still life drawings. This activity is great because it forces the artist to pay attention to details which are too often overlooked.
Papaya Face mask :
This mask not only feels good on your face but also tastes good. Try to save some for your face because our girls were tempted to eat it all. Mix 1/2 cup of papaya and one tablespoon of honey together. Use a clean cooking paintbrush and apply the papaya and honey mixture to your face. Leave on your face for 15 minutes and then wash your face.