When we saw root turmeric at Safeway we got super excited and could not wait to learn all we could about root turmeric and write this grown healthy: root turmeric post. It looks just like ginger but is yellow in color. Turmeric is part of the ginger family that is why they look so alike. Some say it has a mustard like taste but I don't fully agree because I really dislike mustard but enjoy turmeric. Turmeric is much easier to eat than ginger is, in my option. It has more of a peppery and bitter flavor. Turmeric is known as Haldi in India. This spice is often used in India and China.
 Benefits of turmeric:
Since "3% of turmeric is made up of curcumin (a potent orange pigment), turmeric has natural ant-inflammatory and antioxidant properties." Turmeric is said to prevent Alzheimer's disease, help people with cystic fibrosis, fights against cancer, and more. It also is used to heal small cuts and burns. You could use it to help control acne, lighten pigmentation, and helps your skin look young and fresh. You could also use it to whiten your teeth.
 Anatomy:
The node are the dark horizontal lines on turmeric. The internode is the space between two nodes. If you want to grow your own turmeric you need to leave the turmeric on the counter until you see a bud growth.Turmeric likes warmth, partial shade, and moist soil. We are currently trying to grow our own. We also placed one in a pot with soil.
Juicing:
We love sneaking in some turmeric into our juices. If your juicing for your children then you might want to add a small amount of turmeric. Our son loves to juice so he is the juicer in our home. He added tons of carrots, apples, and a small amount of fresh root turmeric.
Tea:
 To make tea with turmeric you need to slice some lemon peel, orange peel, and slice up some fresh root turmeric. Add boiling hot water. Let it stand on the counter for a few minutes and then pour into a cup and add honey.
 Whitening teeth and anti-aging with Turmeric:
All you need is ground turmeric, water, or coconut oil. To whitten my teeth I add coconut oil and turmeric and place on my finger. Then I apply to may teeth in circular motions. I leave it on my teeth for 3-5 minutes. Then I brush my teeth. Just a side note: your tooth brush will stain yellow.
For acne you can mix ground turmeric and water. You now will have a paste that you can apply to areas on your face with acne. Leave on your face for 10-15 minutes. Then wash your face. I usually use coconut oil and turmeric and using my fingers scrub lightly in circular motions my face and neck. I leave it on for 5 minutes. I usually do this before I go to bed or right before I jump in the shower.
Crafts:
Painting with turmeric:
Get some shaving cream and add some ground turmeric to it. Mix it well and use a paint brush to paint some beautiful pictures.
Tie-dye with turmeric:
You need some sort of material, bucket, water, rubber bands, and ground turmeric. Tie rubber bands onto the material. Fill bucket with water and add material and ground turmeric. The more turmeric you add the darker your material will become.
Dyeing eggs with turmeric:
What you need: ground turmeric, leaf, string, onion peel, a piece of material, and eggs. Place onion peel on cloth. In a bowl mix water and ground turmeric. Place egg in the water. Take egg out and wrap egg with the leaf. You can add more turmeric if you would like. This will give it a darker color. Wrap the egg with more onion peel. Wrap it in cloth and tie string around it. You should do this with raw eggs. You will be boiling your eggs in the cloth.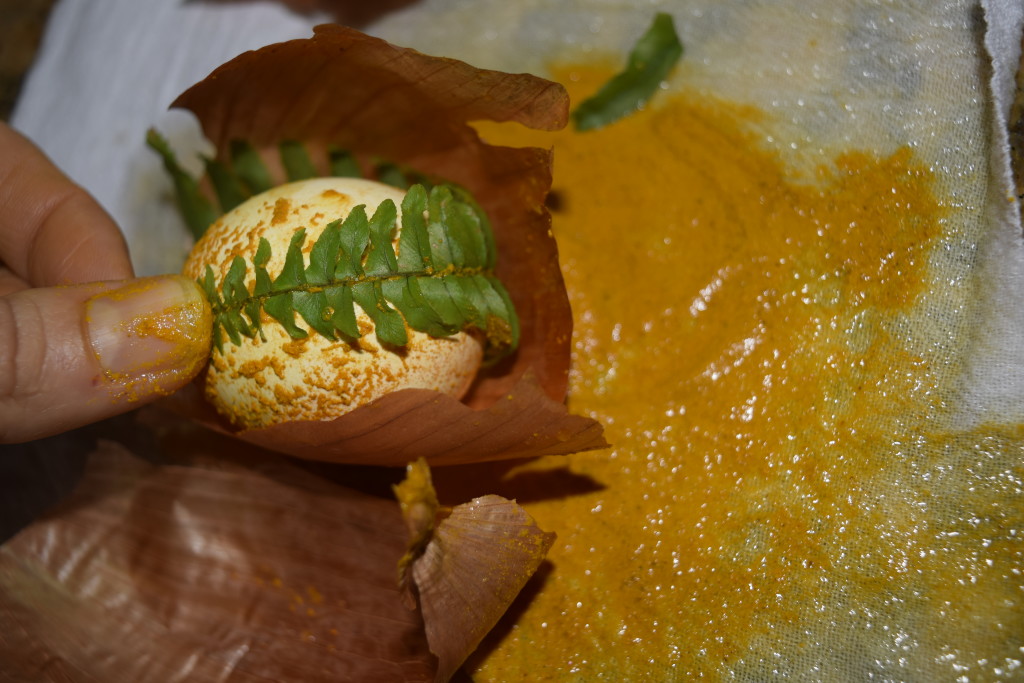 Turmeric Salad:
What you need: Mayonnaise, carrots, root turmeric, and garlic. Shred carrots, root turmeric, and garlic. Add mayo and mix well. This is probably our favorite salad. We make it very often at our house, usually without turmeric but since root turmeric is sold fresh at the store right now we love to add it to our carrot salad.
Cough drops:
We made cough drops using ground turmeric. What you need. Honey (we used a whole jar), lemon and orange zest, a pinch of ground turmeric, a pinch of ground cinnamon, and lemon juice( 1 lemon). Get a heavy pot and put honey and everything in the pot except for the lemon juice. Cook for 4 to 5 minutes. Use a thermometer and turn off heat once it reaches 300 degrees F.  Then add the lemon juice and take off the stove. To make sure it is ready simply place some honey in cold water. If you can shape the honey then it is ready. Let it stand for a minute so it can cool off. Then work quickly. Place parchment paper down and sprinkle some powdered sugar on it. The powdered sugar helps them from sticking together.  Mold the cough drops using your hands and enjoy. This is the best cough drops we have ever tried. Store bought can not even compare.
The cough drops will be somewhat soft. Perfect for adding into your tea.
We got encouraged to try our own cough drops from my dear friend Pure Thyme . Check out her post.