It is always a great time to take a trip to California's gold country. Especially during the holiday season. Come Fall and Winter season we tend to want to stay indoors making less time for outdoor play. Being outside is so healthy for us. I actually don't like the cold and often times I'm intimated to go outside but every time we go outside our mood improves, we sleep better, our Vitamin D level increases, we have more energy, we feel so free and find inspiration by simply spending an hour outdoors. Did you know there are some amazing town trails you can take which are free? These small Gold country towns have a special charm to them because it is like you stepped back in time to where everyone is a little more friendlier and the pace of life is a little less busier. Here all the shop owners greet you and ask you where your from. They will happily tell you what events they have going on throughout the year and as you walk an occasional stranger will wish you a Merry Christmas.
Below are five of our favorite gold country destinations and walking routes.
Walk through Auburn
Did you know that Auburn has a trail for treasured trees? How cool is that! There are 33 treasured trees to look at and learn about here. You'll want to start at the "Welcome to Historic Auburn" sign which is next to the fire station on Lincoln Way. You can print out a map at http://www.placertree.org . If you follow this trail you can do a fun study on the trees and the leaves you might have collected along the way. This trail also takes you to beautiful community parks. You will also pass by historic churches and on the way back to the parking lot, you can stop by the Placer County Museum where you can see gold nuggets and an old prison cell.
Sutter Creek
What is there not to love about window shopping? Sutter Creek has some of the cutest antique shops. My favorites are the Romancin' the Range, Tomorrow's Heirlooms, and EPCO Emporium. These shops carry some romantic accessories and clothing that you would not find most other places. During the season Unique Boutique for U offers cookies and hot apple cinder. The special thing about these shops is that each business owner picks every single special item that they sell so no two shops sell the same items. These shops have a special charm to each of them and it is hard to not find something that you or someone you love might like.
Nevada City
Nevada City has an old fashioned Christmas market that you can enjoy. The great thing is that you have a few days to choose from. This year (2017) You could stroll the festive streets on two of the Wednesdays in December between 5:00 pm through 9:00 pm or on Sundays between 1:30 pm until 6:00 pm. This historic town is filled with booths where you can do some unique holiday shopping for your loved ones while supporting those who have handcrafted some unique items. You can meet Santa, try some roasted chestnuts, do some chocolate tasting, warm up by trying warm mulled wine, marvel at women and men dressed up in Victorian clothing, and simply have a wonderful time. You'll want to come early because parking is very limited and hard to find.
Scottish Christmas Walk
If ever there are walks and candles, sign me up. Am I right?  For this special Christmas walk all you need to do is show up at Armory Hall at 5pm on the first Saturday of December. You can experience the Scottish per session that's lead by pipers, flag barers, sword carrier, and other men wearing kilts. You get to walk down to the church with no street lights except the candles lighting your way. When you arrive to St. Bernard's Catholic Church the priest speaks a blessing over the congregassion in both English and Scot's Gaelic. We loved being led by pipers in the singing of amazing grace. It is such a beautiful sight to see so many different people holding candles and praising God. This tradition was started in 1982.
Located at Armory Hall : Consolation Street Volcano, Ca.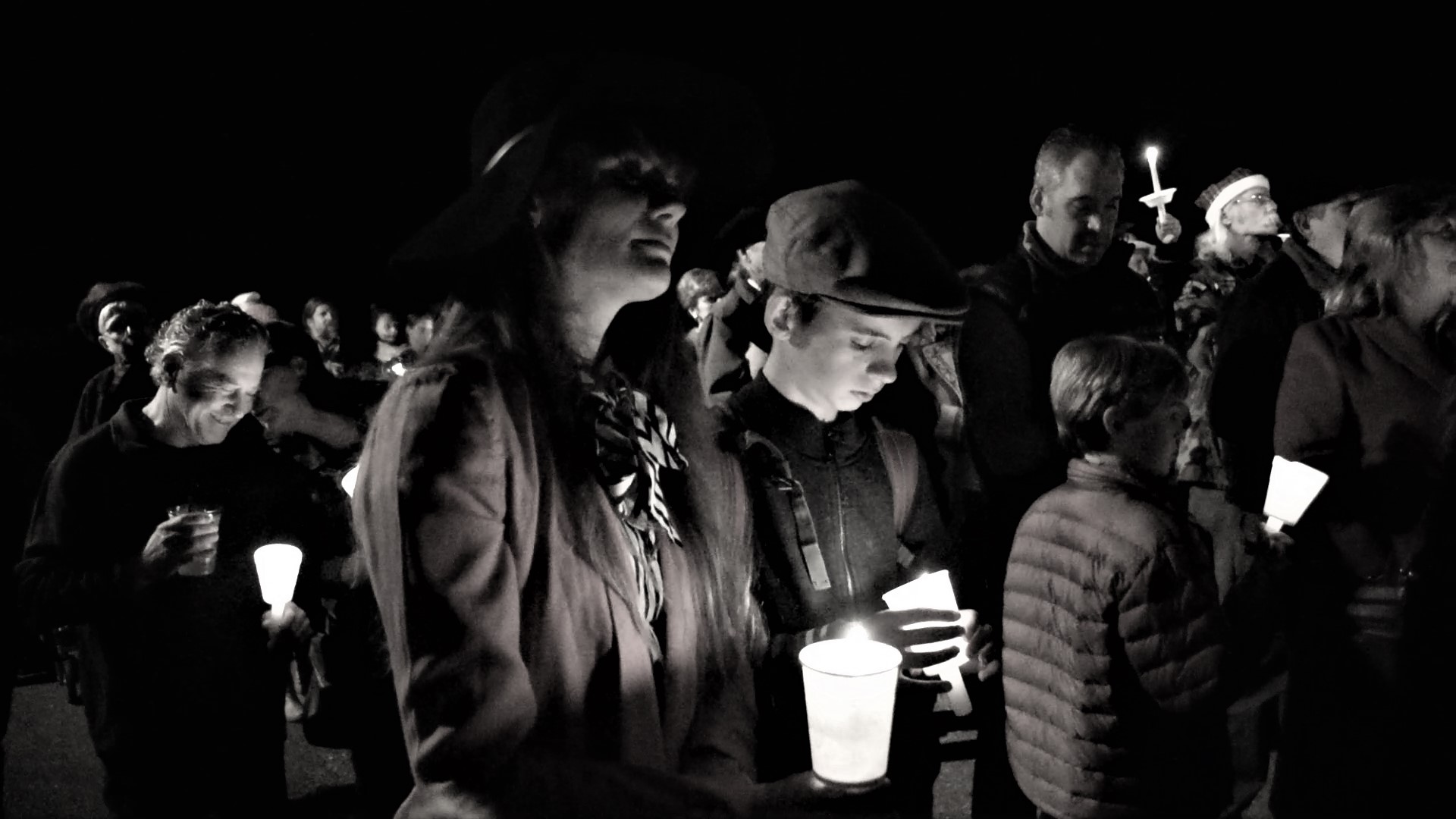 Historic Angels Camp :
Have you ever walked down frogs hall of fame? Not sure if you knew such a thing excited but frogs are celebrated in Angels Camp. They have frog jumping competitions which last four days on the third weekend in May. The Fog Jumping Competition has been around since 1928. Did you know that if your frog can jump higher than Rosie the Ribeter then you could win $5,000. Since 1986 not one frog has beat this record. Rosie Ribeter plaque is located right infront of the visitors center. Angels camp is a fun destination. You don't want to pass Stories in Stone because here you can purchase stones, fossils, shells, and unique items which are perfect for a naturalist lover. The entire town is really charming during the Christmas season with its unique decorated store front windows, Christmas wreaths hanging across main street, and a mini santa almost as tall as our six year old.
Thank you for reading our post. We share a new post every Thursday at 8pm.