Atascadero is right in the heart of San Luis Obispo County. Pretty much the same short distance to the vine yards of Paso Robles as it is to the sandy beaches of Morro Bay so by staying here you get to experience everything this county is famous for.  Atascadero also has one of the coolest city halls in California.
Atascadero Lake Park and Charles Paddock Zoo
Atascadero Lake Park is a small lake right next to the zoo which you can easily walk around for your morning exercise. There are plenty of places for you to pull over and enjoy the birds. If your passing by during lunch time you can find plenty of picnic tables. What we enjoyed were the exercise areas. A few of them are around the lake each with different set of exercises you could do.
Charles Paddock Zoo is one of the smallest but coolest zoos we have ever been to and we have been to a lot of zoos. It is totally a must see because you will encounter creatures you've never seen before. With variety of African and South American species. Our favorites were the giant ant eater, red panda, bat ear fox,and porcupines. We really enjoyed the walk in bird exhibit because we got to see the birds close up and we were able to walk through their environment.
Zoo located at 9100 Morro Road, Atascadero, Ca 93422.
Mission San Miguel Arcangel
We never drive past a Mission. This is the 16th Mission of the 21 California Missions. It's probably the least crowded mission we have ever been to. The friscas are beautiful . The museum is very interesting and goes into depth. We enjoyed the candle making pot and the sheep skin windows. The bell tower near the cemetery looks very ancient.
Located at 755 Mission St. San Miguel, Ca 93451.
Picnicking Paso Robles Style
Our first stop on the way from the mission was to get some wine at Tablas Creek Vinyard. It is a vineyard tucked away in the hills of San Louis Obispo county. I did some wine tasting and picked some great wine. I loved the sweet wine and off we went to get some cheese and other yummies at Vivant Fine Cheese. Our children did some cheese tasting and we bought some cheese, bread, crackers, wild boar salami, and off we went to our final destination to do some olive oil tasting at Kiler Ridge Olive Farm.
Happy Thanksgiving dear friends. Our thanksgiving this year did not consist of turkey, cranberry, or pumkin pie. Instead it consisted of lots of picnics on the beach or in beautiful nature locations with freshed baked bread, extra virgin olive oil, cheese, and crackers. We love tasting things. On this trip we had such an amazing olive oil tasting experience.
Did you know that most of the extra virgin oil you and I buy in the United States from the store is most likely not really "extra virgin" ? This is because it is not mandatory in the USA to get certification by the USDA so many place false labels. Extra virgin means that it has been mechanically pressed and not produced by chemical means.
We had such an amazing time trying olive oil. We first tasted 5 " real" extra virgin olive oil and then 1 false one ( which was bought from the supermarket). We placed the cup in our hands to warm up the olive oil, then we smelled the olive oil, and were then able to taste it. The real extra olive oils smelled like fresh cut green grass while the "false one" smelled like chemicals or paint.
I love that at a young age children are able to make smart/educational choices about what they choose to buy or eat.
Whenever we go places and taste olive oil, cheese, or candy we have our children try it and then they choose what we should purchase. We want them to be able to make their own choices at a young age.
Once we tried and collected all these goodies we had a picnic at Kiler Ridge Olive Farm.
Located at 1111 Kiler Canyon Rd. Paso Robles, Ca 93446.
Morro Rock Beach and Bluff Trail
When your in Atascadero your only 20 min away from the beach. So it is easy to get yourself a great sea food lunch right off the dock. For our lunch we chose to go to Tognazzini's Dockside Restaurant which was a great choice because everything we got there we loved and it did not break our budget. Since we had plenty of time until sunset we decided to take a short hike. We went to Morro Bay and walked the sunset bluff trail which was short and easy with no elevation gain. We were sure glad that we did because it took us right out to a beautiful bluff that overlooks the rocky coast. It was such a great place to just take in the views. As it was getting closer to sunset and we were getting a little hungry we drove to Morro Rock Beach. To get to the water here it is just a short stroll down a sandy path. We picked our spot for picknic and a spot for sunset viewing . We set up for a good snack, which was really good and was mostly made up from food we picked up in Paso Robles the day before plus some chips and dip which we picked up at the avocado orchids on the way to Morro Bay. We found a little more than a picnic spot because we found our self a beach almost all to our self with a great view of Morro rock and a beach covered in sand dollars.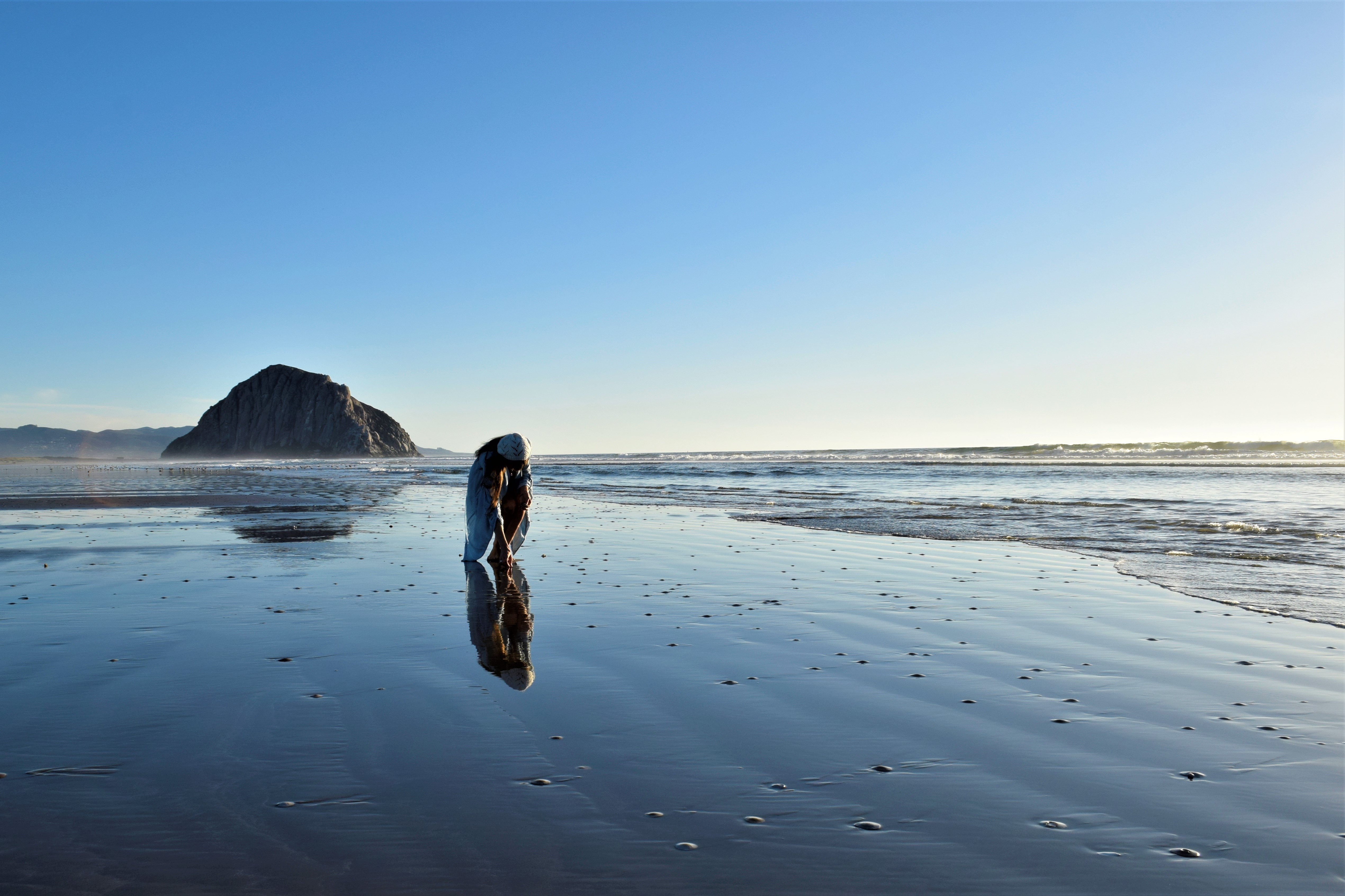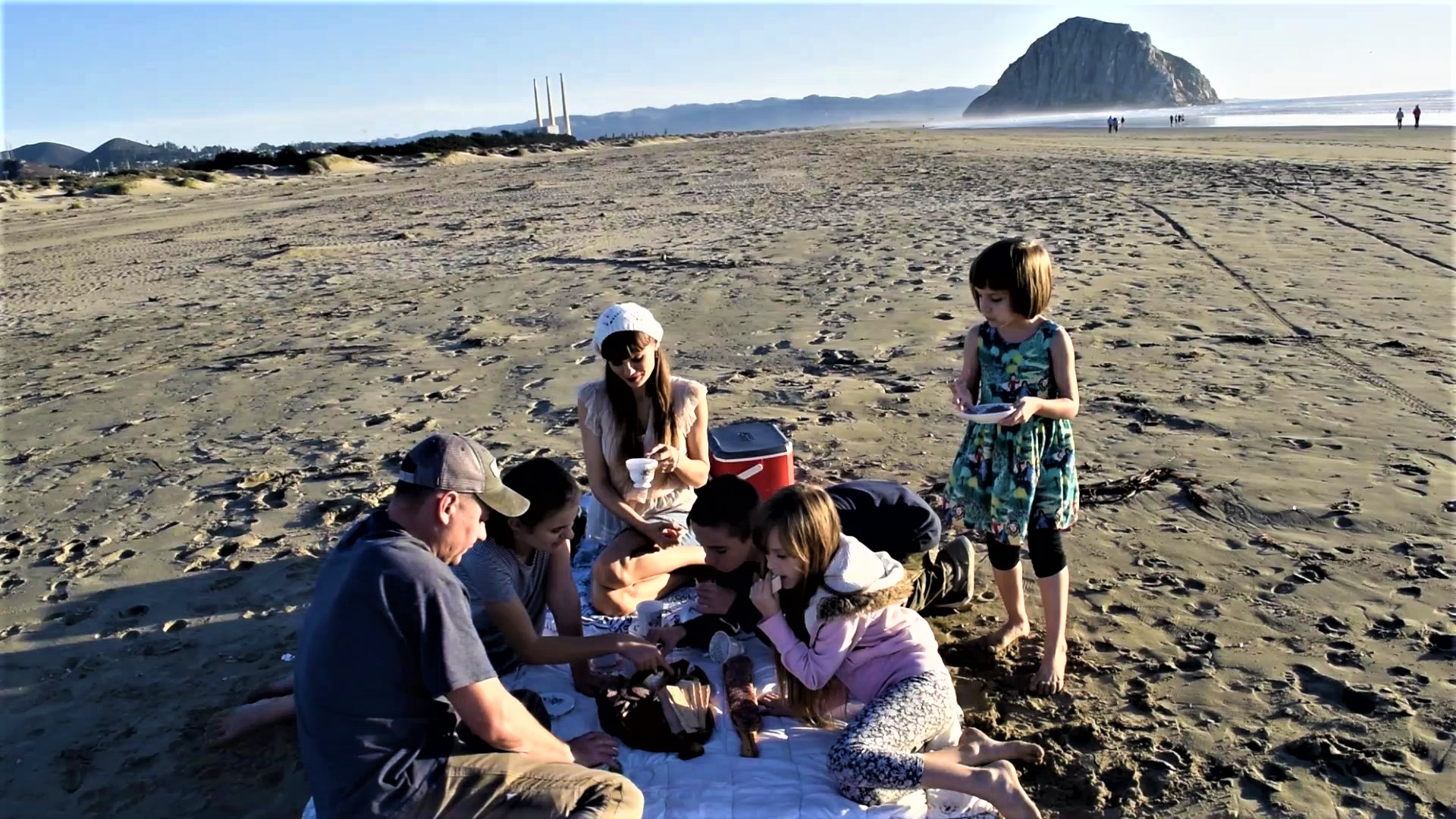 Holiday Inn Express and Suites
This Inn was so nice, new, and a very clean hotel. It is also very convenient to get to. The rooms were spacious. We received two connecting rooms and each of the rooms had two beds in them. We loved that breakfast was included.
Located at 9010 West Front Road Astascadero, Ca 93422.
Thank you Visit Atascadero for hosting our stay.
Thank you for reading our post. We share a new post every Thursday at 8pm.