We love our little getaways. Some enjoy taking a few weekly vacations. While others like us prefer to get away just about every weekend. We work hard four to five days a week and play well two or three days a week. It works best for us this way.
San Francisco North/Petaluma KOA Camping Resort
We have stayed in a human size nest before and pretty much have experienced every kind of camping out there except for KOA. I'm not sure why we've never stayed with them before because they are so kid friendly and we love camping facilities that offer a variety of fun activities for children. Once we arrived we did not leave, I guess it's the first time for everything.
This cabin was perfect for our family. We felt like we were camping because we had a fire pit and made our entire dinner on it. We felt like we were staying in a hotel or resort because there is a swimming pool. There is a jumping pillow which makes you feel like your at a kids park. Our kids loved the petting zoo (Eve asked if she could kiss one of the goats) and a playground with two slides which was great to see who can come down the slide first.
The cabin was so spacious. Hubby and I had our own private room. Above our room is a large space where our older two slept and our younger two shared a room which had bunk beds in it. I liked that we were able to make breakfast inside the cabin. I'm not big on eating outside in the morning while it's still cold outside. This was the first time that we were able to get a good night sleep while camping because nighttime bathroom breaks are frequent while camping because my husbands gets up and walks our children to the restroom. We did not have to do that at KOA.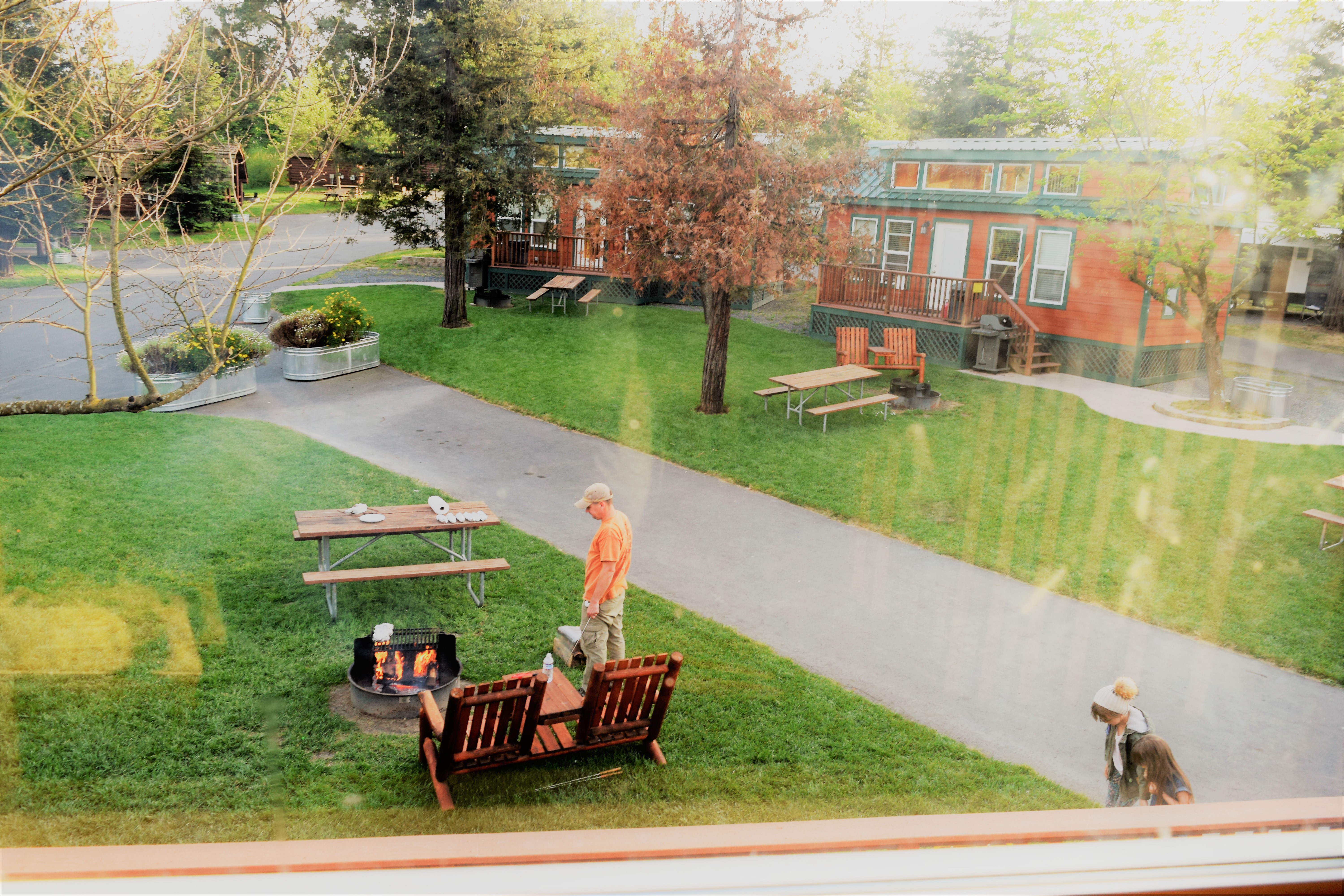 Turtle Back Hill Trail
A weekend trip is never truly complete without a hike even if its only a 0.7 mile round trip loop. The views are beautiful from here. You get to see many birds and marsh areas from this trail. This is a perfect trail to walk on after you've sat in the car for a few hours and you'd like to stretch your legs until you get to you next destination.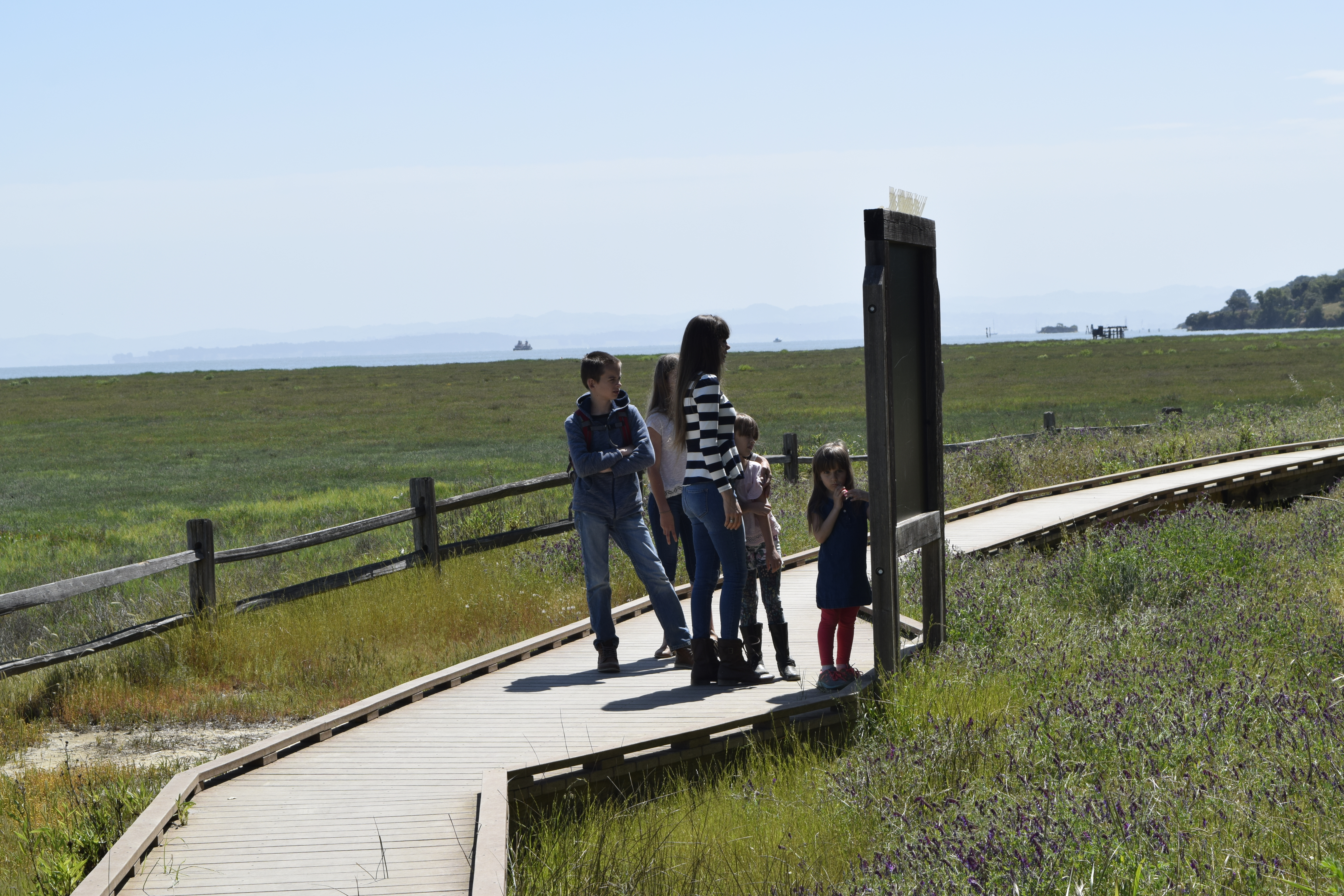 Mrs. Grossman's Sticker Factory Tour
Getting to witness how things were made or created helps us to appreciate the product and the individuals who made them. I'm not sure about you but it's not every day that when I place a sticker on my journal or pen pal letter that I appreciate all the hard work, energy, love, creativity, and money that went in to make that sticker possible. After we went on the educational tour we now look at stickers differently. The tour was fun and educational. During each station of our tour we received stickers that we were able to take home. We got to see the timeline of all the stickers that have been created eversince 1979. If you weren't a fan of stickers before, you might become one after visiting the only sticker factory in the United States.
You want to make reservations over the phone beforehand. Their phone number is 1-800-429-454. They are located at 3810 Cypress Drive Petaluma, Ca 94954.
Eve's bunny hooded sweater is from Baby Super Cute
Esther's top is from Lele for Kids
Sonoma's Cornerstone Marketplace
This was my husbands and my third time visiting the gardens of Sonoma's Cornerstone Marketplace. The amazing thing about this place is that they change the rooms so that if you come here once a year your likely to see new garden rooms.This garden has 20 different rooms which are each designed by different landscape architects and designers from around the world. This is a great place to come and get inspiration for your next landscape project and to take some unique pictures at. Before you plan to visit the garden check on their website if the garden will be opened to the public because they host private events here. cornerstonesonoma.com They are located at 23570 Arnold Dr, Sonoma, Ca 95476.
My beautiful dress is from Effie's Heart and I love all their beautiful pieces.
Thank you for reading our post. We share a new post every Thursday at 8 pm Pacific Time.
Thank you KOA for hosting us.
Do you prefer a long getaway or many short getaways?