"Earth provides enough to satisfy every man's need, but not every man's greed. " – Mahathma Gandhi. Happy Earth Day everyone. 🙂 This is the time of year when many of us celebrate our planet. It is vital to teach our children to use what is needed and to try to work hard on reducing waste. It is also time to plant something and admire the world outside our doors.
This week we spent time learning about our solar system, specifically our planet.
Our Solar System:
At Anza- Borrego Desert State Park we enjoyed the Solar System walk. While walking on this trail we were able to see how close or faraway the planets were from each other and from the sun. It was so much fun to find the next planet as we walked the beautiful desert.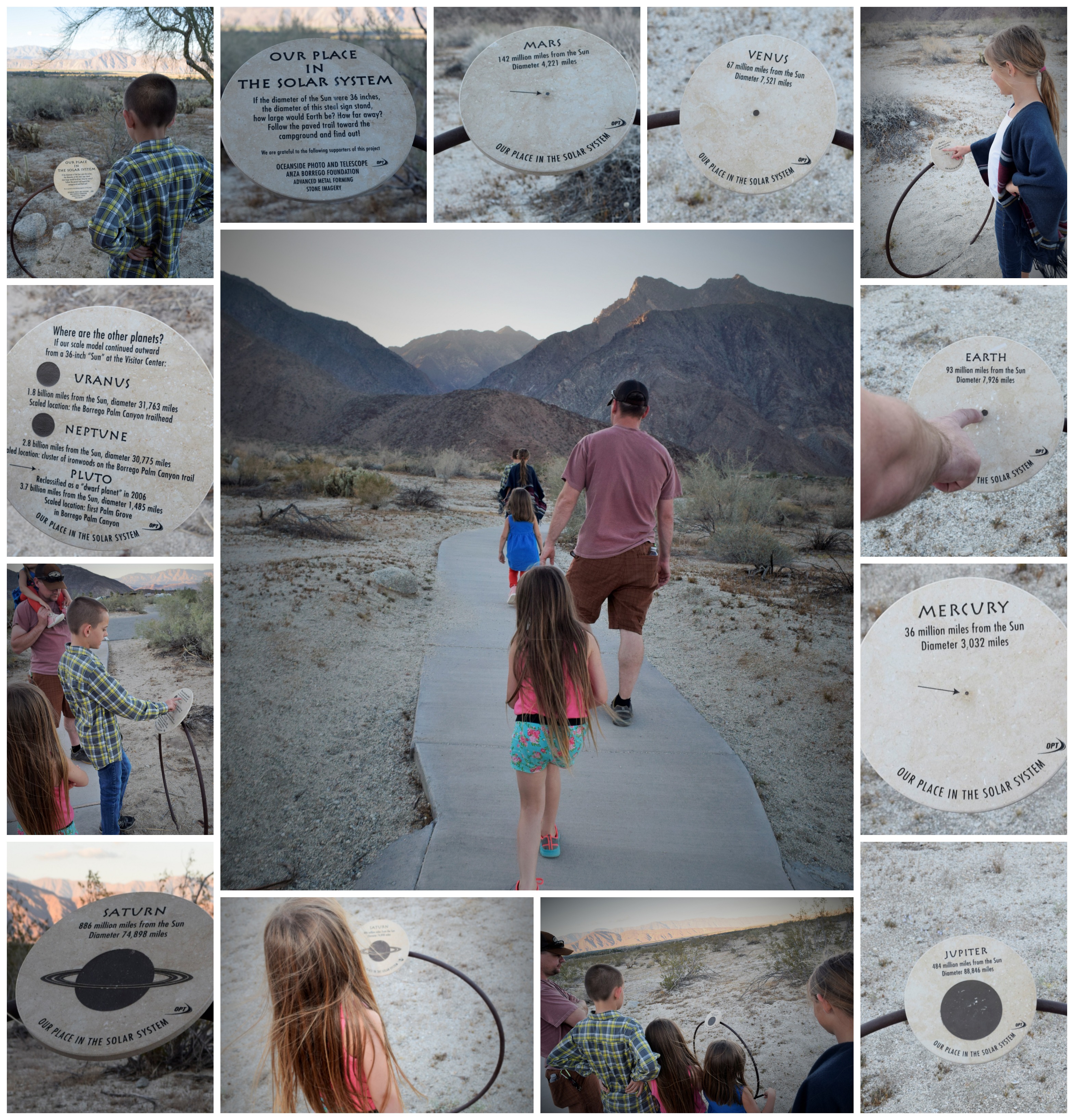 Our Solar System Made from Fruit: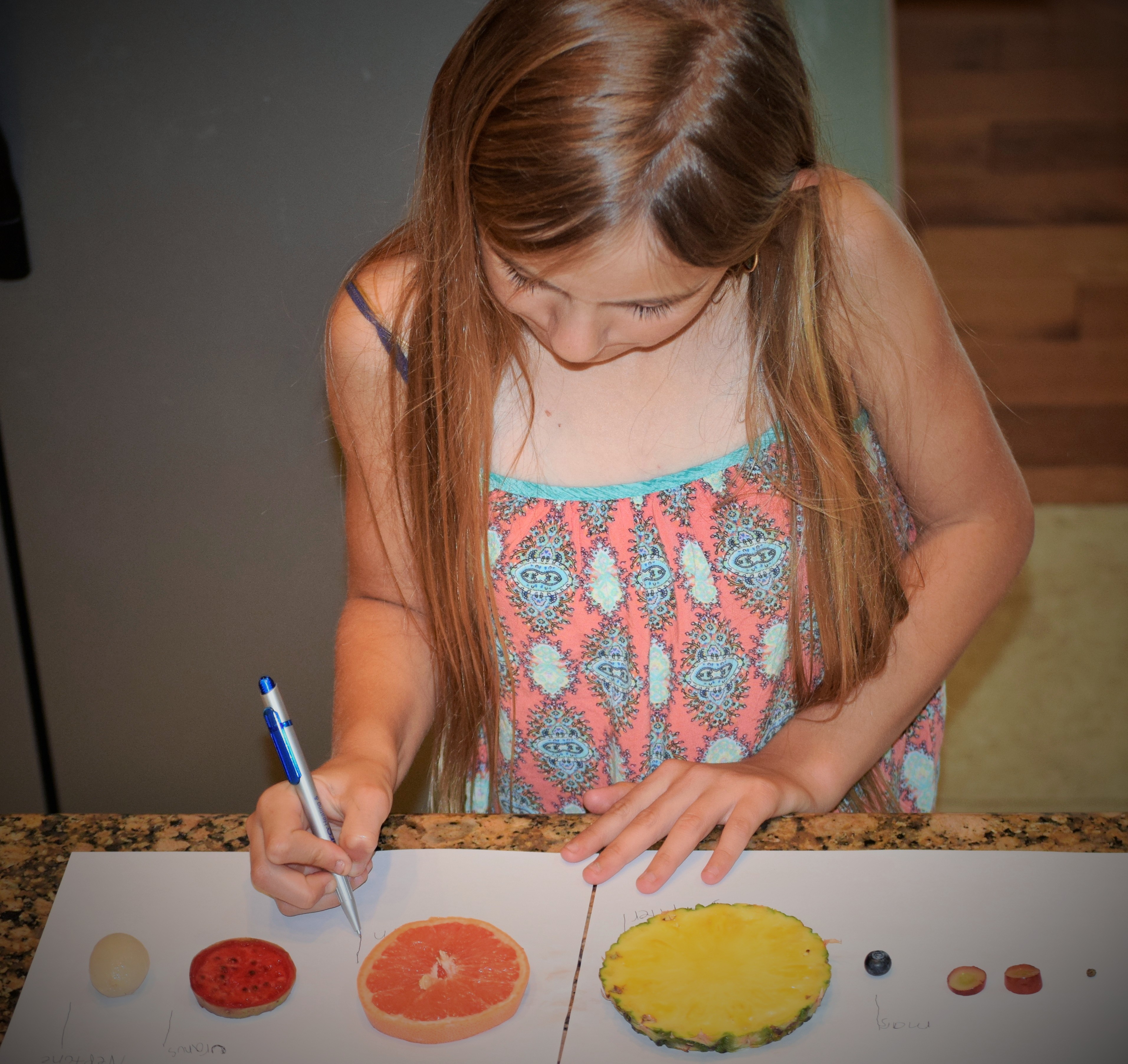 Memorizing the planets is quite easy.
My: Mercury
Very: Venus
Evil (change it to Elegant): Earth
Mother: Mars
Just: Jupiter
Swatted (change to straightened ): Saturn
Uncles: Uranus
Nose: Neptune
We used fruit to represent the sizes of the planets and lined them up.
Mercury is closest to the sun (36 million miles away). Mercury is the smallest planet. Mercury has no moons. The surface of Mercury is covered with craters and is completely dry.
Venus is second planet closest to the sun (67 million miles away). Venus is closest to Earth and is a little smaller than Earth. Venus has no moons. Venus is the hottest planet in the Solar System. Venus is composed of carbon dioxide.
Earth is the third planet closest to the sun (93 million miles away). If you viewed Earth from outer space you would see clouds of water vapour. You can see this with the Earthball. The earth is the only planet that has life and liquid water. Earth also has seasons.
Mars is the fourth planet closest to the sun ( 142 million miles away). Mars looks very much like Earth but instead of blue skies and green lands, mars is tinted red. There are seasons on Mars. Mars is covered with craters (43,000 large craters have been found and this is not including the small craters).
Jupiter is the fifth planet away from the sun (483 million miles away). Jupiter is the largest planet and the stormiest planet. Jupiter is made of hydrogen, helium, methane, and ammonia. Jupiter look beautiful from space because it has brown and white bands throughout it. There are 64 moons in Jupiter.
Saturn is the sixth planet away from the sun (886 million miles away). It is the most beautiful because of its rings. Saturn has 18 moons.
Uranus is the seventh planet away from the sun (1782 million miles away). Uranus has a total of 27 moons. Uranus is composed of gas. It is also blue in color.
Neptune is the eighth planet away from the sun (2793 million miles away). Neptune has 13 moons.
There is so much more to learn about the planets of our solar system, I just scratched the surface of them here.
Drawing the Earth and other planets:
This is so easy and fun to do. I had my kiddos watch a few different drawing videos on YouTube that showed them how to draw the earth.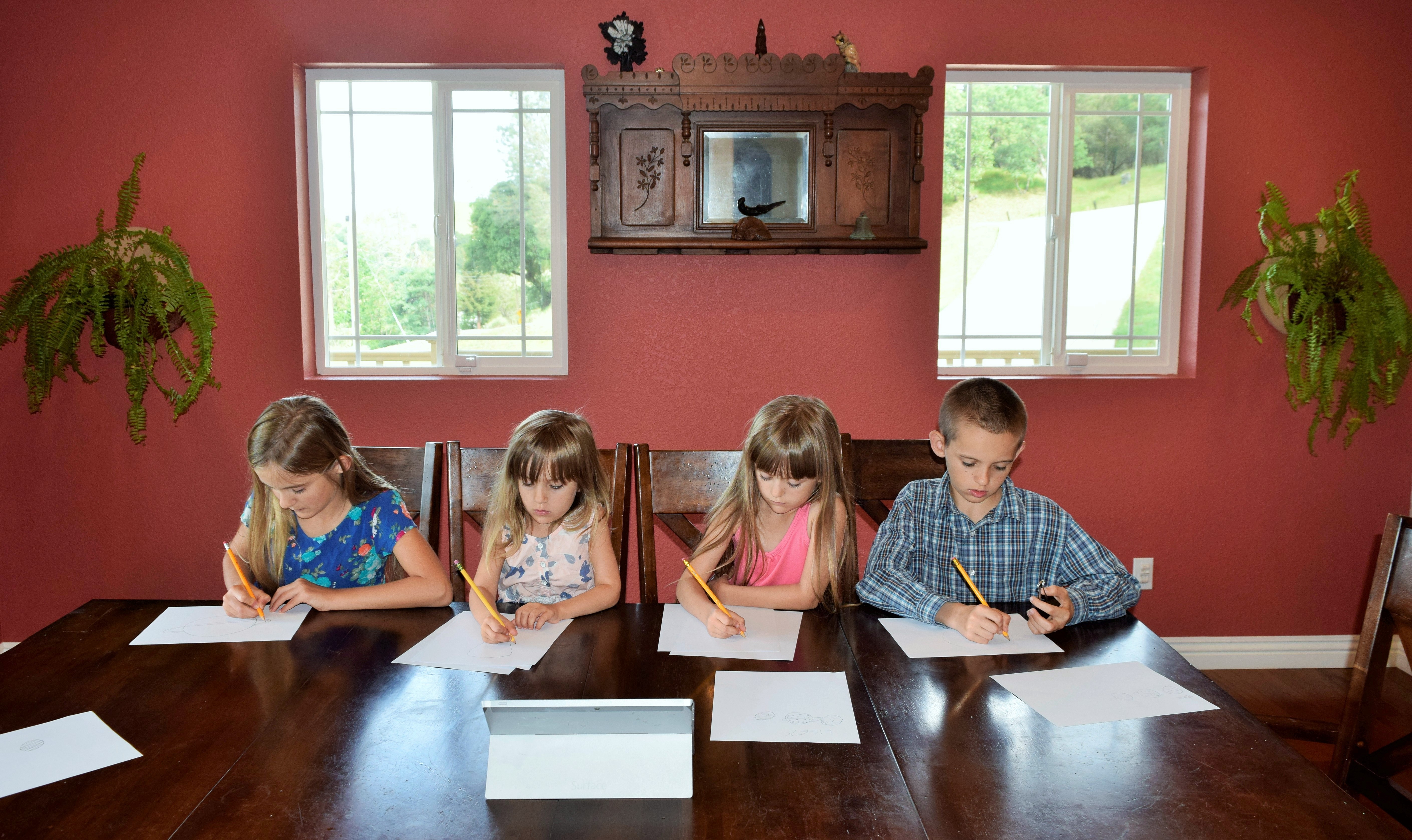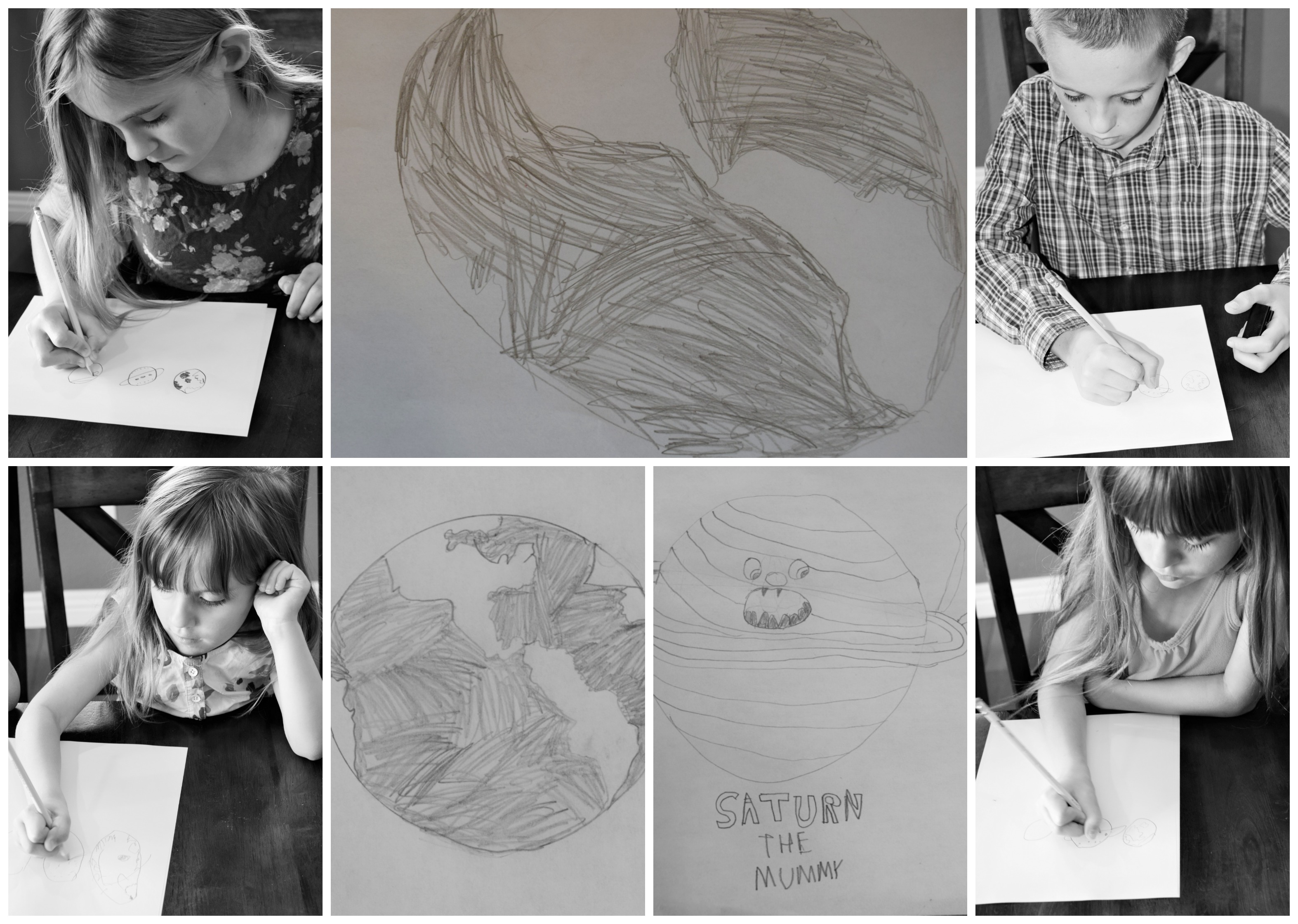 EarthBall:
What better way to celebrate Earth Day than with an EarthBall? We were blessed with an inflatable EarthBall.  They offer 16 inches and 1 meter diameter EarthBalls for purchase. You could also purchase or rent EarthBalls from 3 to 25 feet in diameter.
The EarthBall comes with a handbook full of activities and educational resources. We only did some of the activities that are included in the handbook and plan on doing them all with time. The major cities also glow in the dark. 🙂
Visit www.earthball.com and use the code EARTH25 to receive 25% off your EarthBall.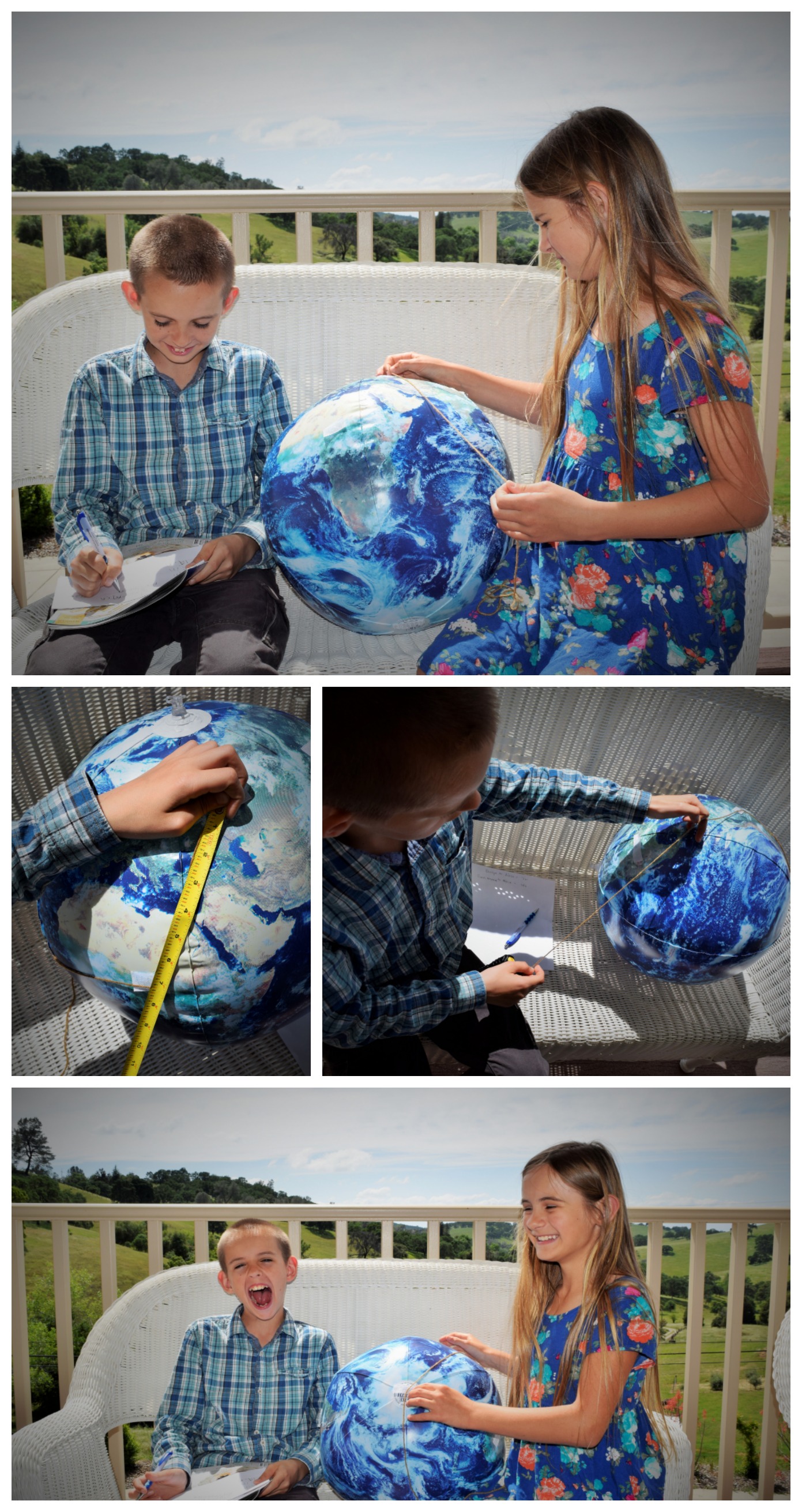 We really enjoyed figuring out which continent is the closest to the content we were examining. We used string and measuring tape to record the distance.
Playing with the EarthBall was probably the best part. We first threw the Earthball around and then we threw the EarthBall and named the continent which was facing us. This is a great way to teach young children the 7 different continents.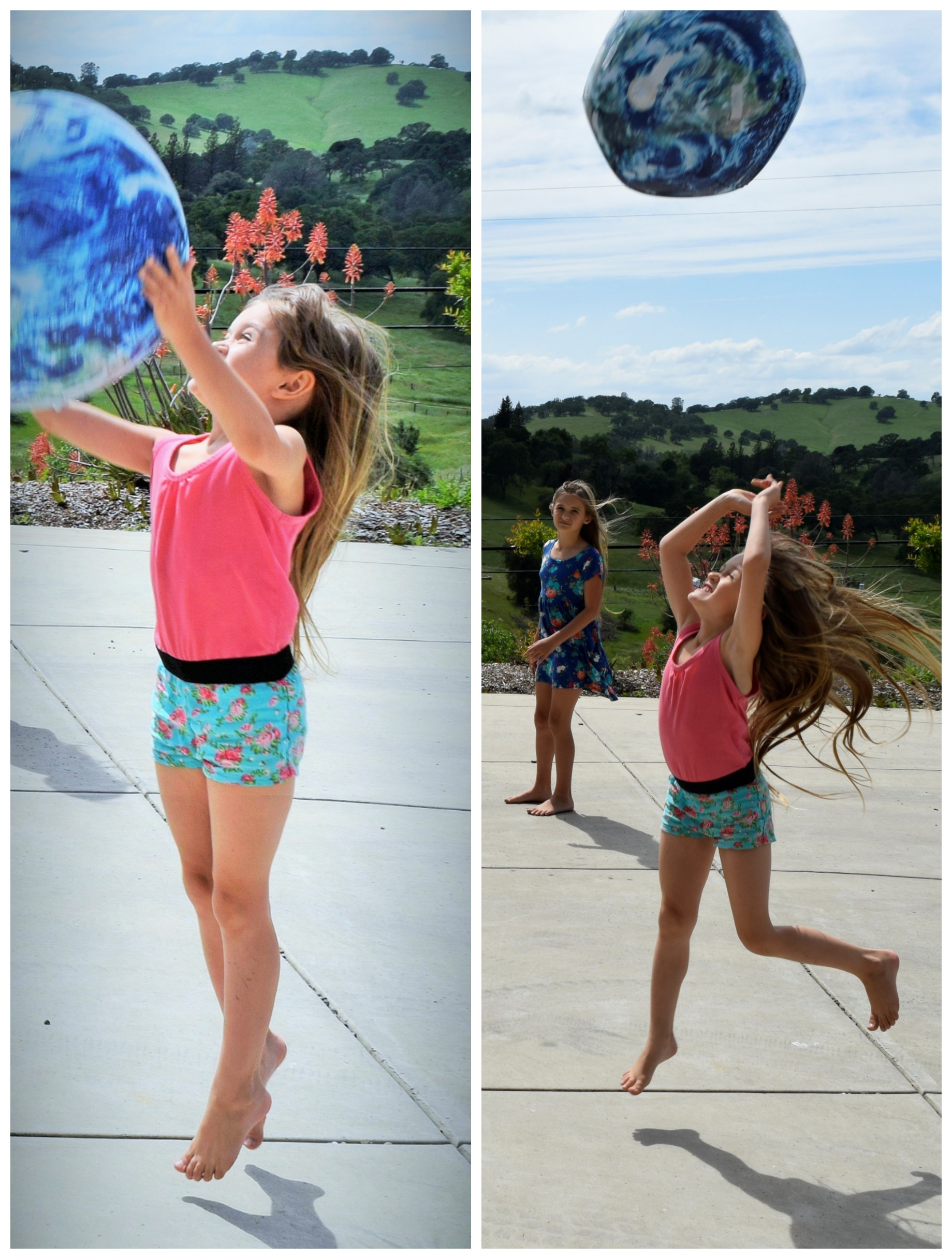 We finally have our very own laminating machine. I do not know how we lived without it. We were blessed with a Fellowes C-95 Pouch Laminator with 50 pouches included from MyBinding. It is so easy to laminate paper with it. The pouches open up and you place a paper inside of it. Close the pouch and put it through the laminating machine. We decided to laminate animals and different flags from the 7  different continents so that we could always keep them and learn them with time. It is a fun way to learn about the different animals, people, and plants that live on the 7 different continents.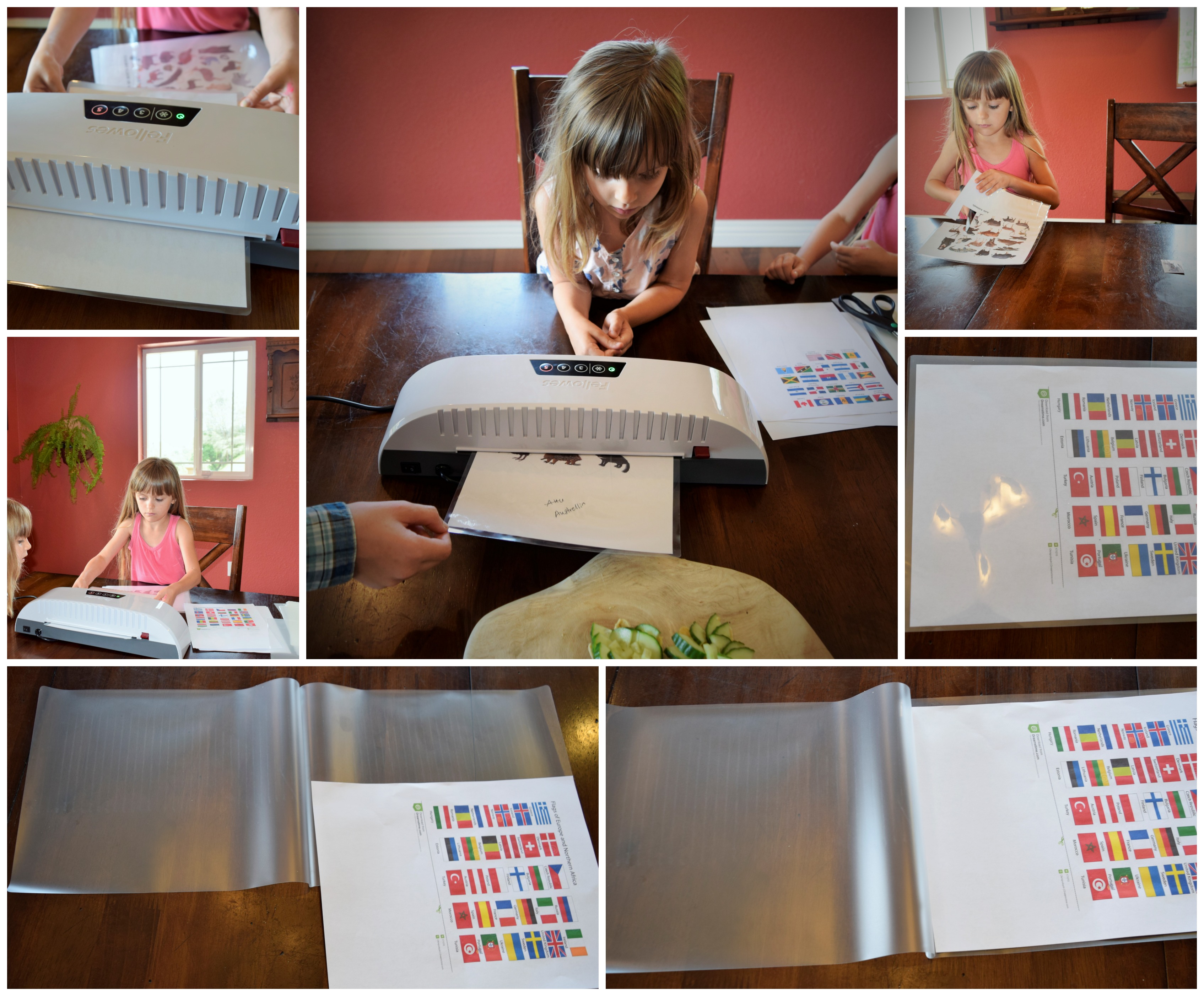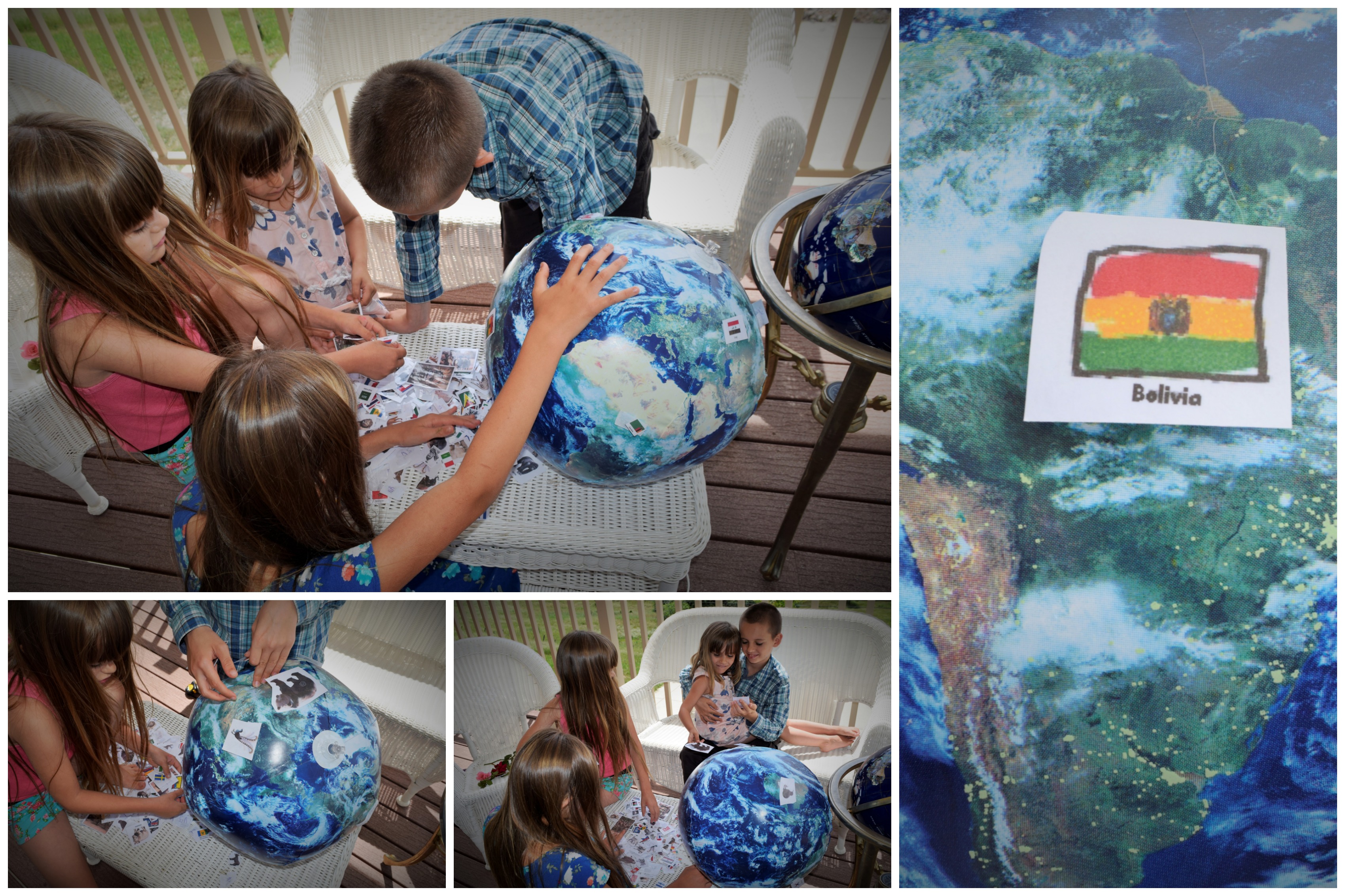 Earth's Layers:
The earth is made up of 4 very distinct layers. We made 6 layers. 1. Earth's land. 2. Earth's water. 3. Earth's crust. 4. Earth's Mantle. 5. Outer core. 6. Inner core. The crust is the layer that we live on and it is made up of granite and basalt. The Mantle is hotter than the crust and flows with constantly of asphalt. The outer core is made up of iron and nickel in liquid form. The inner core is made of iron and nickel in solid form.
We used different fruits and veggies to make our model.