Lighthouses are magical. They extend their hand to the ships, providing them a safe haven. They stand tall with the sea raging at their feet. A lighthouse is a guide for ships that are lost or endangered.
Lighthouses don't go running all over an island looking for boats to save, they just stand there shining. -Anne Lamont.
Point Arena Lighthouse
The lighthouse standing today is not the original lighthouse because the original lighthouse was destroyed during the San Francisco earthquake that occurred in 1906. This lighthouse is 115 feet tall and you have to take 145 steps to get to the top but all those steps are worth it because you'll enter a room covered in glass with a breathtaking view.
You won't want to miss the museum because that's where the original 6-foot-wide lead crystal lens is located at and that is one amazing lens to look at.
Located at: 45500 Lighthouse Road. Just drive to the end of scenic Lighthouse Road. They are opened 10:00 to 3:30 pm during the winter.
To book your overnight stay visit http://pointarenalighthouse.com/lighthouse-lodging-2/reservations/
We stayed two nights in the Assistant Keeper's House #4. It is such a beautiful home to stay in. The rooms were furnished so beautifully. Our girls said that when they grow up that they will decorate their homes the same way. We loved sitting next to the fireplace while playing family board games.
It is a bit pricey. We stayed here for Elizabeth's 8th birthday. There was 23 acres which we could enjoy. We hiked and spent majority of our time outdoors.
Point Montara Lighthouse
This lighthouse was built in Massachusetts but was later moved to Montana, California. It is 30 feet tall so it's easier to move. It was brought to California in 1928. Here you can stay the night at the hostel. You can walk down to the beach and there are benches and places to take in all the beautiful scenery. The lighthouse itself is closed. You can enjoy it from the outside.
To book your overnight stay visit http://www.norcalhostels.org/montara/reservations/
Pigeon Point Lighthouse
Pigeon Point lighthouse is a beautiful tower. You can see that it has been through a lot. It was built in the year 1871 and is 115 feet tall. This lighthouse is now fenced off and tours are no longer given.
We stayed in the hostel overnight. If you are a guest you can reserve the Cliffside Hot Tub for 30 minutes or longer. We highly recommend it. Life is better in the hot tub next to the waves
To book your overnight stay visit http://www.norcalhostels.org//pigeon/reservations/
My skirt and top is from http://Jane.com.
Our beautiful Heather swimsuits are from http://radswim.com.
Hands on Learning:
If your following us for awhile you know that we love using http://artventure.com.au/. We enjoy this online kids art class very much. Kids love taking as much time as they need to complete an art project. There lighthouses turned out beautiful. Use the code HOMEGROWNADVENTURES to receive a discount.
Flashlight Lighthouse:
This is so easy to make and you can use anything you have around the house. We used glass mason jars and plastic cups. All you need to do is cover the flashlight with any recycling items you have around the house.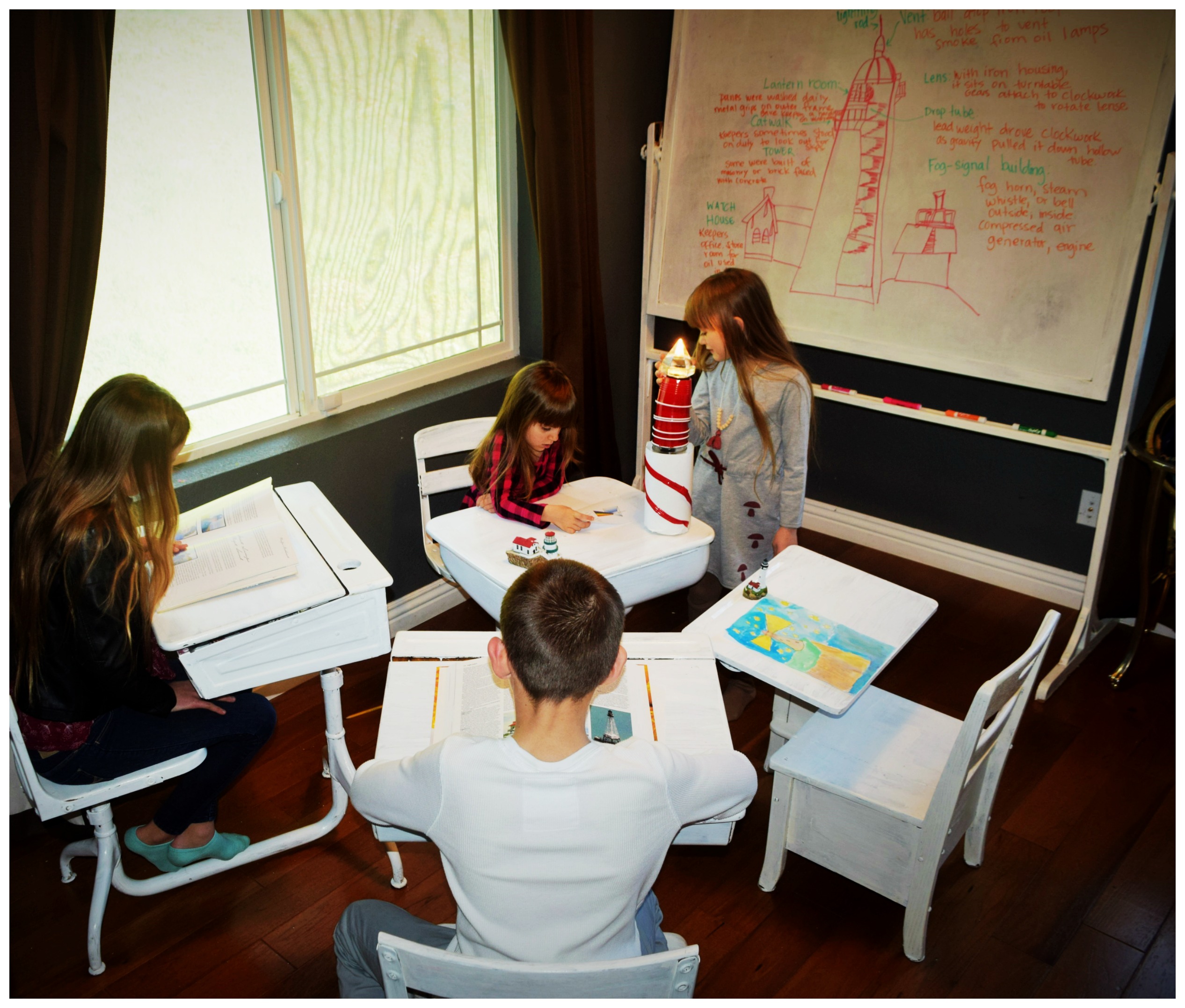 Elizabeth's mushroom dress and leggings are from http://mile.sk . Elizabeth's necklace is from http://www.squirrel-house.com.au .

Do you like lighthouses? Would you go out of your way to see a lighthouse? We sure do. We love lighthouses. We also enjoy staying in Hostels. It's a cheaper alternative to traveling.
Thank you for reading our post. We share a new post every Monday and Thursday, 8 pm Pacific Time.