Mill Valley is only 3.8 miles from Muir Woods, 9.1 miles from Golden Gate Bridge, 7.4 miles from Mount Tamalpais State Park, and 12.7 miles from Stinson Beach.
If you want to explore Marine County, Mill Valley is probably the best city to do it from because as you see it is in very close distance from  the best  Marine County has to offer. The town is set in such a great location that you have  redwoods in the city park and it has one of the most charming down town areas for you to explore. It has great restaurants, coffee shops, galleries, and unique shops.
Marriage is sadly no longer valued today. It has now turned into "it's all about me" or "I need my spouse to make me happy." The interesting thing is that when we worry about our spouse being happy more than ourselves we will be happier. Marriage has a great way of making us less selfish. Did you know that no other relationship can illustrate the union of Christ and the church? That means that our marriages are earthly images of his divine plan. This is why couples should fight for their marriages and make their marriages priority. My husband and I are crazy about our children but we know the importance of spending quality time without our children and that is why we spend alone time with each other daily. We look forward to that sacred time. When our children were younger it was less but we still made sure we spent some time together every day. It doesn't have to be big. It could be as simple as the two of you drinking tea together. Every few months we try to get away for one night without our children. We always have such an amazing time. This time we enjoyed Mill Valley.
A while ago we went hiking with a group of people and one of the guys that was part of our group was shocked by the way hubby and I interacted with each other.  He asked us if we were sure that we were married for 15 years because we acted like we just got married. Yeah we really do like each other. Not sure why some think that if one is married for many years that the spark is no longer there. Just like everything good in life in order to keep the spark a couple has to continue to do loving things for each other and it is a every day kind of thing. Marriage is a lot of work but so worth it.
Muri Woods National Monument
Muir Woods National Monument is by far one of the most popular parks in the area so make sure you come here early to grab a parking spot because parking is very limited. You can also find a shuttle that can take you here. This park is so popular because of it's easily accessible trail along the Redwood Creek. We took the Bohemian Grove Trail which takes you to right through the redwood grove and right past the giants which have been standing here before Columbus discovered America. There is also 4 bridges for easy creek crossing and these make for a great picture opportunity. We hiked right after the rain so it was so beautiful with the trees still covered with rain drops and when the wind blew the rain drops danced around us.
DipSea Stairs
Right near Old Mill Park in Mill Valley there is a trailhead for Dipsea trail which will take you up Muir Woods National Monument if you want to hike into the park. The coolest part about this trail are the three sections of stairs that will take you up the mountain. There is a total of 680 steps with three different sections. As we were going up the stairs we came across quite a few people who come just to be able to walk up and down these stairs multiple times and I can't blame them because this sure beats stair climbers at the gym. I walked and sometimes even ran in high heels and a skirt up these 680 steps. Not sure what those walking/running past me thought. 🙂
Location: Cascade Dr. at Molino Ave. Mill Valley, Ca.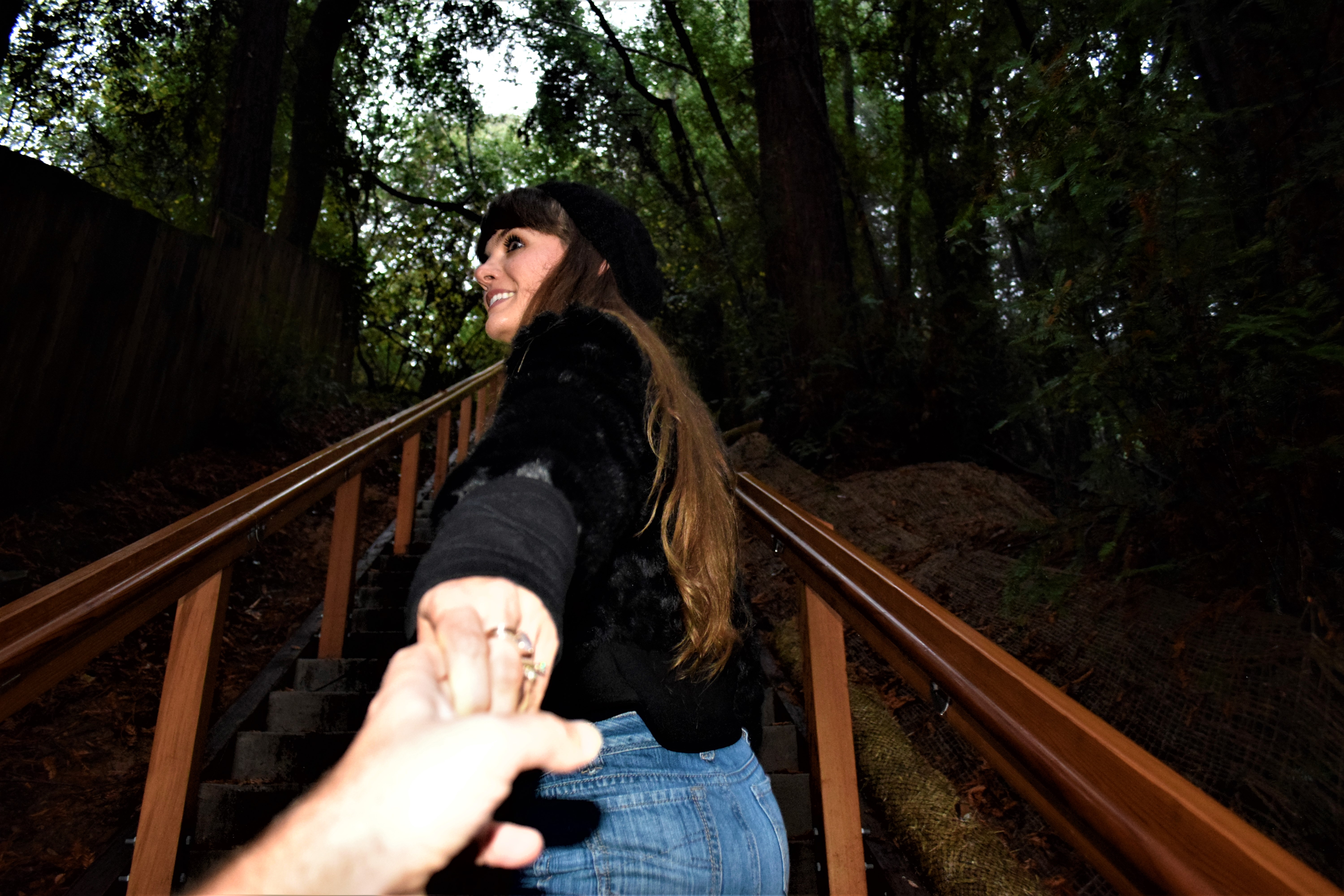 Tennessee Valley Trail to Tennessee Beach
We took Tennessee Valley Trail to Tennessee Beach. It's only 1.8 miles from the parking lot and it is quite easy to get to the beach without too much effort. This is a small beach with burgundy pebbles instead of sand and huge cliffs luring over it. You can't beat a peaceful spot and spend a few hours relaxing as you listen to the sounds of the waves hitting the beach and turning the pebbles over. When your done playing in the waves we recommend that you take the 800 foot trail up to the overlook. It is a bit of a climb but the view is incredible from up here. Who knows maybe you'll also have a conversation with a crow like I did.


Fort Baker Breakwater
There are many great locations in Marine County to view the Golden Gate Bridge from but this is one of our favorites. Your right below the bridge and you've got the view pretty much all to yourself because most of the people are at the big parking lot right next to the bridge and because you have to navigate a bunch of roads to get here so we only had a few fisherman to compete with for one of the best views of Golden Gate Bridge and San Francisco. There were so little people here that during lunch time the one and only picnic table was totally free for us to use.
Located at Sausalito, CA 94965.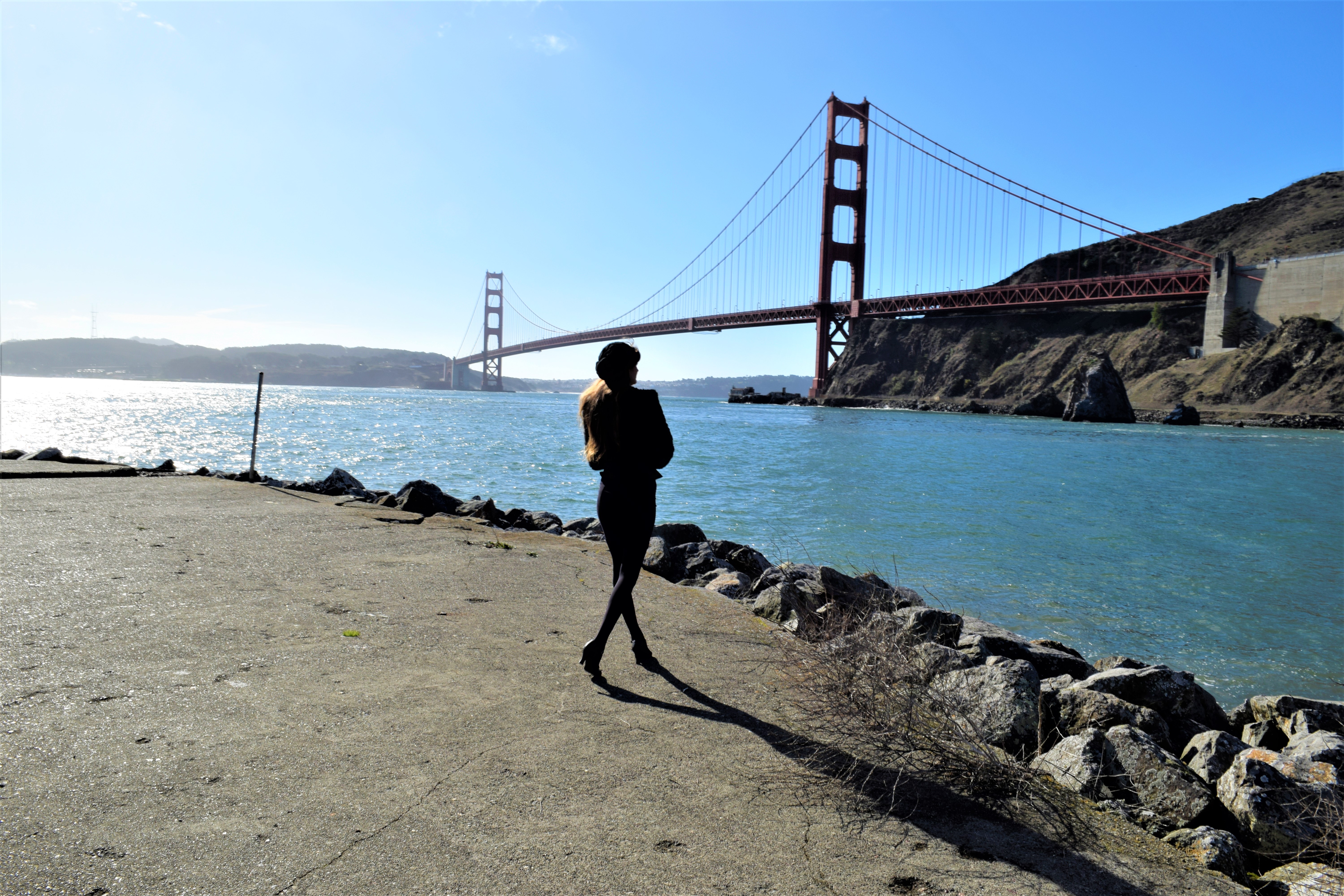 Mill Valley Inn
There are 25 guest rooms to choose from. We stayed in room fifteen, one of their sixteen guestrooms located in the Main Building. This is a charming three story Inn right in down town Mill Valley. It is only steps away from some of the best restaurants, right across the street from a theater, and art gallery. You will feel welcomed as soon as you step inside your room. They have classical or romantic music playing for you as you walk in. There is a bottle of wine and some Napa Valley chocolate. The French doors going out to the balcony has a beautiful view. There is a fire place in the room for you to stay warm. On the second floor from 5 pm they offer complimentary local wine which you can enjoy at the lounge or take with you to your room. There are lots of romantic dining options only steps away from the Inn but we thought it would be more romantic to have dinner and watch a movie next to the fireplace in our room. We called in and ordered from Pizza D'Angelo which is just around the corner and they deliver right to the door. Don't let the name fool you because they don't only serve pizza. We ordered fritto misto, tortelloni della casa, and cesare. The complimentary buffet breakfast was such a treat because everything they offered was fresh and absolutely amazing.
Located at 165 Throckmorton Ave. Mill Valley, Ca 94941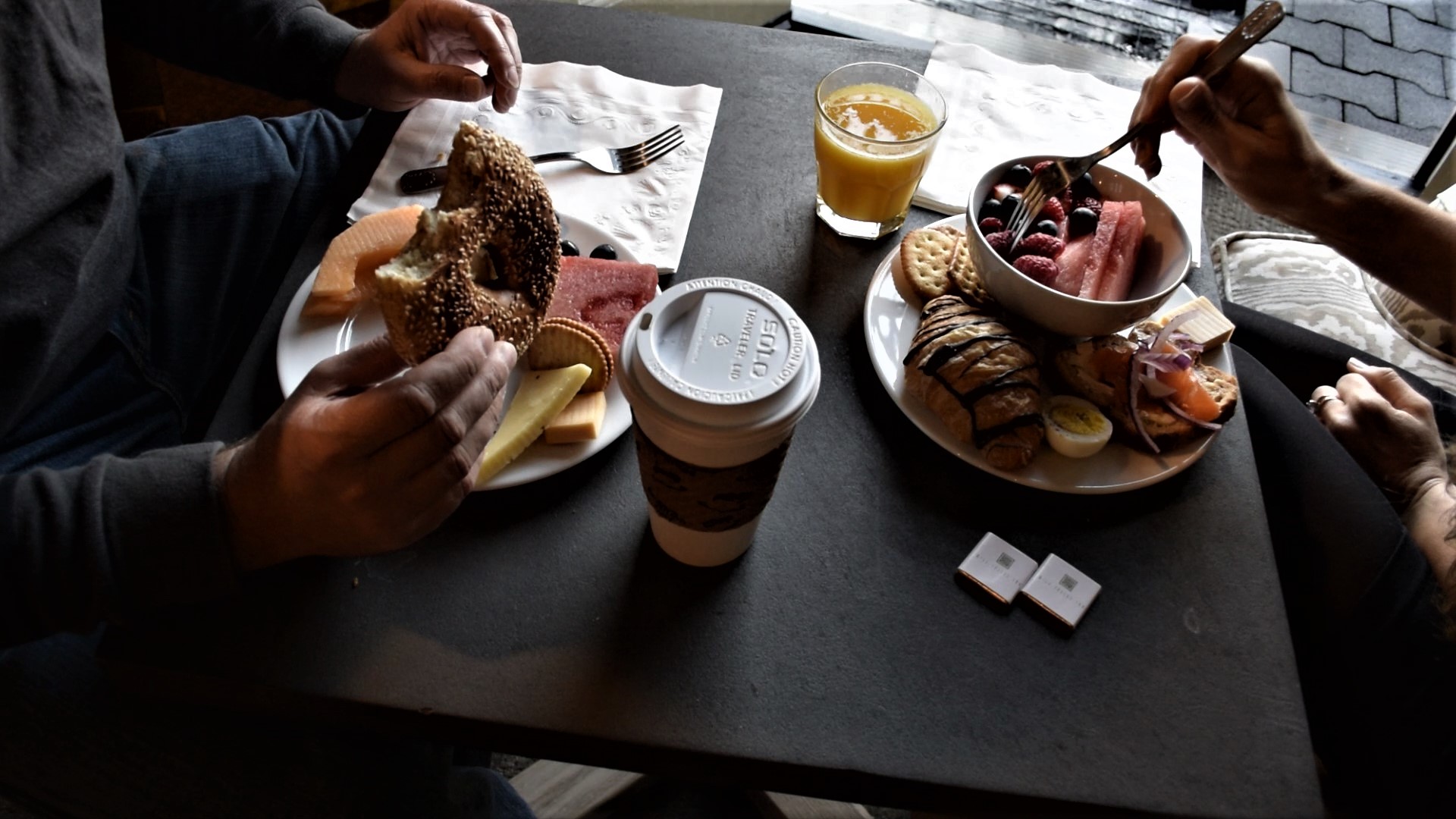 Thank you Mill Valley Inn for hosting our stay.
Thank you for reading our post. We share a new post every Thursday at 8 pm.