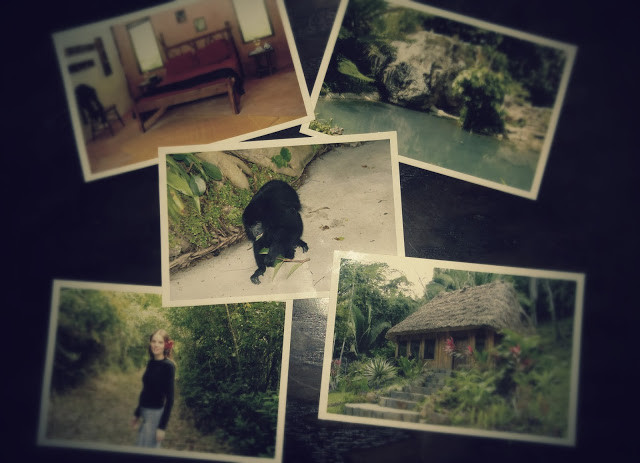 Can you imagine staying in a private, exotic rain forest jungle with your loved one where greenery, animals, and critters rule the place? It is not hard for me to imagine such a paradise because I stayed in one with my husband on our third anniversary. My husband and I decided to leave the states for a week and fly to Belize where we could find such a place. I can still vividly remember the astonishing things we saw the night we arrived to EK'TUN, the following day, and the adventure with the howler monkey.
The night we arrived to EK'TUN the sun had already set and darkness had took its place; there were no houses nearby, no lights to guide us, and no straight paved roads to follow. Our rented silver jeep followed our hostesses' land rover down a bumpy and endless road. We finally arrived after an hour of not knowing where exactly we would end up at or when the zig zag road surrounded by trees would finally end. It was a blessing to finally stretch our feet and to stand on the dusty ground. We walked down the hill where a small aluminum boat was waiting to take us across the lake to the retreat. It took a while for our eyes to adjust to the darkness and when they did we were able to see everything so clear that we felt like we were looking through the eyes of an owl. The sounds of crickets and toads were around us, and fireflies filled the sky dancing around and shinning like glowing stars in the night. We first walked up the grassy hill and then up to the brick steps which were lightened on both sides, and just straight ahead was our hut.
The hut was a wooden brown hut with layers of dry bamboo leaves as its roof. The walls and roof did not connect and there was a gap between the two of them; large enough for something to get in. There was no glass on our windows; instead, black screens to keep insects out. The walls and floor inside of our hut was concrete and painted white and tan. Against the wall was a unique wooden bed that looked as if it was hand made; its bedding was red and a thin black blanket was neatly folded on top. In the hut there was oil lamps for light, straw mats for rugs, and rocks and shells for decorations. We did not wait long until we fell asleep but during the night a small black bat flew in and was hitting against the walls to find its way back out. My husband flashed his light and scared the bat away. After that it was hard to fall asleep with all the noise which sounded as if some animal was walking around on dry leaves.
The following day was filled with astonishing things. We woke up to the sound of beautiful yellow birds signing a lovely melody and we could hear in the mountains the howler monkeys howling like dogs. As I looked around, all I could see were the different sizes of palm trees and all sorts of fern plants. Down from the hut was the lake that we crossed the night before. The closer we got the more sand and the bigger the black rocks were. In the lake was a short Mexican man who was fully dressed and fishing for fish with a spear.
Next came the adventure with the howler monkey. The monkey was as big as a six month old child; with thick black hair, a small soft face, and brown eyes that looked like buttons. She was riding on the back of a German shepherd dog when we arrived to the hostesses' house for breakfast. Inside the house was a large wooden table for eight people, however; only another couple joined us for breakfast. We were served with scrambled eggs which had pieces of red and green bell peppers, bananas and fruit drizzled with lemon juice, and sweet orange juice that was freshly pressed and squeezed that morning. Then as we were eating, the howler monkey started making her rounds around the table climbing on us. The hostess told me that she wanted me to be careful around her because she had bitten pregnant women in the past. This information made me feel uncomfortable because I was five months pregnant at the time. However, the monkey climbed on me and then went her way. Before we left we were standing and asking the hostess which hiking trail we should do; the monkey attacked me. She wrapped her hands, feet, and tail around my leg, sinking her teeth into my flesh. At that moment my husband was standing in front of me and I wrapped my arms around him, sinking my nails into his stomach. Then I said calmly, "The monkey is biting me." It took my husband and the hostess a while to figure out what was happening, but when they did, the hostess took the monkey off my leg and tears ran down my face from fright. We were given bandages and cream to put on my leg and my husband took care of my leg for the remaining time.
Our jungle experience was amazing even though a bat flew in our hut and a monkey had bitten my leg. If I could do it all over again, I would have done it exactly the same. Now, I am left with memories of a jungle filled with beautiful things and a bite mark on my left leg. I can now laugh and share my story with others about the astonishing things we saw the night we arrived to EK'TUN, the following day, and the adventure with the howler monkey.
This is a bed and Breakfast. It is located in San Ignacio, Belize.
You can book your next stay at Ek'TUN here.