When people hear San Francisco the first things that comes to mind is the Golden Gate Bridge, Fishermen's Wharf, and Alcatraz. Tourists flock to these locations but there is a true treasure right next to Golden Gate Bridge with plenty of empty parking spaces, tons of hiking trails that will lead you to some pretty views which you can enjoy all to yourself. Here you will discover plenty of incredible picture opportunity, you don't have to stand in line for them, and you are able to spend as much time as needed to capture that perfect moment without agitating crowds of inpatient tourists. This not widely known gem is the Presidio of San Francisco. .
It is hard to believe that Presidio was once nothing but sand dunes back in 740 A.D when the Ohlone tribe lived here. Presidio of San Francisco served as a military base and over time the Presidio was occupied by three different armies: 1st Spanish, 2nd Mexican, and then finally by the US army. This makes it pretty unique because this place had three different flags raised high above it. The US army being the longest occupant planted a forest with cypress and eucalyptus to protect themselves from blowing wind and sand.
Since 1994, this gem has been part of a national park.
Presidio today offers us much more then just the historic sites.
Inspiration Point Overlook:
There are multiple overlooks that open up San Francisco, the Bay, and the Pacific Ocean. One of the most famous overlooks is Inspiration Point Overlook. It gives you a view of Alcatraz Island, Palace of Fine Arts, the Bay, and the Barak House. On the other side is the Spiral.
National Cemetery Overlook:
This overlook is one of the best views of a cemetery that you can find because of the Golden Gate Bridge rising above the eucalyptus grove. There are also some amazing quotes on the stones that will really make you think and understand the sacrifice these men and women who have found their resting place here have committed. The gate at the bottom of the overlook gets you into the cemetary where you can walk through and see the grave stones with names and dates of these precious indivuduals which will make the cost of war real for you and your children.
Battery Chamberlin:
This historic spot will make you realize the importance Presidio had for all three armies that occupied it in the past. These massive batteries once kept the enemy away from the San Francisco Bay. Today this spot gives you great views of the Golden Gate Bridge and Bakers Beach.
Andy Goldsworthy:
This talented, site-specific artist has created such amazing art work using twigs, leaves, snow, stones, ice, trees, and more. If you are a nature lover like us and can appreciate art then you will love his art work and be inspired by it.
"In 2005, Smithsonian Magazine named him one of 35 people who made a difference by using nature as his canvas to create work of transcendent beauty."
Presidio was not blessed with only one of his art work but with four. Below are the four art pieces you won't want to miss.
Wood Line :
Have you ever taken a walk in a magical forest? In Presidio between Lovers Lane and Presidio Blvd you can find a magical eucalyptus forest with the coolest trail going through it. Who would have thought that running logs snaking through the forest could look so beautiful. This is such a great way to display fallen trees. Next time you find fallen branches or logs just imagine what beautiful walkways could be created if we approach them the same way Any Goldsworthy did.
You might have heard, "If a tree falls in the forest and no one is around to hear it, does it make a sound?" I guess you can argue both ways : it does or it doesn't but imagine if we would take the fallen trees in our forests and use them for nature art along the hiking trails it would not matter whether it made the sound or not when it fell because these trees would be speaking to every lucky soul that gets to walk down that trail for generations to come.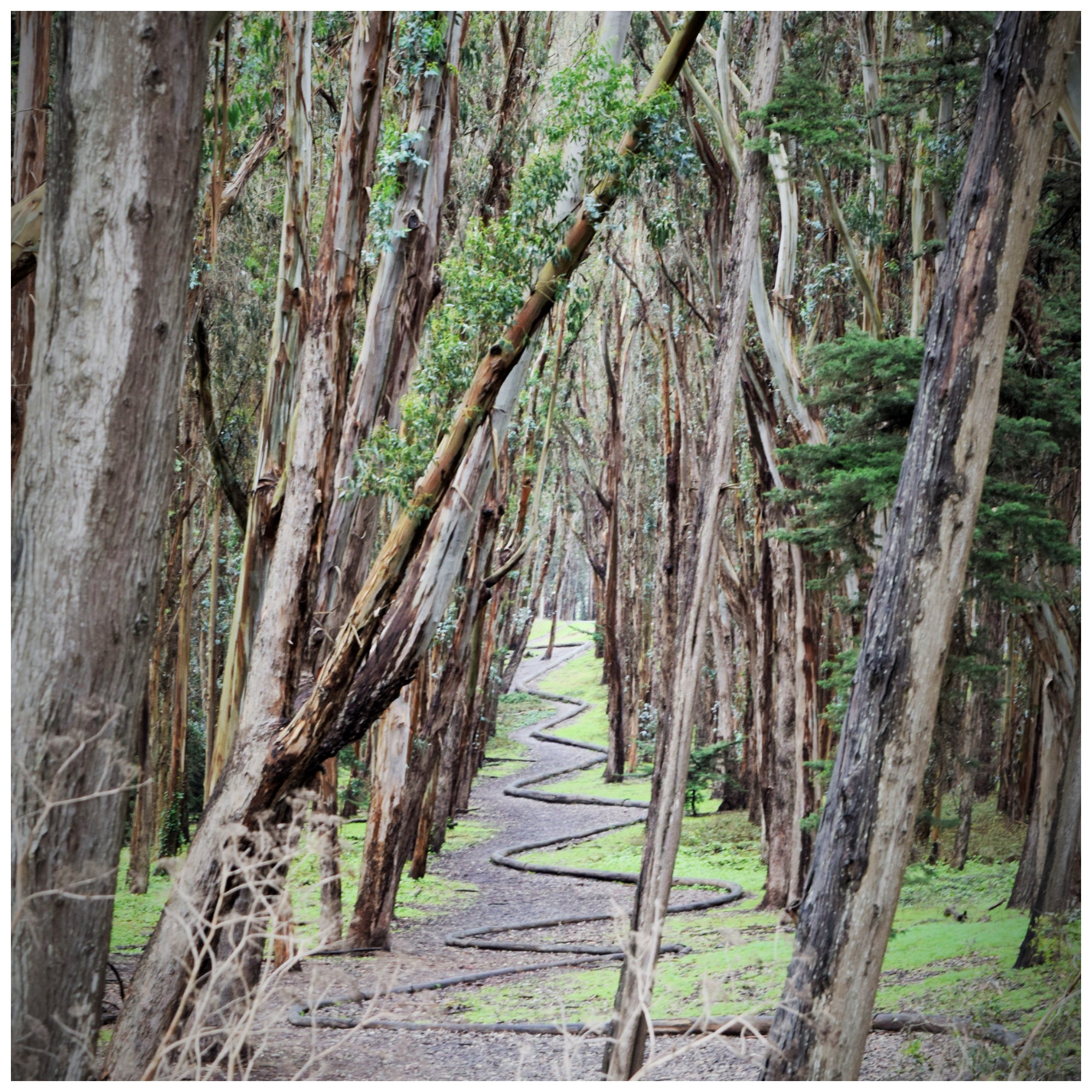 Spire:
As of today the Spire steals the show but one day cypress trees will be taller then the Spire. We love the thought that went into this art project. Goldsworthy selected 37 declining Monterey cypress trees to make this Spire. Many cypress trees were planted around the Spire. These trees will eventually outgrow the 100 foot tall Spire. This is a great combination of art and nature and the how the old can be an example for the new. The Spire stands 100 feet tall almost as if to inspire the trees around it to reach for the sun. When Andy Goldsworthy built the Spire he did not have a goal for it to be like the Tower of Babel or for it to dominate the landscape for generations to come but his idea was to use it as a symbol of what a mature Cyprus forest should look like. Hopefully one day you will be looking through the woods to find the Spire.
Tree Fall:
Before coming to visit this art piece make sure that you set up an appointment or find out when it opens for public viewing. We had a hard time locating it but this is defiantly worth finding. This might be one of the best exhibits of history, nature, and art colliding together to make something truly beautiful. Pictures don't do this one justice because we tried and it is impossible to take a great picture in such a small building.
Earth Wall:
You will appreciate this one more if you stop by the front desk and ask how this beautiful art piece was created. There is something amazing about a project that had to be put together, covered up completely with concrete, and then to be chiseled out by hand to give you the art piece your looking at today. You can almost call it resurrected art.
Hands on Learning:
Our kids loved drawing the nature art work we saw.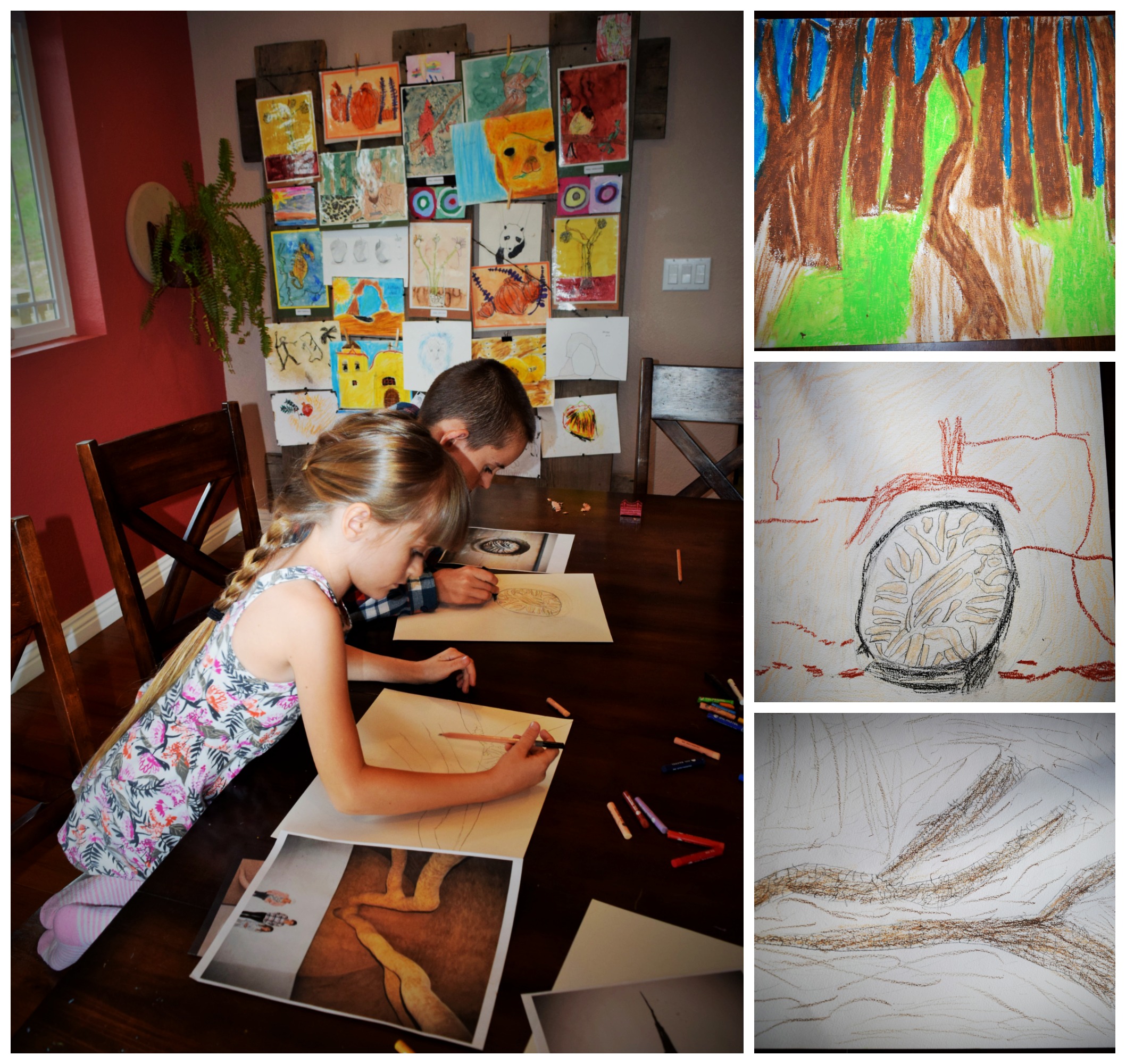 Petit Collage:
These eco-friendly hands on learning products are perfect when visiting San Francisco. Kids loved the San Francisco pop-outs, puzzle, and interactive book which we received from Petit Collage. These are great ways to get your kids interested in exploring the city. http://www.petitcollage.com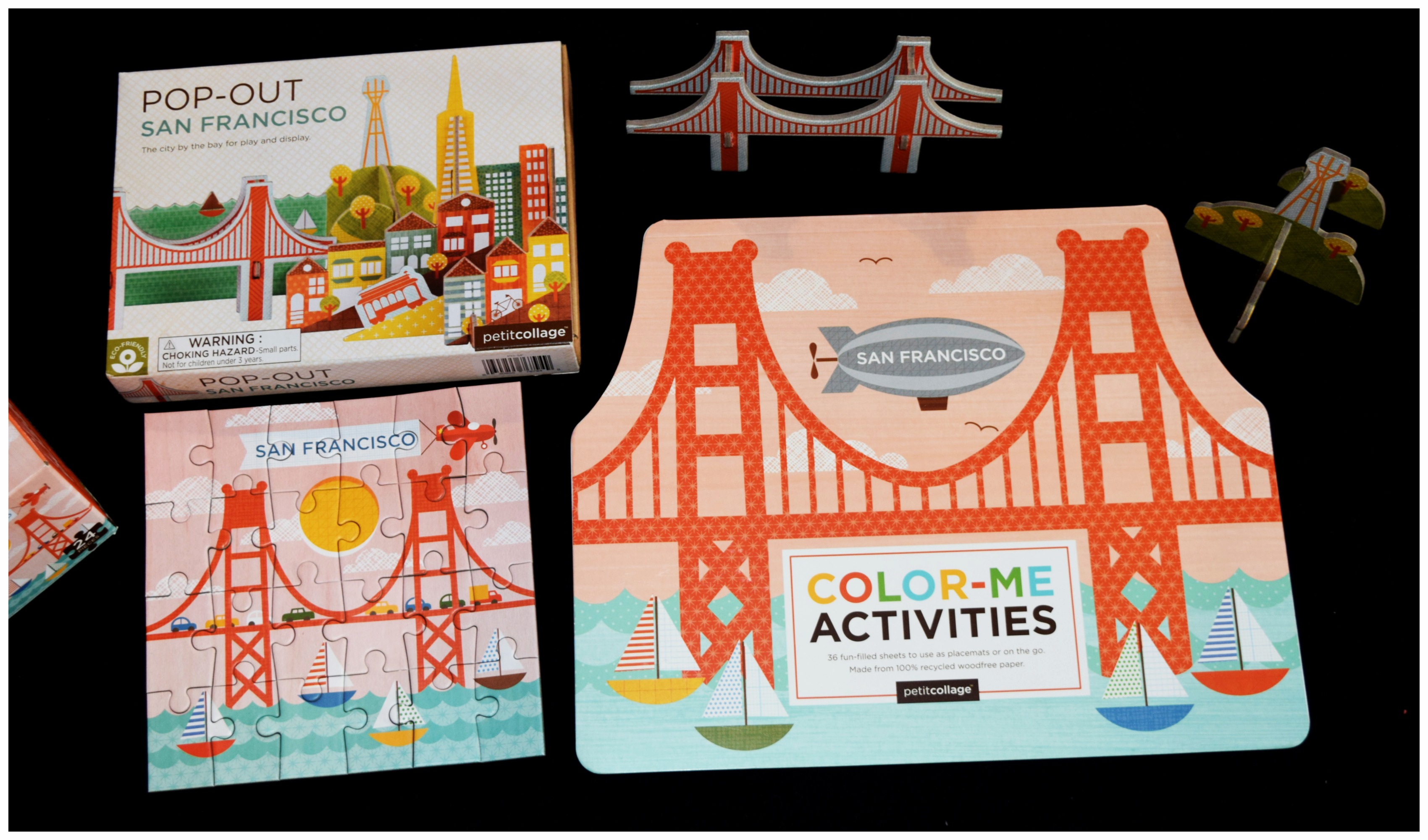 Zig Zag City Guides:
Have you heard of Zig Zag City Guides? These amazing double-sided deck of cards are created with children in mind. We loved that we were able to learn so much about San Francisco in a colorful and educational way. There are so many choices to choose from when visiting a big new city and Zig Zag City Guides helps your child and you choose what the best option is. Kids love to feel important and that they have a say in the itinerary. http://www.zigzagcityguides.com
Have you heard of Presidio of San Francisco before?
Thank you for reading our post. Don't forget to subscribe. We are always learning new things and going places.
We share a new post every Monday and Thursday, 1 pm Pacific Time.