Grow your roots and reach for the stars, whispered the redwood trees. – unknown
We had an amazing time among Santa Cruz giants and I wanted to share with you how you can take a train ride, hike through, camp in, and learn about the redwoods.
Coastal Redwoods are the tallest living thing on earth. Their roots can be 100 feet in length. Without such large root systems these giants would fall. Most redwoods live to be over 200 feet tall. A redwood seed is very small (.5 inches) and are awl-shaped. Because of this so many living things can take the seed for food. This is why out of a million seeds only one becomes a tree. Redwood trees are hard to kill. If you cut a redwood more trees will grow from the stump. Fungal infections and insect infections can not harm the tree because of a chemical called tannin. Fires help redwoods. Fires kill plants around the redwood trees. They can easily survive a fire unless the branches are set on fire. The tallest tree in the world is a redwood called Hyperion Redwood tree and it is 379 feet tall and it is still growing. – My son Peter
Train Ride Through the Redwoods:
This was surely a ride we won't forget. A 1890 steam train chugging us uphill, passing through never ending giants and riding above a wooden bridge track. One of the best parts of the ride was the sounds: the whistle, the steam, and the chug of the track. Looking up at the trees will leave you in awe and at times redwood needles will rain down on you. Now these giants are the few giants in the area that have never been used for logging. You have two options to chose from : you can do a steam ride up to Bear Mountain (we did this) or you can go to Santa Cruz.
Located at: Felton, Santa Cruz Country, California. It is 6 miles north of Santa Cruz in Felton. Exit SR 17 at Mt. Hermon Rd.
Visit http://www.roaringcamp.com for steam train schedule.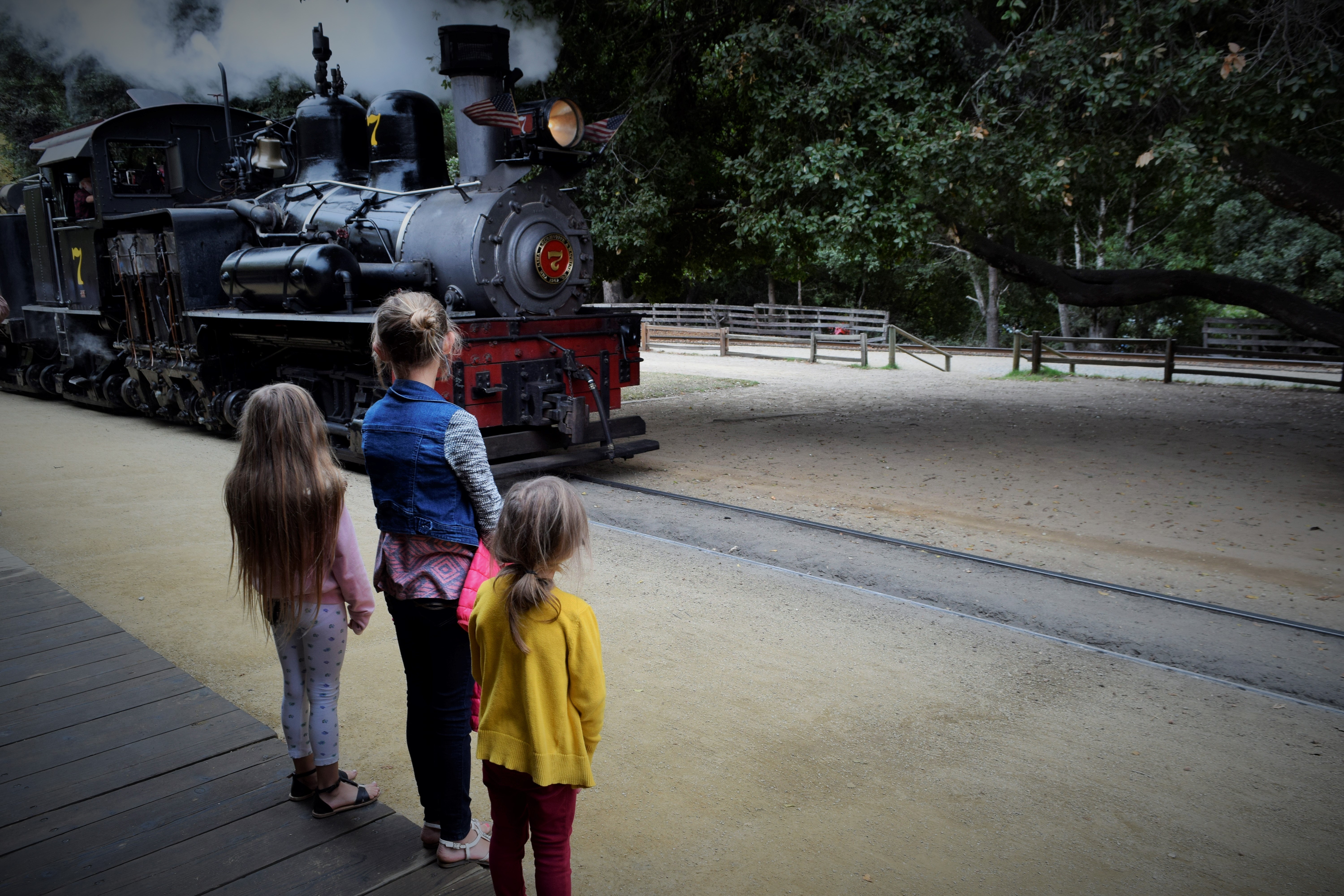 Hike Through the Redwoods:
In order for you to really enjoy the Redwoods you must hike. It could be a short or long hike but hiking you must go. There are 80 miles of trails so you can hike for many days and never cross the same path. The great thing is that there is no elevation gain. We walked the Redwood Loop. This loop starts 0.6 miles from the headquarters. We started on the Skyline to the Sea trial and then we hooked onto Mountain Pine trial. After some time we walked Hammond Connector trail then Blooms Creek trail. The whole hike was amazing and because the trees towered above us we did not feel exhausted or tired. We left the best part for last. We saw "Mother of the Forest" which is 320 feet tall and is the tallest redwood in the park. We also enjoyed "Father of the Forest" which has the largest girths and measures 17 feet in diameter.
Located at : 21600 Big Basin Way Boulder Creek, CA 95006 (831) 338-8860
Camping in the Redwoods:
Staying over night always gives us an opportunity to enjoy a place a little longer and I'll admit that being in a cabin surrounded by a redwood forest is pretty awesome. We stayed in tent cabin number 28 at Huckleberry Campground. There are 36 tent cabins to choose from. Inside the cabin there is a fireplace, two beds, and a table with two benches. You can also rent a lantern, electric stove, pots, cooking utensils, sleeping bags, and more. This is an amazing campground and we loved it so much that we are planning on coming back next year because two days was not enough time to explore the giants.
To reserve your campsite visit: Reserve America.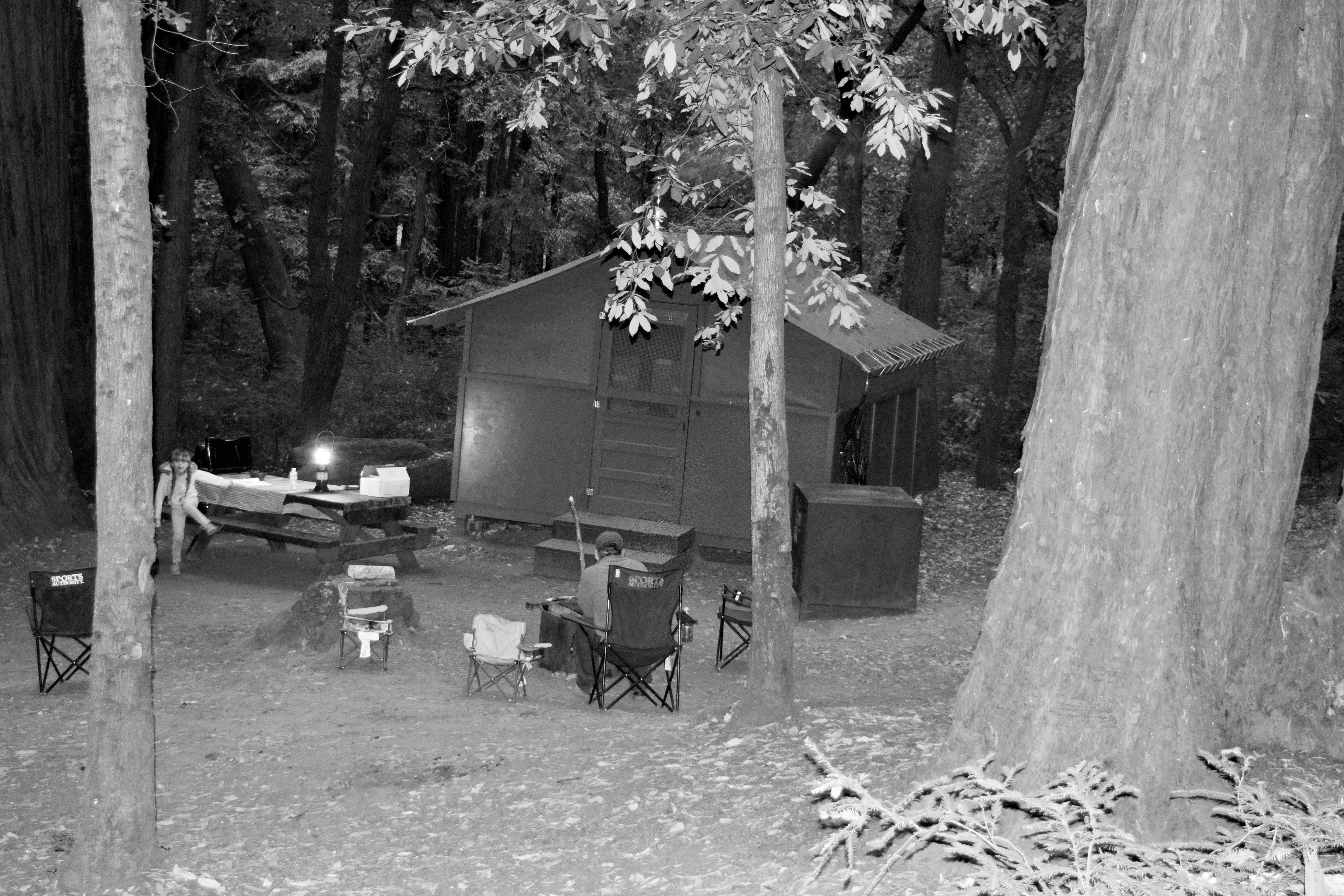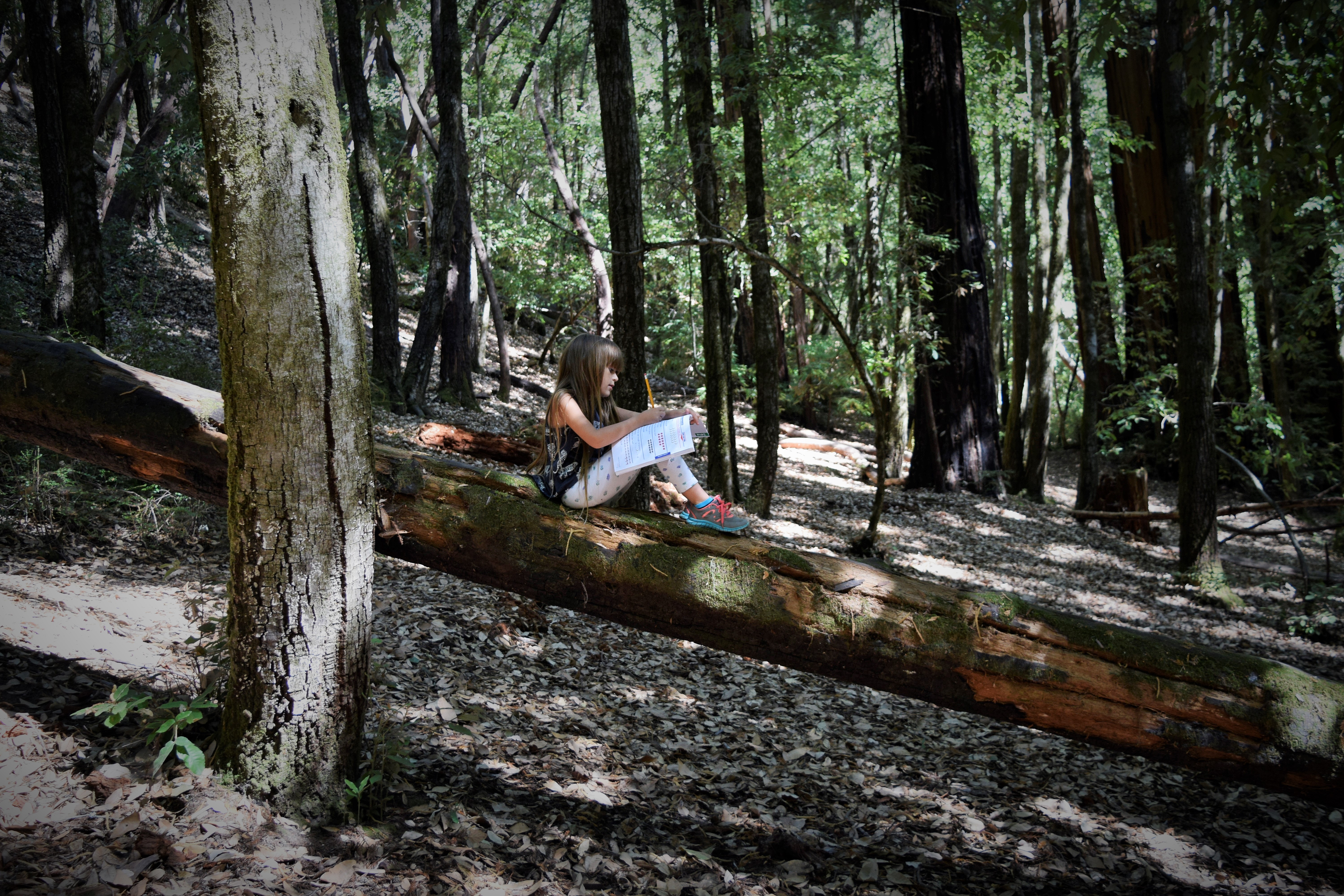 Hands on Learning :
We love natural paint and if you bring to a boil green redwood pines you will quickly notice the green pines turn brownish/red. It's like magic. It is always a big hit at our house to sit around the table, read, watch an educational you-tube video, and do some hands on learning. The painting tools my children used were redwood pinecones, redwood pine needles, redwood wood, redwood bark, and cotton swabs.
It can be hard to grasp how tall redwood trees really are so Elizabeth painted a poster so that all of us could understand how little we are compared to the redwoods.
When we went to pick blueberries a few months back we bought a redwood tree stem cross so we decided to label the different parts of the redwood.