We love road trips and take as many road trips as we can. One of our favorite things to do in order to pass time in the car is to listen to audio books. We drove eleven hours one way and we only made a few stops along the way with little fighting and complaining. We borrow lots of books from the library each week so our children are used to listening to audio books even at home. Our two older children have a goal to read (audio books count as well) fifty books this year. I plan on reading one hundred this year. Since we travel often this goal is not hard for us to accomplish. How do you pass time while your on the road?
Oregon's North Coast is stunning and we love the beaches Oregon has to offer even if they are cold beaches. There is so much to see and do in Oregon.
Cape Meares National Wildlife Refuge
Within a short distance you can be right in front of the shortest lighthouse on the Oregon Coast or you can be standing in front of the Octopus Tree. Both of these you will not want to miss. As you walk to the lighthouse you will be surprised by how your standing at the same level at the top of the lighthouse. We have never stood the same level as the lighthouse lens before and we have seen many lighthouses. The Octopus Tree which is a spruce tree is in the opposite direction of the parking lot. It is a short walk into what seems like a forest and then you will see the Octopus Tree with eight trunks. This tree is believed to be over 250 years old. This is a great time to teach or go over with your children all the prefixes up to ten.
Located at 3500 Cape Meares Loop, Tillamook, OR 97141.
Tillamook Cheese Factory
Since I am married to a wonderful husband who is a complete sucker for grilled cheese we never go through Tillamook County Oregon without stopping by the Tillamook Cheese Factory Visitor Center. They have some really great grilled cheese options and my husbands favorite is the piglet sandwich which is packed with Tillamook Vintage Extra Sharp White Cheddar, smoked ham, and sweet and savory apple mustard. I don't mind stopping by here since they also have a large assortments of ice cream here.
Located at 4175 HWY 101 N., Tillamook, OR.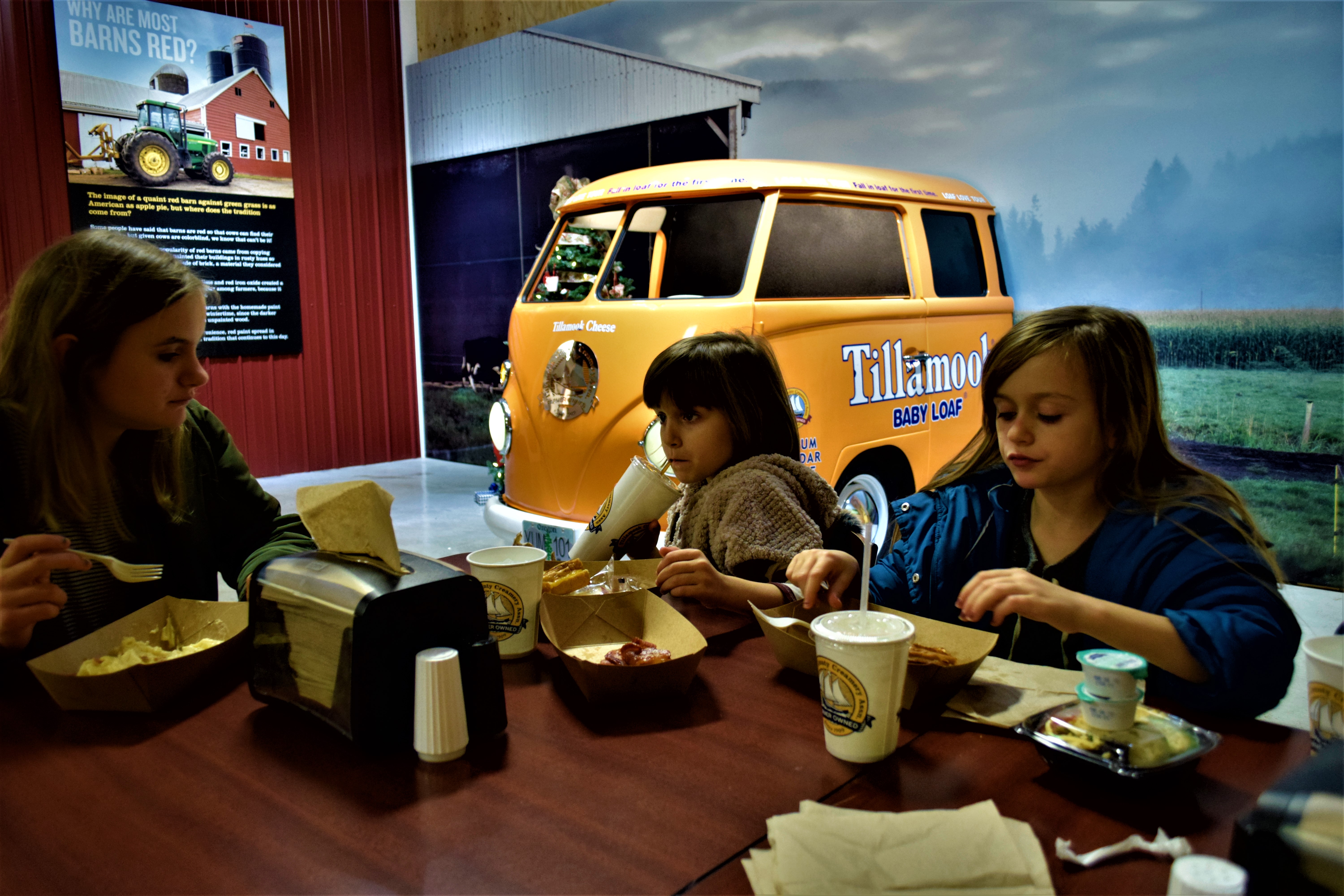 Cannon  Beach History Center and Museum
This is a small museum which focuses on the history of Cannon Beach before and after it was named Cannon Beach. There is quite a bit to learn here and see. Admission is free but there is a suggestion donation of $3.00. Here you'll see the cannon that is guilty for the name of the city and you will get a chance to see lots of photos of Cannon Beach throughout the century. Since I have so many penpals around the world I was fascinated with Mary Gerritse and how she was a mail carrier for 15 years and she only carried a jackknife to defend the mail. We also learned that a bee is like a barnacle in that they are both arthropods.
Located at 1387 S Spruce St, Cannon Beach, OR 97110.
Funland Entertainment Center
This might surprise you but it rains in Oregon and when it does this is a great place to get away from the rain for a couple of hours. We love the outdoors and we are not afraid of some rain but when it has been raining for few days all we want to do is stay dry just for a bit and we hope that the sun shows up. They offer so many different games and our children had a blast because we don't do this type of thing too often they really appreciate it when we do.
Located at 201 Broadway St. Seaside, OR 97138
Blue Gull Inn
This inn is uniquely furnished with wooden furniture that had The Haystack Rock engraved in most of the furniture. It was bright and roomy. We arrived late in the day and on a rainy day. We also left before sunrise the following day so we were not able to enjoy Blue Gull Inn to its fullest. Cannon Beach is just minutes away and there are complimentary bike rentals. We enjoyed the spacious kitchen and dining area which was perfect for dining in since it was pouring outside.
Located at 632 S. Hemlock St. Cannon Beach, OR 97110
Sunset Beach
Last time we came to Oregon we tried clamming for razor clams but we had no luck. This time we went to Sunset Beach on a perfect low tide day for clamming. There were so many people with clamming guns and shovels. No one talks to each other because everyone is in deep concentration. It is sort of like fishing but you pace slowly back and forth looking on the ground in hopes to find a doughnut-shape indentation. Some pound the ground with the end of the shovel while others jump or stomp on the beach. When you see a doughnut-shape indentation you use the shovels end and tap near it and if water or sand squirts out of the hole you've found a clam. Now this is the moment you need to act quickly by placing your clamming gun over the doughnut-shape indentation and pulling out sand. Then you dig deeper in hopes to find a clam. You need gloves while doing this since razor clams are sharp like razor. This experience is well worth spending $17.00  per person for nonresidential  3 day shellfish permit.
We love learning and experiencing things for the first time as a family. What have you recently learned or experienced for the first time recently?
Eve's hat is from The Blueberry Hill.
Hands on Learning
Since it was getting late and cold when we were done with clamming we decided to take the clams home with us and dissect them. We were heading home the following day so we hoped that they would still be alive when we got home and they were.
Razor clams are pretty fascinating. They each have a Excurrent Siphon and an Incurrent Siphon. The Excurrent Siphon is larger and allows excess water and waste to pass out of it .  The Incurrent Siphon takes in water and nutrients which then are filtered by the gills.
To learn more watch the video below.
Thank you for reading our post. we share a new post every Tuesday and Thursday at 8 pm.
Thank you Blue Gull Inn for hosting our stay.