Did you know that Shepard's and their sheep are mentioned 227 times in the bible? If you've been around sheep you'll notice that they are afraid of loud noise or quick movements.
Sheep is a Ruminant which means it has a four chamber stomach. There are 1 billion sheep in the world and 900 different breeds. The sheep wool defends the sheep from both heat and cold. I was surprised to learn that if a sheep goes into a wrong position it cannot correct itself and must be fixed before an hour or the sheep will die. How sad is that? Sheep have better hearing than vision. 10% of the sheep don't have wool. Egyptians used to mummify sheep because they were sacred. When Woodrow Wilson was president of America sheep mowed the lawn of the white house. Sheep have a very good memory for an animal. Sheep mostly eat grass and grain, changing what a sheep eats too quickly is very dangerous and will upset its stomach.
Baby Lambs
My wonderful husband drove 3 hours one way for this "Meet the Lambs" experience. We enjoyed watching mama sheep and baby lambs interact with each other. Our girls enjoyed bottle feeding some of the lambs as well. They sure have a strong grip. Baby lambs are numbered and this is to help identify which lamb belongs to which mother. I think the lambs cry is just the cutest.
The lamb walks within minutes after he or she is born. The lamb is weaned when he or she is 30 to 45 days old.
This event is located at UC ANR Hopland Research & Extension Center – The Rod Shippey Building University Road Hopland, CA 95449
For more information visit http://hrec.ucanr.edu
Sheep Shearing
Our sweet neighbors have three sheep and they were so kind to invite us to witness the shearing process. It was such a neat experience. The shearing was done in the morning. The sheep were in the barn and were taken out one at a time. Sheep can not be wet when being sheared. Usually the shearer stands and places the sheep's shoulders between his or her knees. The belly is exposed and usually the belly wool is removed first and this is because its the dirtiest and usually never used. It's amazing how in the end the wool is in one piece. Sheep are sheared because the wool can become heavy and during the summer it is too hot for them if their wool is not sheared. Also, the wool is sold and made into clothing. Can you believe that 8 to 10 pounds of wool is taken off a single sheep? That means the sheep will feel 8 to 10 pounds lighter. Sheep are sheared in late summer or early fall months. A pregnant sheep will be sheared one month before she gives birth to her lamb.
Hands on Learning
We made our own sheep to shear out of balloons, newspaper, flour and water paste, glue, paint, and shaving cream. We bought our balloons from the dollar store. They had Mickey balloons which was perfect for this activity. You want to mix 1 cup of water with 1 cup of flour into a bowl. Shred newspapers into strips. Use a paint brush and paint your balloon with the flour paste. Dip newspaper strips in water and place over the flour paste. Continue this process until you have layered the balloon three times. Then let it dry overnight. The next morning we painted the balloons white. After they dried we added sheep wool to our sheeps head and drew the face. We glued the head to the body and put shaving cream over the body. Then girls took turns shearing the sheep and we talked about how it is done. We also talked about how it feels like a boy or man getting a haircut.
Sheep Headpiece
Since we had sheep wool we cut out the center of a paper plate and we glued sheep wool and paper ears to the plate. Aren't these the cutest lambs you've ever seen.:)
Eve's dress is from http://glitterandsuch.com/. Eve's necklace is from http://www.zojewerly.com.
Elizabeth's knitted pink skirt is from http://etsy.com/ShashaNPearls.
Sheep Wool Beads
Our sweet neighbors also gave us sheep wool. We cleaned the wool by putting the wool in a mesh bag which you can purchase at Walmart. We then placed the mesh bag with wool inside our washer on cold and low cycle. To clean it simply add laundry detergent. Once it is done washing you want to air dry it outside in the sun. When it is dry you can dye the wool using cool aid. We placed the sugar free cool aid into a zip lock bag and added water and wool to it. Mix it until the color is even. When you are done take the wool out and wipe it dry using a towel. Now you are ready to make your beads. First you want to make the wool soft so you need two dog brushes which you can buy at the dollar store and pull the wool. Once the wool is soft you need to roll a piece of wool into a ball and place the wool in warm water and add a bar of soap directly to it. Then you want to roll it into a ball. The harder and longer you roll it the harder the bead will become. When you are done rinse the bead in cold water and wipe it with a towel. Then place a thread through the wool bead using a needle.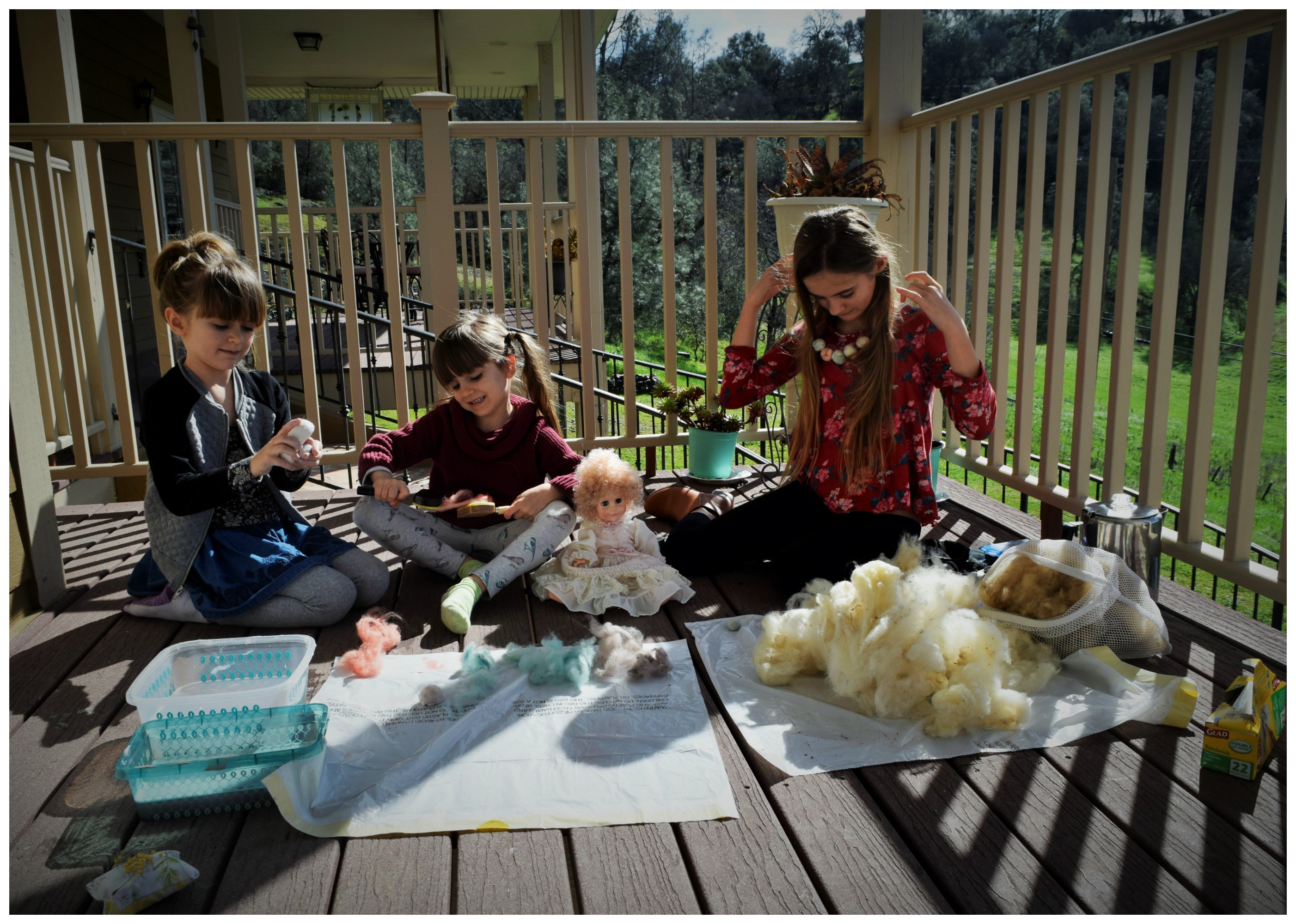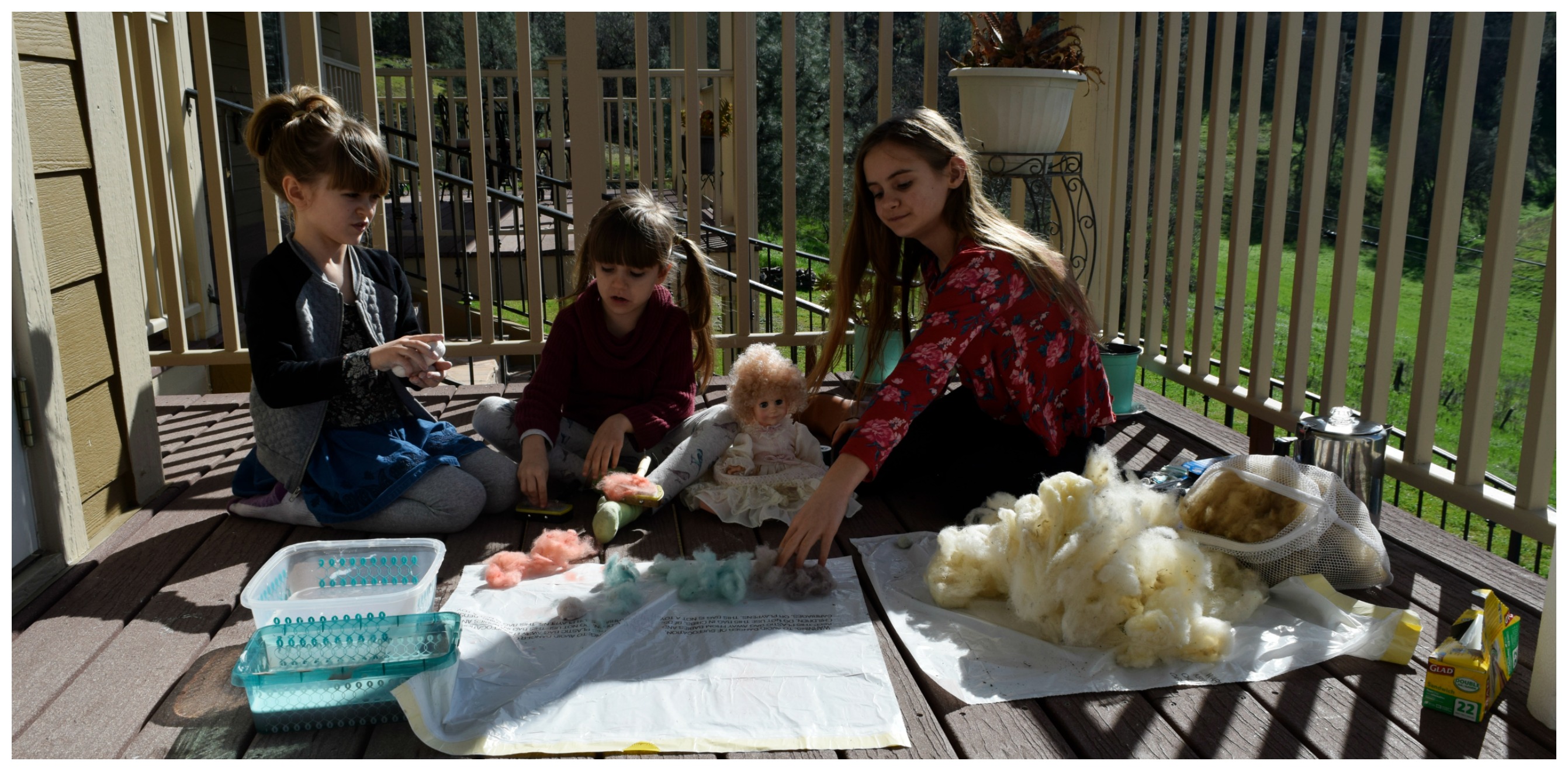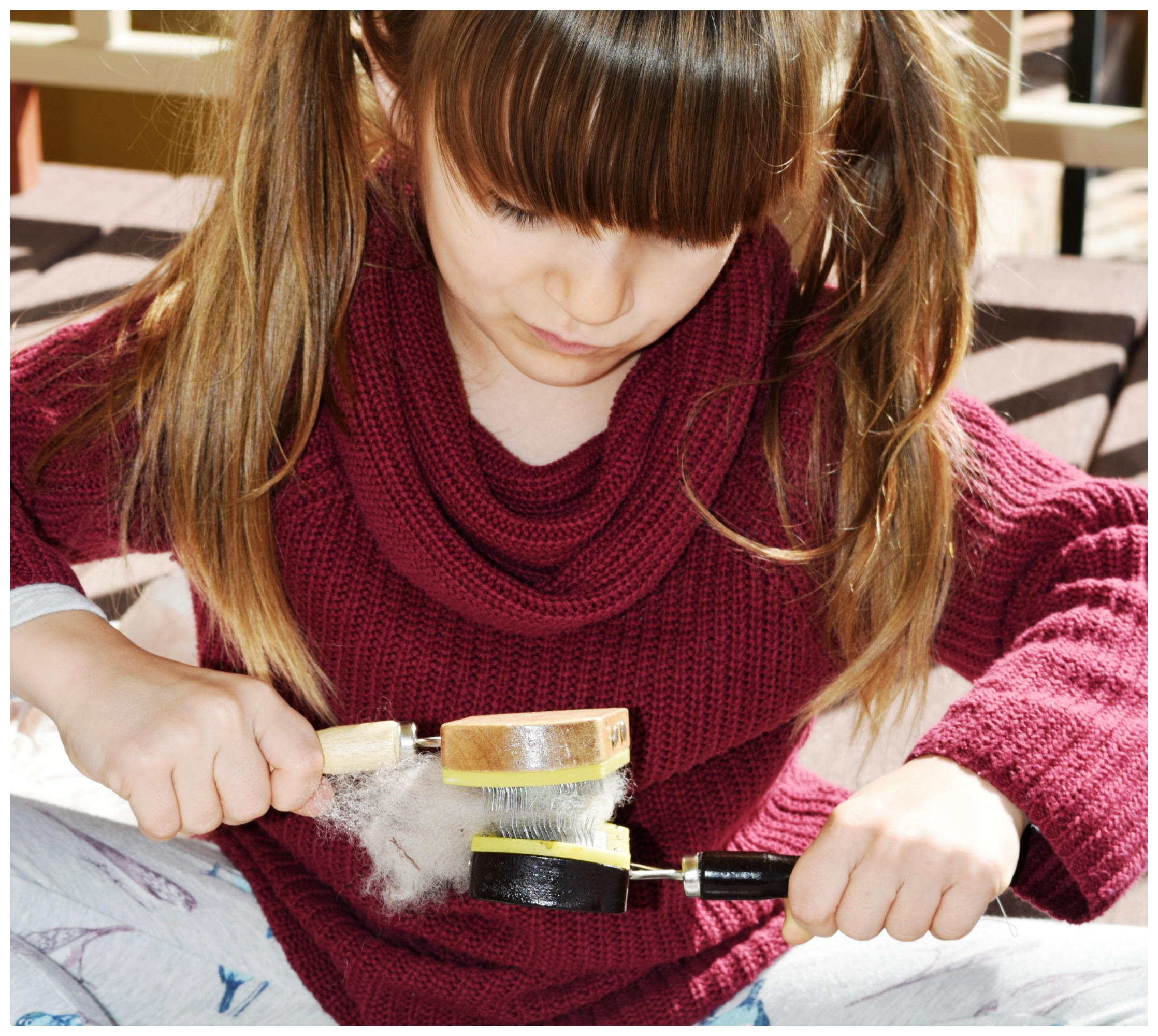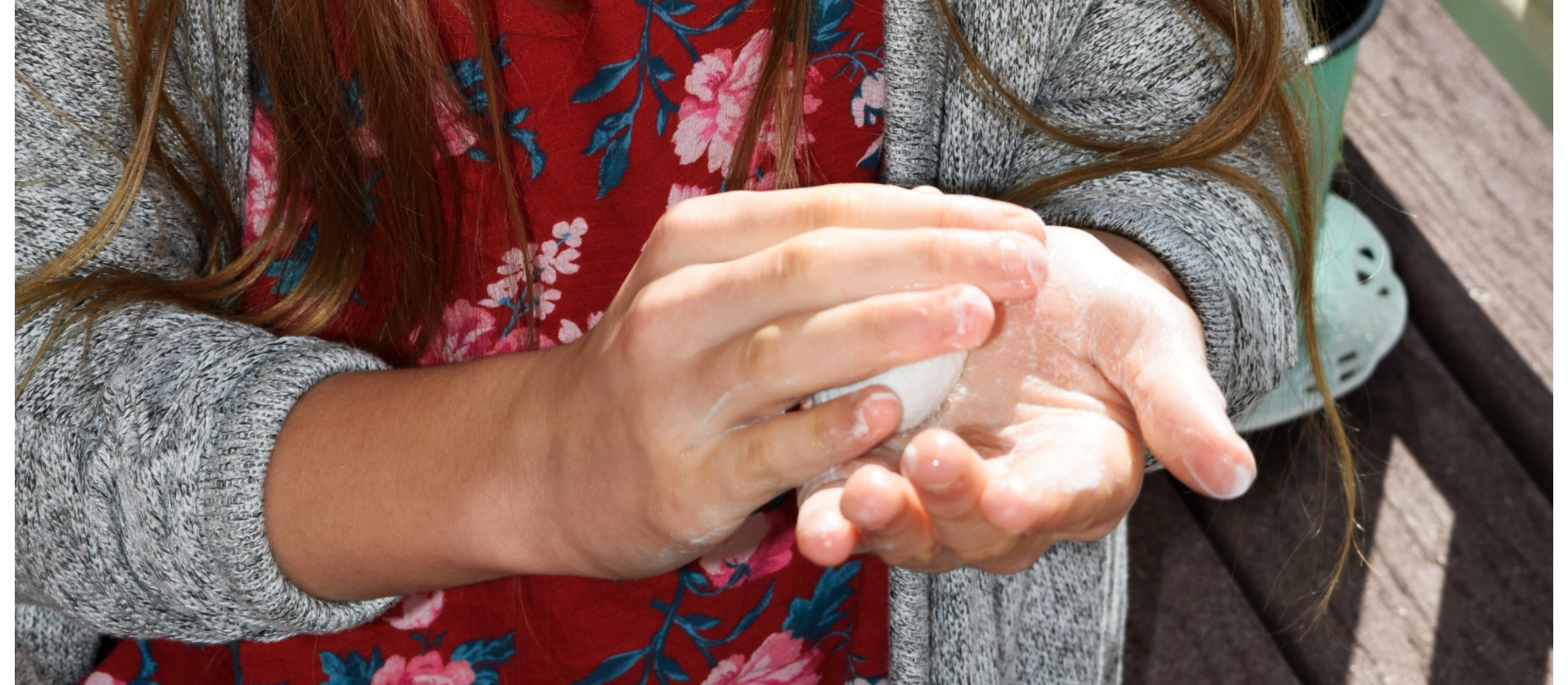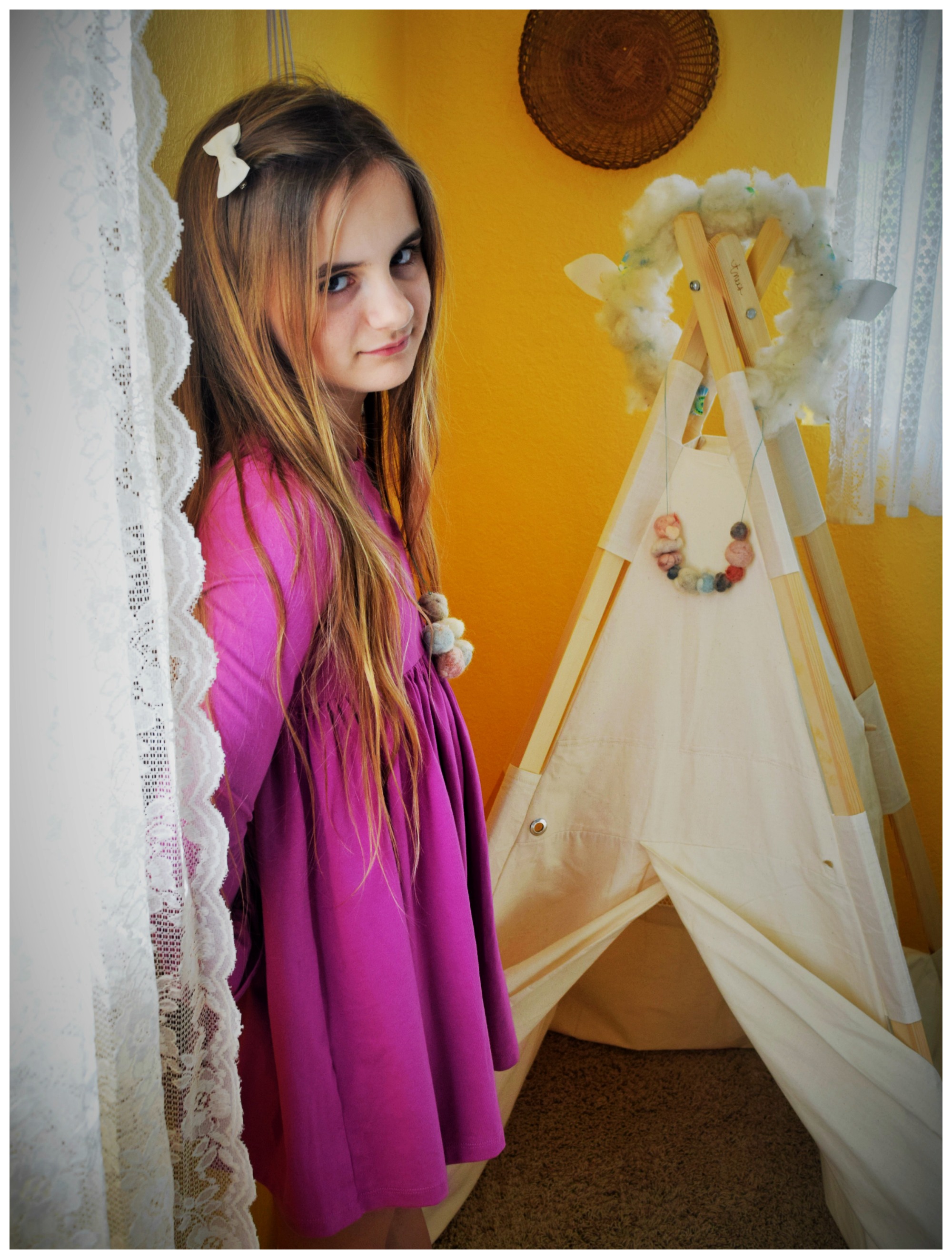 Esther's dress is from http://www.ibambini.shop/ and you can receive 30% off at checkout when using the code HOMEGROWN. This code is good until Saturday.
If you liked this post you might like http://www.homegrownadventures.net/wolf-in-sheeps-clothing/ and http://www.homegrownadventures.net/the-importance-of-your-child-learning-8-nursery-rhymes/ which has two sheep related hands on learning rhymes.
Thank you for reading our post. We share a new post every Thursday at 8pm Pacific Time.