If you're not able to go visit Denmark, there is a great solution for you! In Southern California, Santa Barbra County, there is a city that does not have a Spanish name. It is called Sunny Field which in Danish is Solvang. This is a small city with a population of just over 5,000 people and it is nicknamed as "Danish Capital of America". You will understand exactly why as soon as you enter the town. Solvang was founded in 1911 by a group of Danes who were trying to get away from the Midwest which was cold and snowy.
Hans Christian Anderson Museum
I love Little Mermaid, The Ugly Ducking, Thumbelina, The Snow Queen, and The Princess and the Pea. Did you know that a Danish author wrote all of these amazing children books which have been re-read and loved for so many years?
I had no idea that these amazing books were written by a Danish author. His work has been translated into 125 languages. We have enjoyed his stories in Russian cartoons and in Disney. I'm sure you have as well and for this reason we expected to see him honored in the Danish Capital of America.
Located upstairs from The Book Loft, 1680 Mission Drive.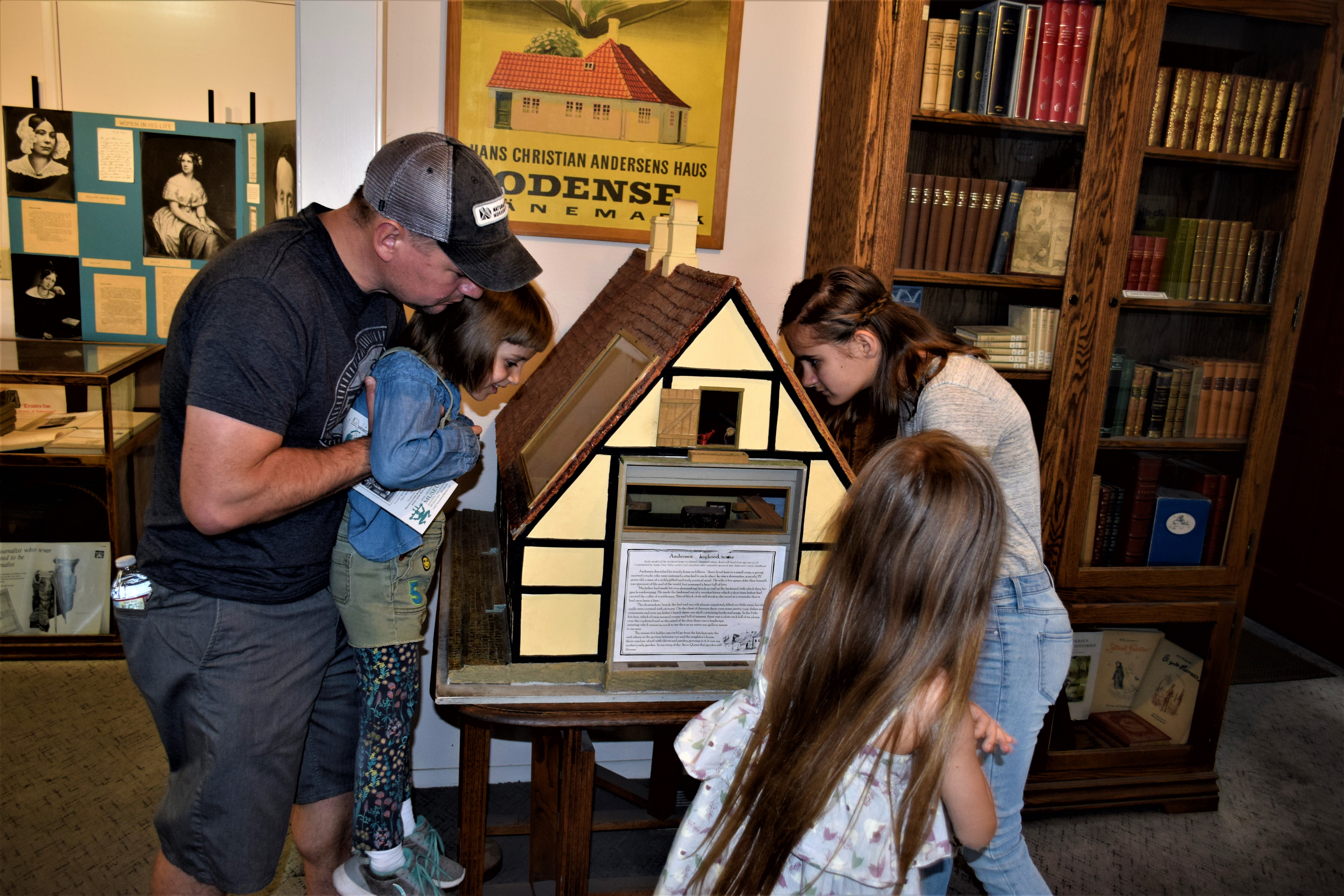 Wildling Museum of Art and Nature
This is a small museum just a little over 2,000 square feet and at the time of our visit we were able to enjoy two exhibits. The first is the student and the teacher, Theodore Waddell and Isabelle Johnson. This exhibit is here from Yellowstone Art Museum and it is a unique exhibition which pairs the moderest western landscape of Theodore Waddell with those of his former teacher Isabelle Johnson which was quiet interesting to see what kind of connection and influence a teacher and student  can share. The second exhibit is the overview: the Aerial Photography of Bill Devey was definitely something that was very close to us because it felt like we were able to revisit some of our favorite places through it such as Santa Cruz Island, Mono Lake, Big Sir, and Morro Bay which we had visited the day before. Through Bills photography you also get a way bigger picture then you could experience when you visit them on land.
Located at 1151-B Mission Dr.
Solvang Amber Museum
Amber has always been my favorite stone. Growing up my mother had a collection of jewerly pieces which she had brought to America from Ukraine. Amber is fossilized tree resin and it is valued as a gem stone. Solvang Amber Museum is inspired by its sister museum in Copenhagn. It is located in the Bank Vault in Copenhagen House which is right past Amber house jewelry store. Some of the pieces you find here are over 80 million years old and contain prehistoric insects.
Located inside The Copenhagen House, 1660 Copenhagen Drive.
Elverhoj Museum of History and Art
This is a Scandinavian inspired house which is located in a residential neighborhood in Solvang. This home belonged to one of Solvang's most artistic families and has been turned into a community museum devoted to the history of Solvang and the colorful heritage of Denmark. This can be seen from the front door which is carved out of red wood that makes a great art piece right at the entrance. You can not miss the colorful heritage when you walk into the kitchen because every cabinet is a piece of art. Do you know how you can tell what type of room it is by looking at the door trim? If it is an acorn then it is a boys room. However, if you find a flower you'll know your about to enter a girls room. Here in the small building in the backyard you can see an early model of Solvang.
Located at 1624 Elverhoy Way.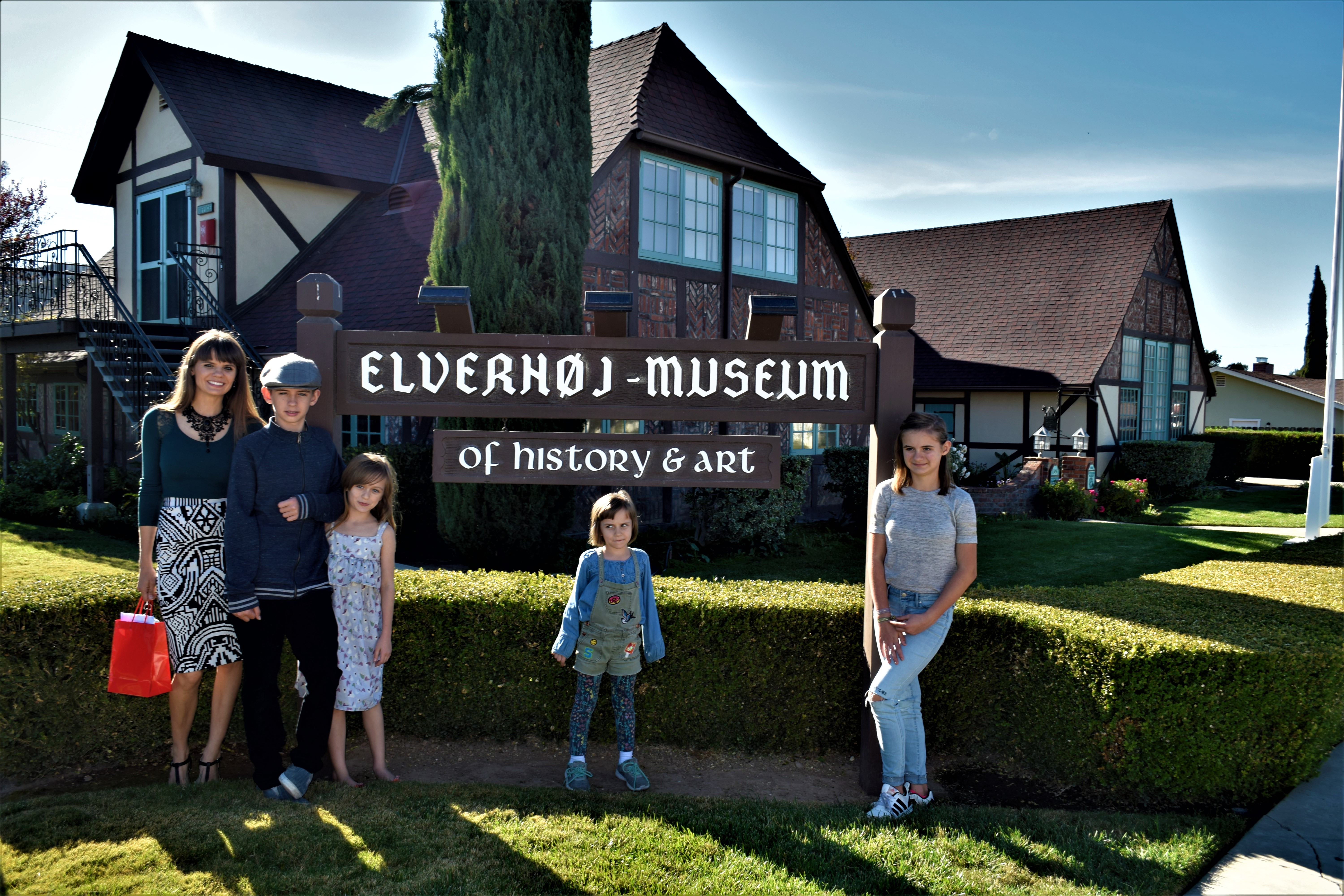 Taste of Solvang
Nothing brings me more joy than watching my children learn something new so you can only imagine how excited I was to watch Esther learn to make Aebleskiver (Danish pancake puffs) with Jeff (owner of Solvang Restaurant). Esther is such a passionate and confident 12 year old and she inspires me everyday. She is not afraid to try something new and go out of her comfort zone. Boy do I love my comfort zone because I feel safe in my comfort zone. However, growth can only happen when we step outside of our comfort zone. I want to be more like Esther. 🙂
Since Esther loves to bake this was the highlight of her trip. To be honest with you it was mine as well. This was such a unique experience and Jeff was such a great teacher so Esther was a pro at making Aebleskiver by the end of the cooking lesson. We loved the food. You don't want to miss the Solvang Restaurant. It is so good that there is almost always a line outside.
The Solvang Restaurant is located at 1672 Copenhagen Dr.
In Solvang you will find so many different bakeries. We enjoyed a few of them and they were all so good, hopefully all the goodness we ate did not do much damage to my waist line. Our hotel was within walking distance from Bikholm's Solvang Danish Bakery and Café, The Solvang Bakery, and Mortensen's Danish Bakery.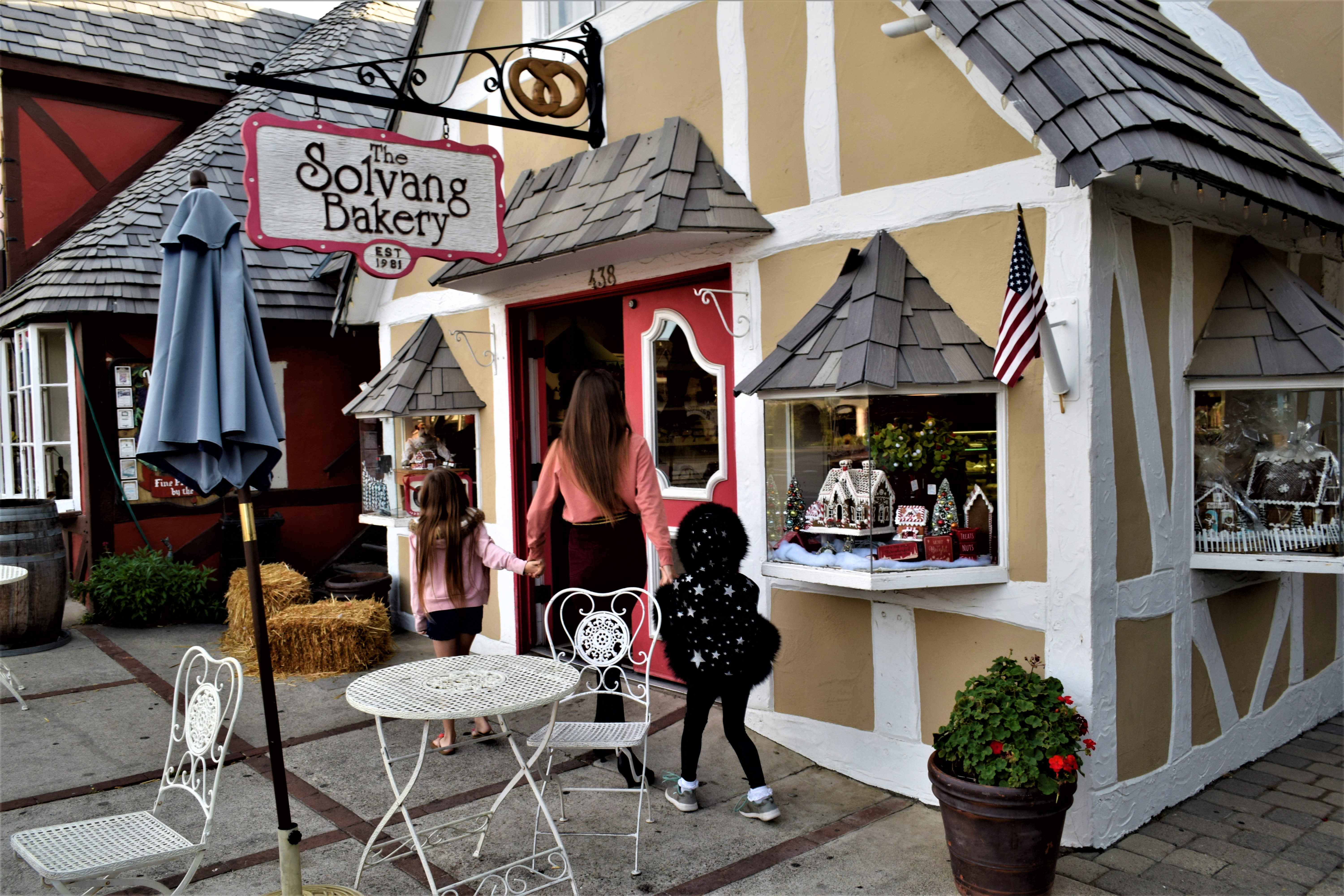 However, if your in the mood for something more familiar then a great place to eat at is CHOMP- Burgers, Fries, and Shakes! They have some of the best burgers we have ever had. Their French fries were crispy and perfect. We have never tried patty melts this good. My husband loved his Kyzer burger which is made from hand packed ground pork. I enjoyed my spinach ricotta ravioli. Everything got eaten which doesn't happen every time.
Located at 1693 Mission Drive.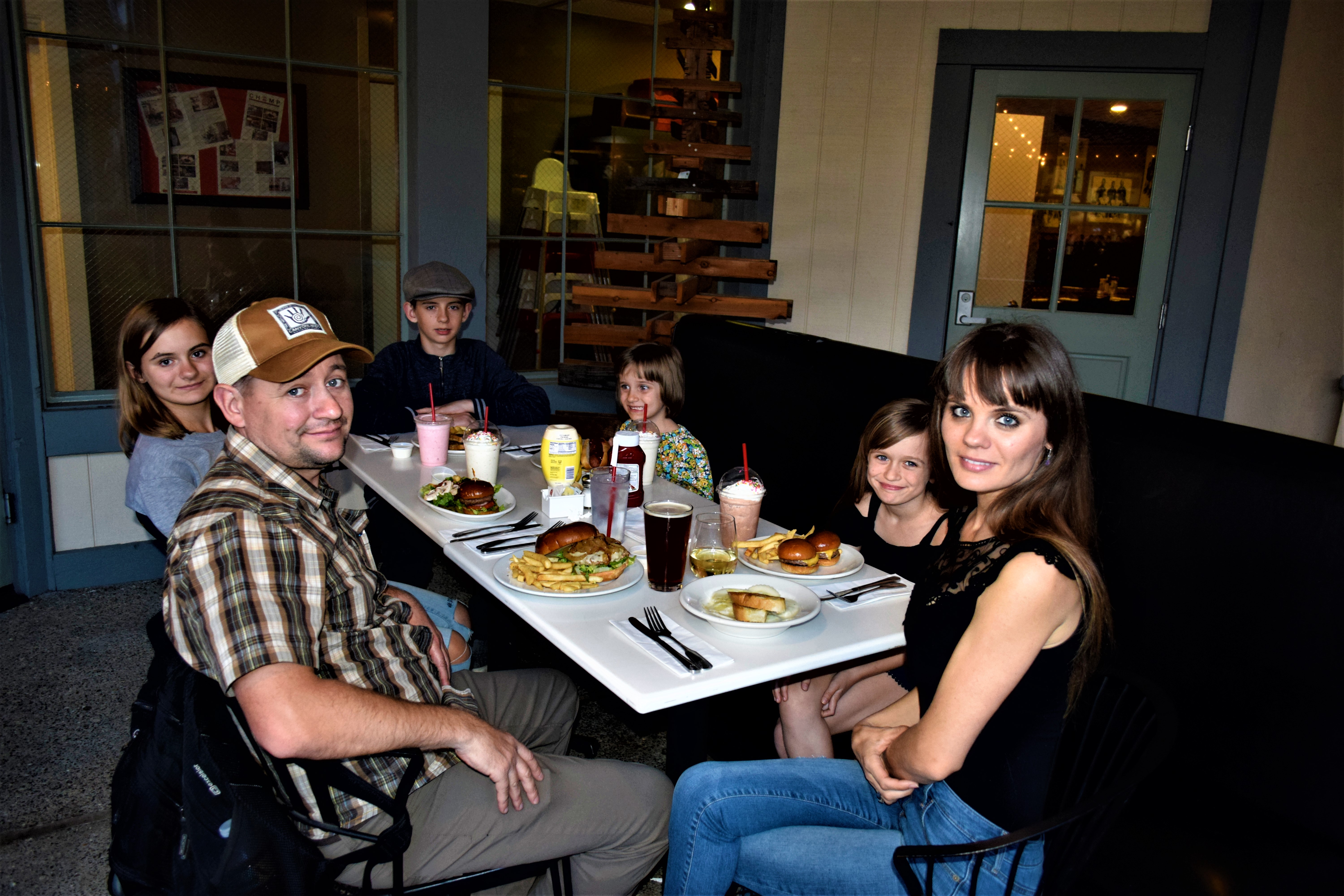 Gaviota State Beach
If there is a beach nearby we usually never miss it. This beach is only 25 minutes away from Solvang and no the name Gaviota is not Dutch. Gaviota is a Spanish word for seagull. You can find a pier here however it is currently closed due to storm damage but pelicans absolutely don't mind that there are no people walking around  because they have taken over the pier. Nevertheless, there is plenty of room to run around and explore the beach.
Located on US-101, Goleta, Ca 93117.
Old Mission Santa Ines
Conveniently enough the old mission was just steps away from our hotel and to be honest with you we had no idea that Solvang had a Spanish Mission before we got here. It was definitely one of the better preserved missions in California. This is the nineteenth of the twenty-one California Missions. It was founded on September 17, 1804. This mission had everything to do with the beginning of Solvang because Solvang was founded in 1911 on almost 9,000 acres which was first under Spanish control and then was purchased from the Mexican Land Grant.
Located on 1760 Mission Drive.
Bethania Lutheran Church
Lutheran church in Solvang? Who would have thought? We have visited many Lutheran churches in the past but this one surpassed all of the other. This church was dedicated in 1928 and it was designed in a similar style as the rural churches in Denmark. It even has a ship hanging in the sanctuary to remind them of all of the fisherman out at sea.
Located : 603 Atterdag Rd. Solvang, Ca 93463.
Ostrich Land USA
Just a few miles outside of town you can find a site that is foreign to anything Denmark. Here at Ostrich Land USA you can find fifty ostriches and a few emus. After you pay your fees you can purchase a bowl feed which is connected to a dust pan for easy handling. Here we got to feed the ostriches and our children loved it. The younger two were intimidated by the size of these birds at first but when the feed was over they wanted to buy more feed.
Located: 610 E Highway 246, Buellton, Ca 93427.
Hotel Corque
If you want to stay in a beautiful and luxurious hotel which is in the center of it all then you'll love it here. As you enter the lobby you'll find a great place for kids to play wooden board games while you check in. There are 122 guestrooms to choose from. We stayed in two connecting rooms overlooking the swimming pool which was so great for us because while I wore the plush robe that was provided in each room and gave baths to our two younger girls, our two older children went swimming and hubby was able to keep an eye on them from the balcony. Our children stayed in a room that had two beds while hubby and I stayed in a room that had a living room and a great big tub.
Located at 400 Alisal Road.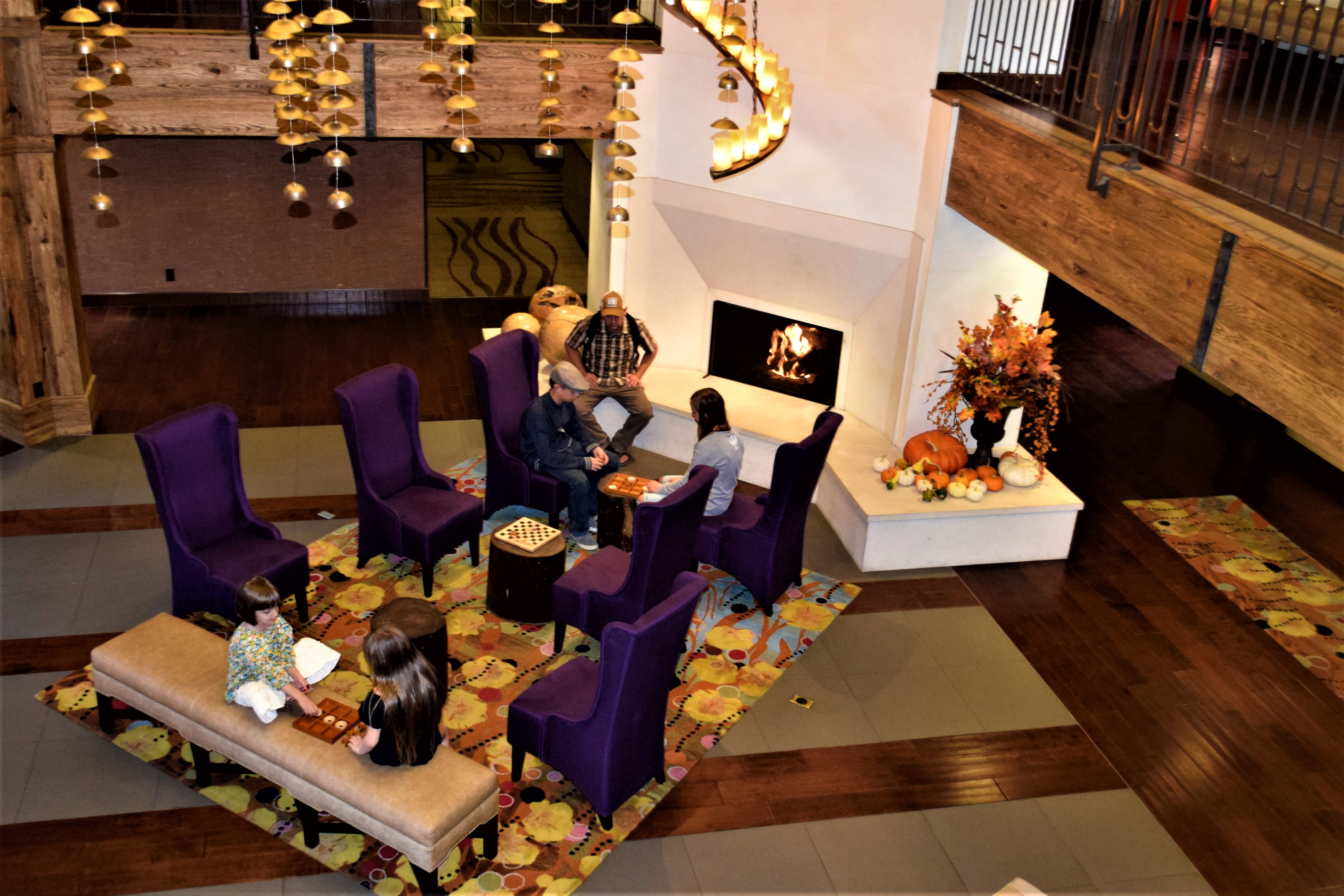 We had such a great time and now we can't wait to do a unit study on Denmark and learn the traditions of the Danish people.
Last fun fact : Legos were invented in Denmark. Who would have thought? Thank you Ole Kirk Christiansen for the hours of entertainment you have blessed my children with and the children around the world.
Thank you Solvang for hosting our stay.
Thank you for reading our post. We share a new post every Thursday at 8pm.