If you want to try some great cheese, wine, chocolates, olive oil, or food then go to Sonoma. Here you will try the best of the best. I mean, can I just live here and always be surrounded by only amazing choices? I'm sure I would gain weight if I got to eat and drink all this goodness on a daily basis.
We were blessed with the opportunity to get away for the weekend. My sweet man and I always plan on doing something that our children might not be so interested in; wine tasting is one of them.
We believe that in order to have a great marriage, good children, many adventures, special memories, clean house, organized life, and anything else that we make a priority we have to put time into it. Dmitriy and I try to get away for one night once every season. We plan ahead and love the special time together. At home Dmitriy and I spend 1 to 3 hours watching a movie together, chatting, giving each other massages, and laughing on a daily basis because we want to grow as a couple each and every day. We don't want to be roommates. We strive to be soul mates.
The same thing applies to anything else we find we want in our life. If we value having a clean house we have to get up and clean. If we want our children to be great readers we have to spend time reading with them. If we want a six pack we have to put in the time and hard work to get it. When we take long brakes from our goals we often feel like we are starting all over again. I feel like this sometimes. When I turned 29 I told myself that by the time I turned 30 I would look the best I've ever looked. Well, let's just say my intentions were great. I'm 33 and I still have not accomplished this goal because I'll work out for 4 days one week and then miss the next week or two so when I do start working out again I'm all sore and I feel like I'm starting out all over again.
Anything we value takes time and dedication. I'll be the first to admit that too often I want to be lazy but when I do I regret it and sometimes those I love suffer from it.
I get asked regularly about our daily 1 hour clean up and if I think it's too late for them to teach their children how to do chores. My answer is always that it is never too late. It may be hard to start but too often it is harder to keep up with it especially if your someone like me: a free spirit. Why can't we just always play or do what we feel like??? But the truth is we need to do the things we want to do and don't want to do. We also have to put the needs of those we love above ours while making sure we take care of ourselves.
Life is sure a crazy rollercoaster; one that no matter how many self help books we read never seem to answer all our questions, concerns, or problems. I sure love doing life with Christ who gives us strength. Who understands us. Who loves us and is only a thought, whisper, or cry away.o
Sonoma Valley Regional Park
Since most things open later and we are such early birds we decided to take a morning stroll through Sonoma Valley Regional Park. It's peaceful with golden hills. I was a bit jumpy on this trail and hubby laughed at me because I acted like this was the first time I've ever been on a trail. Now I could not help being jumping when I saw signs saying to watch out for bears, rattlesnakes, ticks. and mountain lions. There were so many lizards here and each time I heard noise coming from the glass I would jump. It is a beautiful park with a gorgeous pond.
Vella Cheese Company of California
We have tried to make it to Vella Cheese Company three times before but they have always been closed. We were finally able to try their winning cheeses. It's a small place and you can't watch how the cheese was made but if your a cheese fanatic like us then you'll want to visit all of them in Sonoma.
Located at: 315 2nd St E, Sonoma, Ca 95476.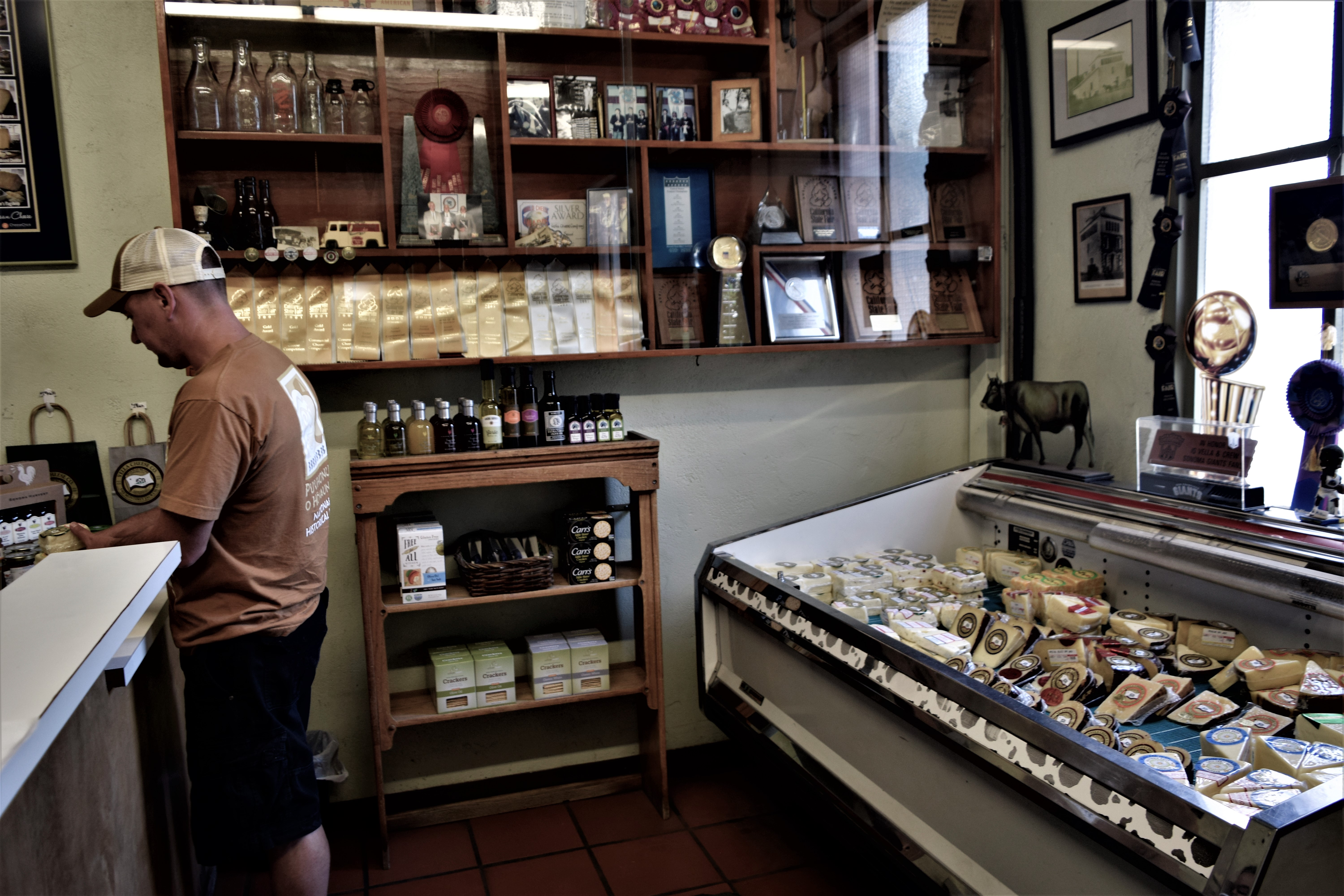 The Olive Press
The gourmet grocery store is so beautiful. When you walk in to the left they offer wine tasting and to the right olive oil tasting. We came here for the oil tasting. We loved that the oil was spread out and we were able to try at our own paste. The whole place is beautiful.
Located at : 24724 Arnold Dr. Sonoma, Ca 95476.
Wine Country Chocolates
I love chocolate more than anything else. We've done many chocolate tasting before and all I have to say is that this chocolate was so good. Now, you would think that just because I love chocolates that I would think that all chocolate is good but that is not the case. Too often the chocolates are not good at all so we usually leave with a small amount of candy purchased. Here we bought lots of candy. We even bought some to share with our children.
Located at : Jack London Village 14301 Arnold Drive Glen Ellen, Ca 95442.
Benziger Family Winery
Once we took our kids with us when we went wine tasting and they hated it so we try to never take them with us. We saw many kids here though so this place is kid friendly.
We did the vineyard tour and saw the wine caves. What we loved most of all about this winery is that they don't spray any of their grapes with chemicals. Instead, they have flower gardens and bird boxes so that nature could take care of the unwanted insects that are attracted to the grapes.
We brought our own fruit and cheese with us so that we were able to enjoy some of their wine with a gorgeous view.
Quarryhill Botanical Garden
It is always a good idea to start a new day with some time spent in nature. Botanical gardens are always so beautiful and they tend to bring the romantic side out of us. You can actually explore 25 acres of 20,000 plants and flowers. Many of these plants are rare and the seeds were collected in East Asia. We love self-guided tours because we can go as fast or slow as we would like. Bring a picnic with you because they have many picnic tables throughout the trail.
Located at :12841 Sonoma Highway, Glen Ellen, Ca 95442.
Fairmont Sonoma Mission Inn & Spa
Whenever we stay the night anywhere besides our home we are always looking for clean, beautiful, and unique places to spend the night at. I think a clean place is on the top of our list. It's hard to stay in a place that is dirty. Fairmont is breathtaking. I mean the whole place. The room, the spa, the outdoor gardens, and the building are all so beautiful. When you arrive you are greeted with a glass of champagne, complimentary self-parking, and welcome bottle of wine in your room. There are many places that you can sit and rest at.
If you love trying different wine but you don't want to worry about driving then you'll love that they offer daily wine tasting at 4:30 pm- 5:40 pm.
I truly enjoyed their four geo-thermal swimming pools. For me it doesn't get any better than relaxing in a pool that you know has healing powers instead of chlorine.
We can't wait to stay here again.
Located at : 100 Boyes Blvd, Sonoma, Ca 95476
Thank you Fairmont for hosting us.
Do you like tasting cheese, wine, candy, or anything else?
Thank you for reading our post. We share a new post every Thursday, 8pm.