Lake Tahoe is one of those must see lakes in California. Thousands of individuals, especially during the summer time, flock to see the blue water beauty. Unfortunately, most overlook other lakes in the area. We decided to focus on three beautiful lakes stone throw away from the big blue. All three lakes are located in Eldorado Country not far from Emerald Bay.
Cascade Falls:
This is the perfect hike to take your children on. If your not a big hiker yourself then you'll love this hike. It's only 2 miles round trip. 1 mile in and 1 mile out. It's an easy to moderate kind of hike. The scenery is breathtaking the whole entire time. You will see Cascade lake as well as Lake Tahoe at the same time. 🙂 In the Spring time the Cascade is 145 feet high but in the summer it is almost dry. Once you'll get to the falls you'll want to take off your shoes and splash, play, and run your feet under the small amount of cool water which is still left. If your not careful and you move fast like our sweet Eve (she's 5) then you might slip and land on your bottom. Don't worry because no tears will be shed. Instead, laughter and exploring will be the result. Once you've had your lunch and you've had your share of good climbing you'll have 1 mile left until this wonderful experience will be completed. There are some hikes where you wonder when the hike will end but this is not one of those hikes. Eve is not a fan of hikes. She says she doesn't like when her feet hurt but during this hike she was planning out her future. She plans to come to this hike often with her children and husband when she grows up. 🙂
Located at:  Starts at the Bayview Trailhead on the backside of Bayview Campground.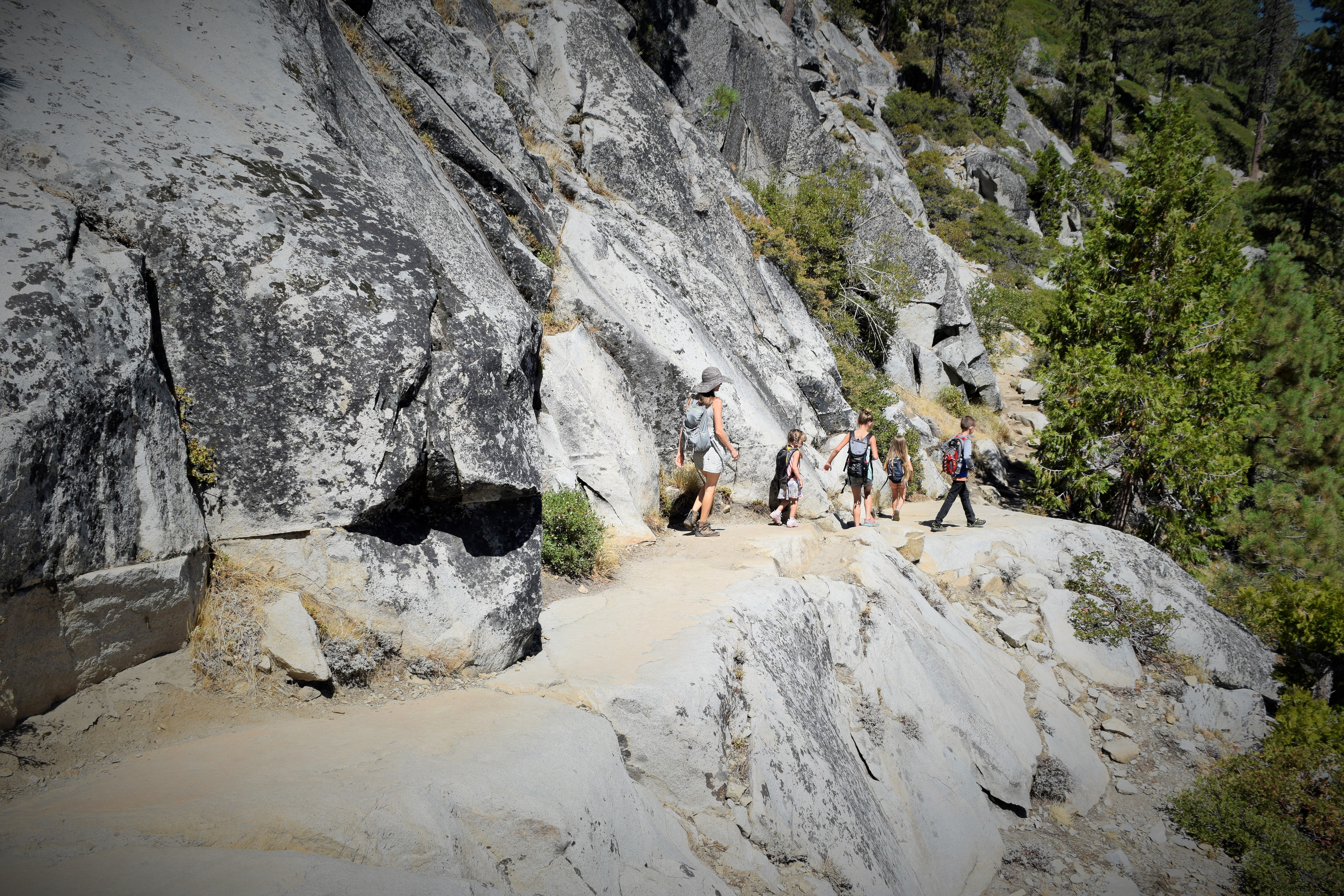 Fallen Leaf Lake:
We stayed over night in a Yurt in Fallen Leaf Campground which served as a great base to explore the area. You do not need to spend lots of money to enjoy Eldorado County. The lake was walking distance from the campground. Beautiful crystal clear water, ground covered with rocks, and the lake is surrounded with mountains.
From South Lake Tahoe, take Highway 89 North from junction of State Highway 50 an 89. In 3 miles, turn left on Fallen Leaf Road. The campground is half a mile on the right.
Lily Pond Lake:
At this lake you will experience something you would not be able to in any of the other two lakes: patches of lilies. This lake is such a beautiful and calm lake. If your dare to get close to the lilies you might get into the pond/ lake even with your clothes on. 🙂 To get here is a bit tricky and you really want to come early because it is hard to find parking here. It is a narrow one lane road.
Located at the end of the Fallen Leaf Lake road.