We finally got to enjoy Oregon's Coast. Now these were only two of the beaches out of many beaches that we played on during our Oregon/Washington trip. The funny thing is we thought we weren't beach people. Gosh were we wrong because we fell in love with these beaches. Oregon's Coast will forever have a special place in our hearts because we saw the total solar eclipse here and that was pure magic I tell you.
Cape Perpena Scenic Area
Cape Perpena Scenic Area is one stop you don't want to miss if your going up Oregon Coast. If your in the mood to hike you are in luck because the scenic area offers 26 miles of trails, featuring old- growth forest. As for us coming from lots of heat we wanted to hit the colder and windier coast. We started out by hiking out to Thor's Well and see the power of the ocean crashing into the shore. We did not make it to the highest tide but we still got to see the ocean fill up and splash high into the air at a sight like this really made us realize how powerful the ocean is. On the way back we hiked through the rocky shore and checked out some of the tide pools. We then got back to the parking lot and decided to see Devil's Churn which is another magnificent show of the power of nature. After all that walking around it was time to play around a little bit at Cape Cove Beach. This beach had lots of shallow waves going over really nice sandy beach that was perfect for little children.
Located at 2400 HWY 101 S Yachats, OR 97498.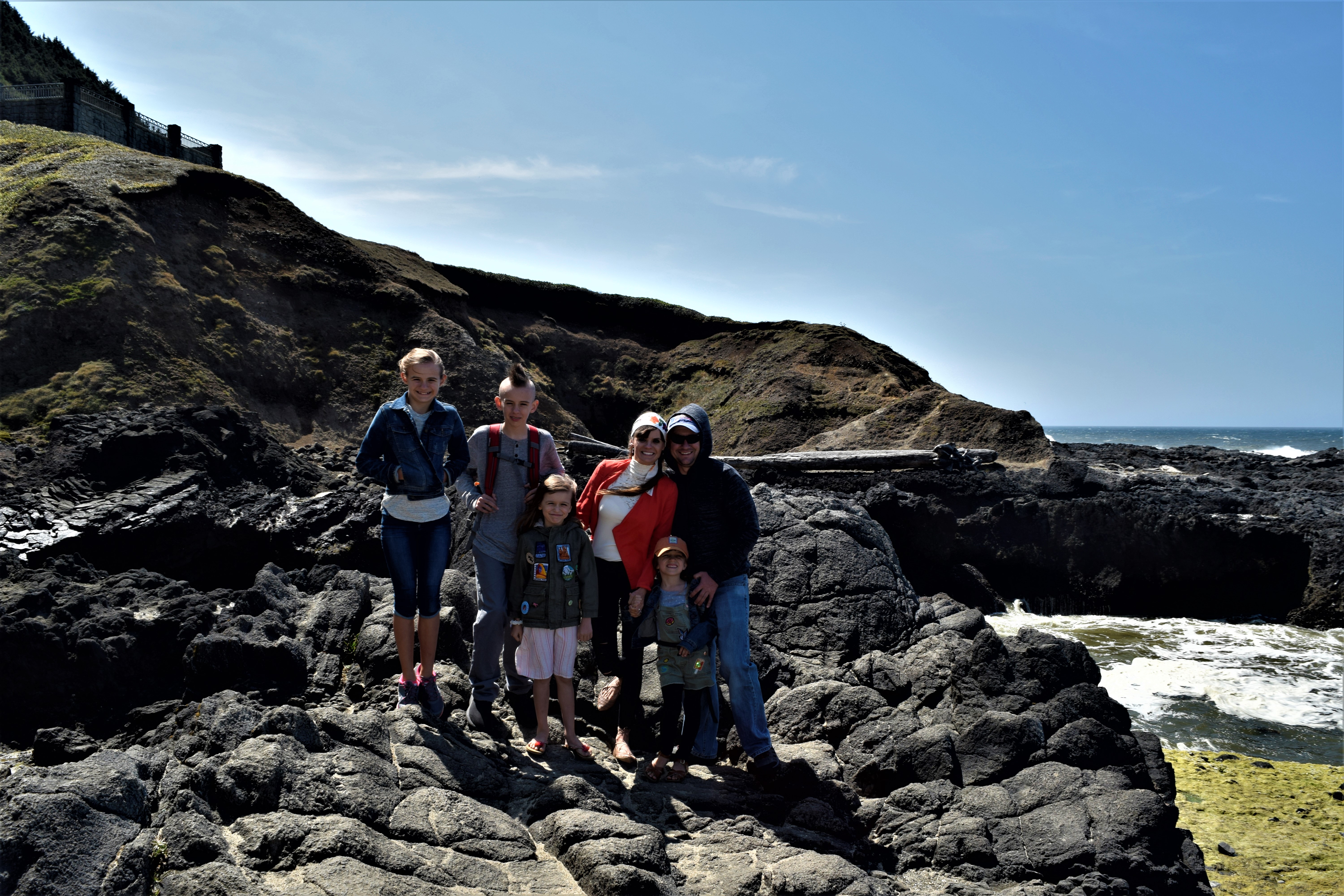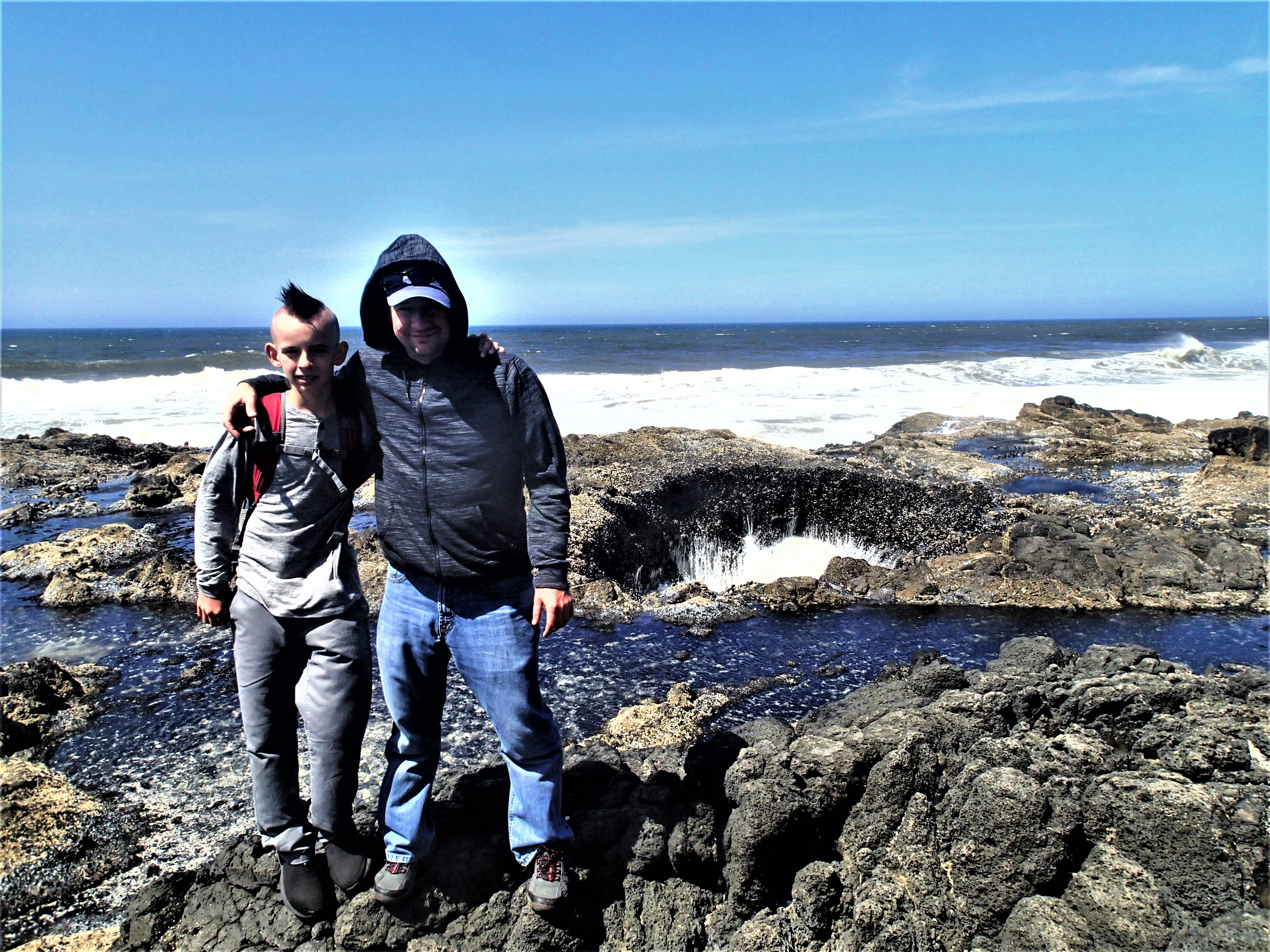 Devils Punchbowl State Natural Area
Devils Punchbowl State Natural Area is a rocky beach with a collapsed sea cave. It is another one of those great coastal stops and the view from the top is worth checking out. We recommend you put in a little work and go down to the beaches on both sides of it. The one to the right is fairly small but you get a great view of the arch from it. The one on the left is a long sandy beach and is very popular with surfers and swimmers alike. This beach is a safe beach for kids to run loose. It is a perfect place to spend the day playing in the water or to build a fort from draft wood.
Located at Otter Rock, OR 97369.
Total Solar Eclipse at Coyote Rock R.V. Resort & Marine
When we started looking for a place in Oregon Coast to stay during the total Eclipse the answer we received from everyone was that their was nothing available for us. But then we stumbled upon a fisherman retreat type of RV park and they had an available tree house that we could rent for under $50 a night. We figured : Jackpot !! We didn't even remotely understand how lucky we got until we got to the part of the coast where we were able to see the total eclipse. We saw parking lots renting out a space for a car where you could sleep in for $100 a night. On the day before the eclipse we only had one hope for clear skies and luckily for us the mist cleared right before the eclipse started. We got to see the whole amazing totality of the sun totally being covered by the moon from our cabins picnic table. Even more than we expected to see after the sun disappeared for about 2 minutes and darkness and cold came upon us. The river, due to the temperature drop, felt like it was morning all over again and the fog rose again for the second time that day. We got very lucky staying here because we had the comfort of watching from our own campsite without all the craziest going on elsewhere.
Located at 1676 Siletz Hwy, Lincoln City, OR 97367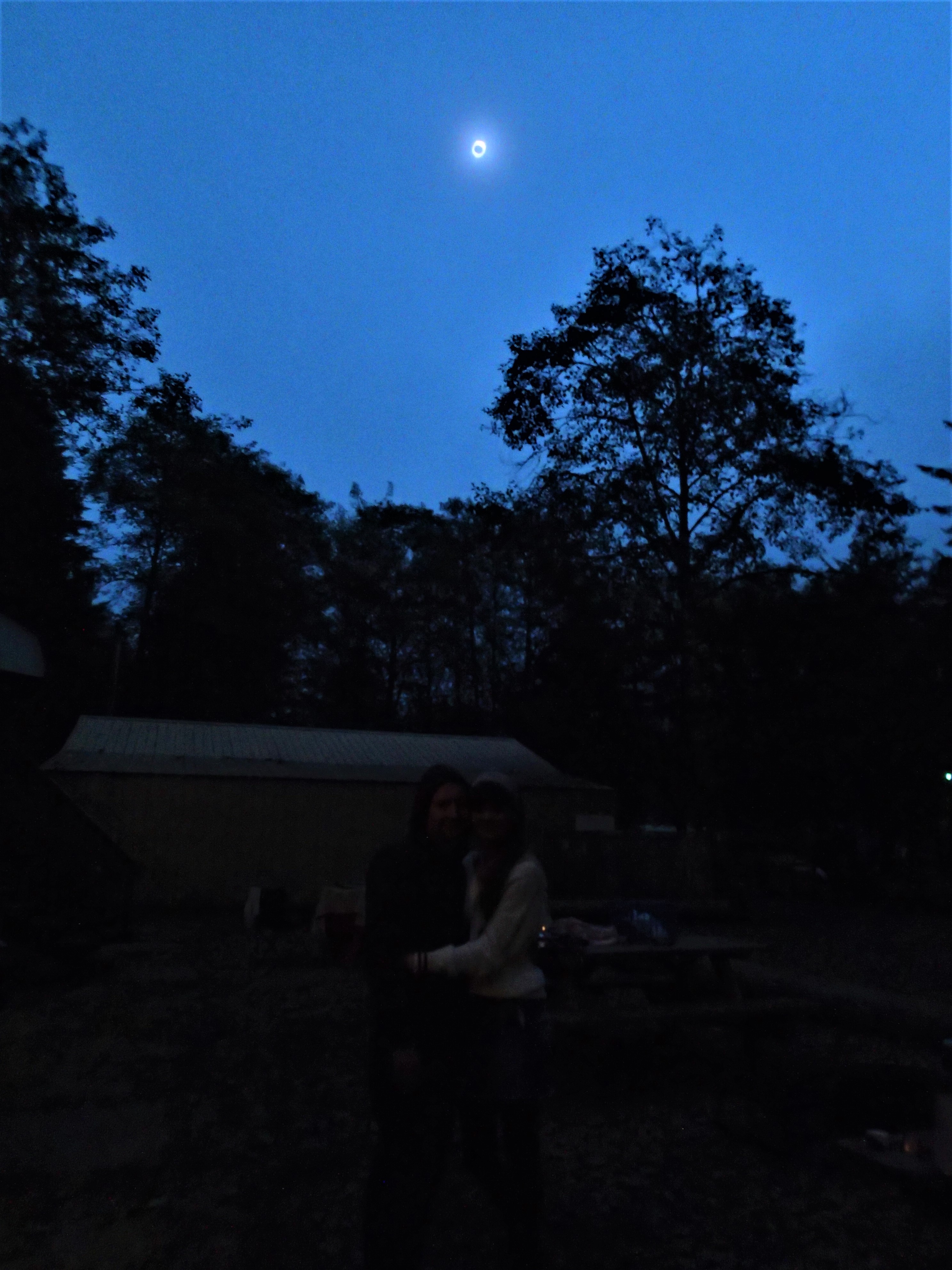 North Point Pedestrian Loop
We were driving through the town of Depoe Bay and noticed an unusually large crowd of people looking towards the water and it spiked our curiosity so we pulled over to see what everyone was looking at. To our surprise there was a whale close to the shore, closer than we've ever seen before. A local volunteer suggested that we take the North Point Pedestrian Loop to get a more private viewing of these magnificent creatures without all the crowds. This trail is amazing. I don't know why it is not marked on the maps.
Yaquina Bay Bridge
On our way to our lodging destination we were going through the town of Newport. We were taken back by the stunning bridge on our way into town. When we got over to the other side to take a picture of the bridge we read up on it and it turns out that the Yaquina Bay Bridge is Oregon's Coast icon just like Golden Gate bridge. It is truly a engineer marvel.
Located at 1950 SW Coast Hwy, Newport, OR 97365.
Thank you for reading our post. We share a new post every Thursday at 8pm.