We have not been able to travel to Japan with our children but we love that we can get a small taste of Japan from home. This new series: Travel the World is a way for us to learn more about different cultures and encourage you to do so as well.  We want our children to appreciate and embrace other cultures.
"The Japanese alphabet is based off of Latin and the Chinese alphabet. Through the early centuries, Japan did not have their own style of literature. During that time the literature was Chinese or Indian because of Buddhism. Japan has the second biggest Ongaku market in the world. Ongaku means sound enjoyment which means music. Japan has the oldest wood architecture in the world. Japan is one of the countries that did a lot of garden architecture. Their gardens was a form of artwork. In traditional Japan, the Japanese wore long clothes in public. Japanese food usually consist of rice, seafood, or vegetables."- written by my son Peter.
Continent: Asia
Capital: Tokyo (located on Honshu)
Flag: The Sun-flag (Hi-no-Marui)
Total area of Japan: 377,835 square kilometers
There are 5 main island districts: Honshu, Hokkaido, Kyushu, Shikoku, and Okinawa.
Mountains cover over 75% of land's surface.
Religion: Shintoism and Buddhism
Literacy: 99%
Life expectancy: 81
Currency: Yen
Skoshbox (Japan Snacks):
We were blessed with a Shoshbox. This box is full of yummy snacks and candies. This is a subscription box which means that every month you get a box full of new Japanese snacks. We enjoyed them so very much. My children now believe that Japanese snacks are the best and no one else can compare.
What we received:
Gudetama gum: this is a soda gum with a mystery Gudetama sticker.
Lifeguard Drink Candy: Vitamin energy drink in candy form. This was pretty tasty.
Fettuccine Gummy: flat noodle orange gummies. Super tasty.
Peko X Sanrio Ichigo Choco: character shaped strawberry chocolates. These are very cute.
Pie-No-Mi Chocolate: Flaky mini pie pastries with Choco filling: Yummy.
Ume Soft candy: Umeboshi (pickled plum) soft chew candy.
Chip Star: Sweet  Potato chips.
Puccho: Hard Gummies: mini lemon and coal gummies. My kids loved these.
Wooden Hashi pencil set.
Dole Grape Gummies: these were my favorite. Had a rich gooey center.
Kuchidoke Porinki Chips: mouth-melting chips with pudding flavor. I wish there was more. 🙂
Taiyaki Squishy: dessert strap.
Sumikko Gurashi Blind Toy: My daughter loved this.
To order your Japanese snack box visit http://shoshbox.com. Once you try their snacks you will be counting down days until the next one arrives. They are that good.
Shoshbox ships 100% legal food products within the United States. All of their ingredients are translated in English.
Writing Japanese numbers: 1-10


Haiku :
These short Japanese poems are only 3 lines long. The first line consists of five syllables, the second seven syllables, and the third five syllables. There are seventeen syllables all together.
Some thoughts wander
But if you give them a home
They last forever. -Peter
Making your own Zen Garden:
What you need is a container, sand, water, cactus, fork, and pen. In the glass container put the cactus inside of it first. Then put sand or rocks. Use spray bottle and get the sand wet. Use fork or pen and draw lines or circles on the sand. Zen gardens are made up of sand and rock. The sand is raked in beautiful designs each day.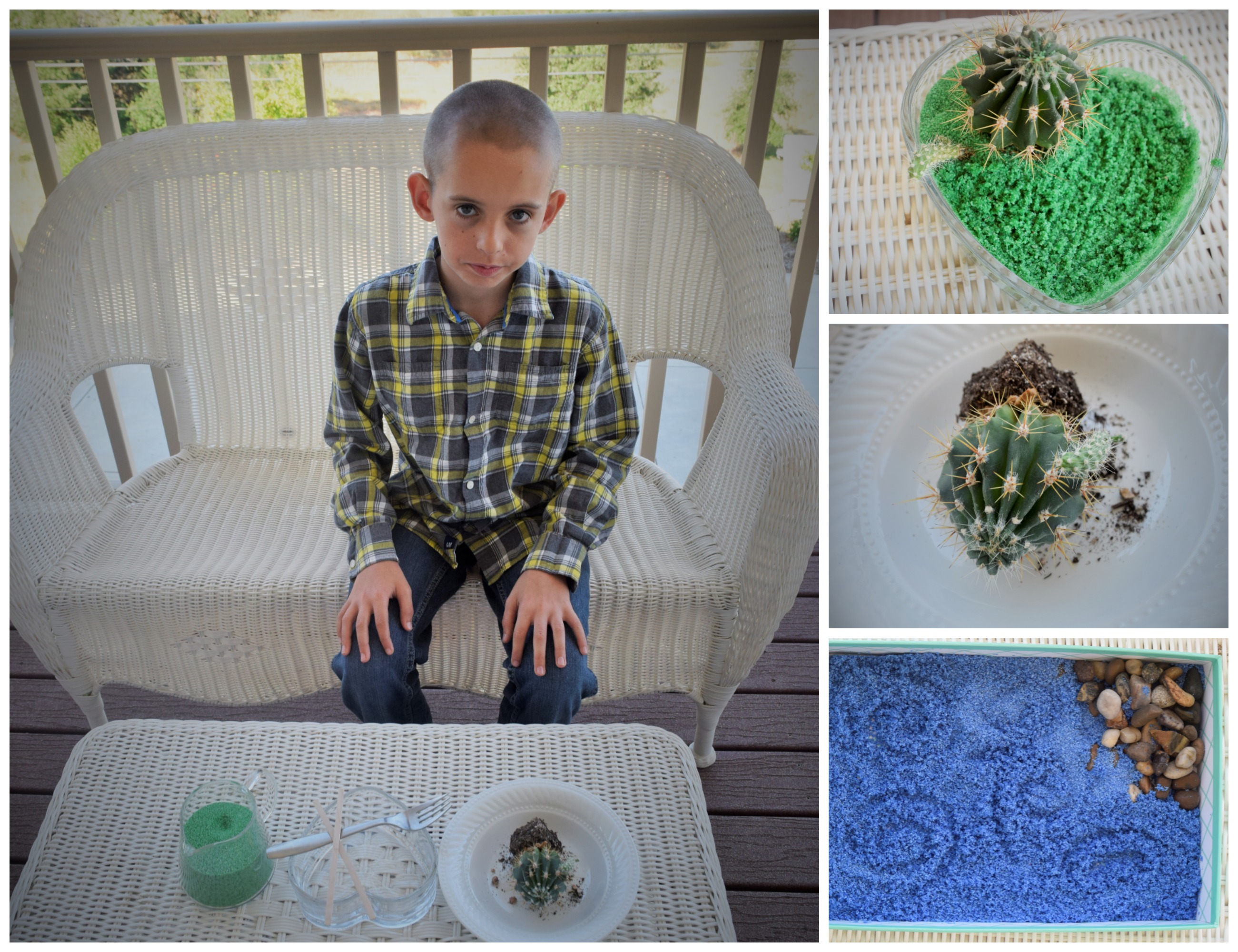 Japanese Cherry Blossoms:
In Japan, cherry blossoms symbolize clouds. What you need: craft wire, paint, pink tissue paper, glue or tape, paper roll, and string. Cut three pieces of craft wire. Make them look like a branch. Place small pieces of tissue papers throughout the branch. Use glue or tape to hold it in place. Paint paper roll. After paper roll is dry stick the wire branch through the paper roll. Put sting through the paper roll and hang your cherry blossoms outside.

Koi (nishikigoi):
This fish is kept for decorative purposes in outdoor ponds. There are a variety of carp fish. In Japanese the word Koi means affection or love and therefore are a symbol of friendship.

Japanese Paper Doll:
Are known as ningyo which means human shape. Esther made two Japanese paper dolls. To see how to make these dolls, watch video below.