If I could visit every National Park and walk on all the trails that a National Park has to offer for the rest of my life I would. You can call me a #NationalParkGeek and I would not be offended. I feel that it is a blessing that these amazing places have been preserved for all of us to enjoy. Many come to Hawai'i to sit around and enjoy the beautiful beaches of the Big Island but we came to see this one of a kind National Park. Don't worry we enjoyed our time at the beach as well.:)
Hawai'i Volcanoes National Park is a place where you can observe the beauty that comes out of natures destructive power. The scotched ground from the lava has turned into this magnificent desolation. It is far more magical than we had imagined.
Lava Viewing
You can view the Kilauea volcano glow from the Jagged Museum.
If you are simply passing by Hawai'i Volcano National Park we highly recommend you not to miss the glow. We came early in the mornings and late in the evenings and we found that the best time to come is early in the morning while it's still pitch dark. It is not as crowded. It is cold here both in the morning and in the evening so you'll want to bring your warm clothes or else you'll be wearing your warm pajamas like I did.
Kilauea Overlook
We were fortunate to see locals come and pay homage to the Goddess Pele. We have never seen anything like this before. We saw how this group gave their Ho'okupu (gifts or offering) to Pele. People usually give food, flowers, or berries to Pyle, oftentimes prayers, chants, and dances are offered to Pele as well.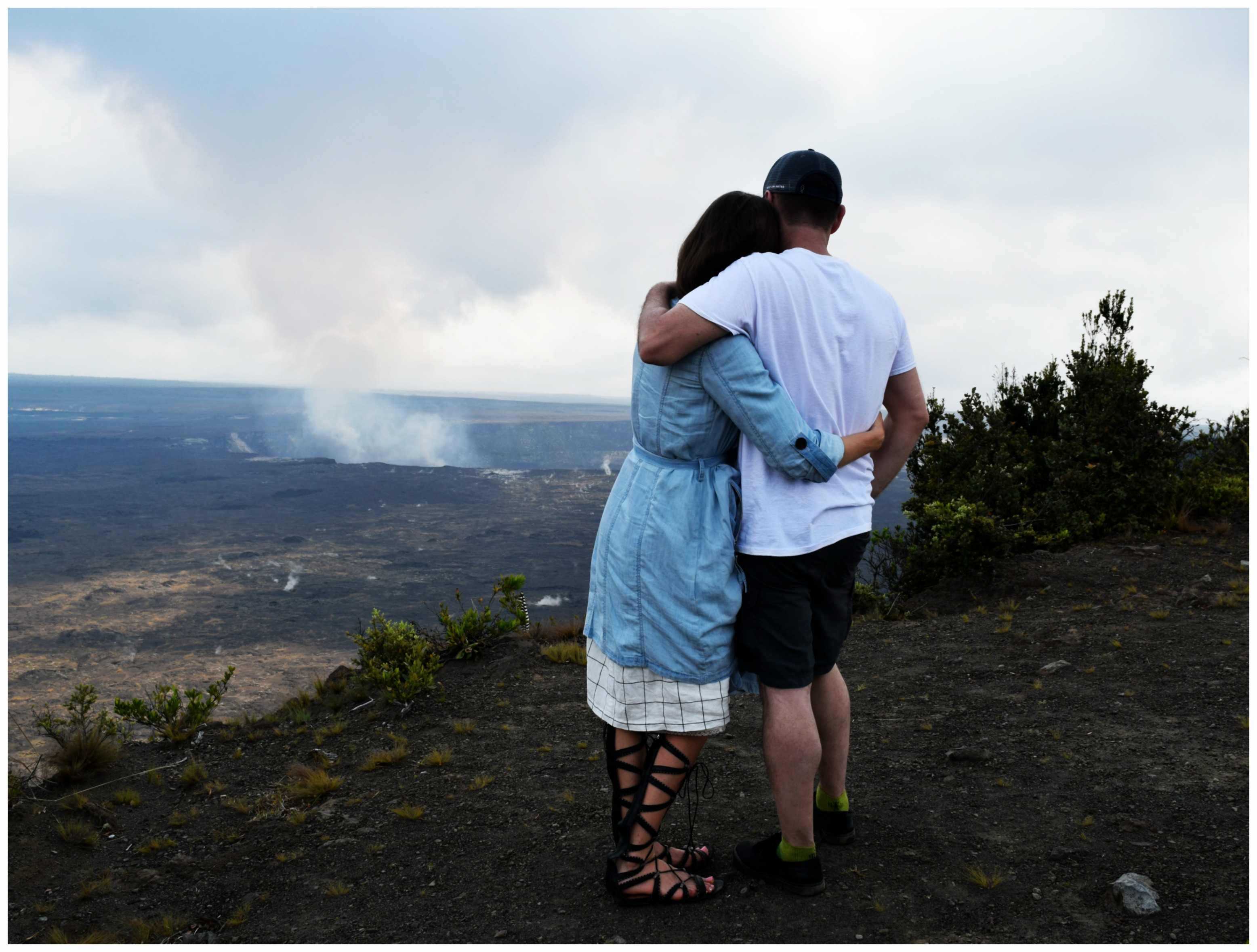 Kilauea Iki Trail
Have you ever wanted to walk through a pit crater? If so here is your chance. This is an easy 4 mile round trip hike. We did this hike first thing in the morning and we highly recommend you do that as well because there are no trees and it gets really hot on this black lava trail. First you walk through the jungle and then you will descend onto the crater floor where you walk along steaming vents. The ground is black with no vegetation, it is right over the hill from an active volcano. Then you will come to piles upon piles of sharp lava rocks and towards the end of this trail your back to the lush green rainforest. In our opinion this unique trail is one of the best hikes on the Island.
My jacket in burnt olive is from Snergy Clothing
Pu'u Loa Petroglyphs Trail
For me nothing makes me feel more connected to the past then seeing Petroglyphs. I can just imagine someone in the distant time creating these ancient images to tell us their story. These are very well preserved images carved into the volcanic rock. It is just a short hike away, only 1.4 mile round trip . A boardwalk was built to help preserve these petroglyphs so that you will be higher up and get a better view.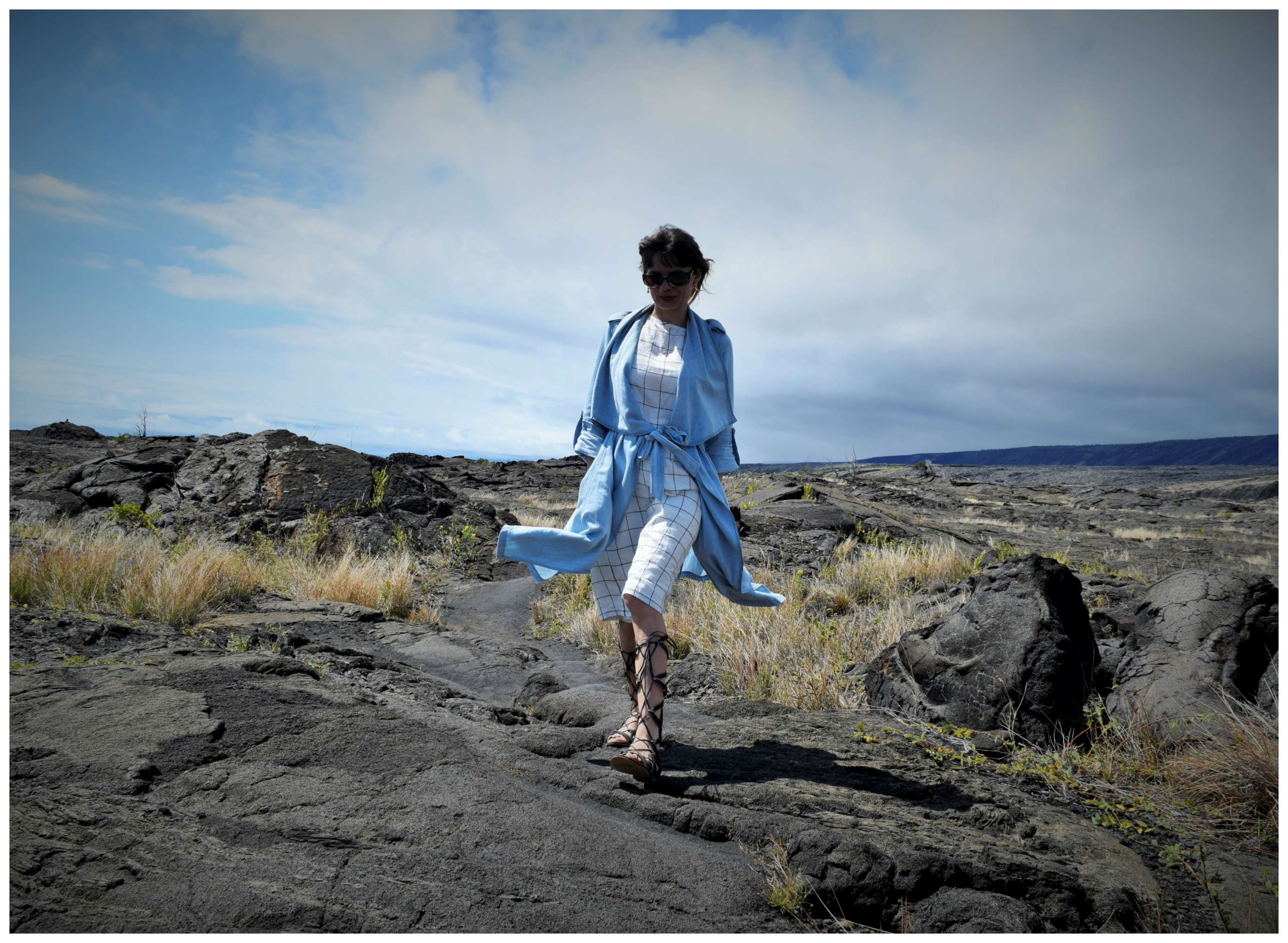 Holei Sea Arch
If you've been following us for awhile you know we love unique natural formations.This arch is like no other we have ever seen before. This arch stands 60 feet above the crashing waves. It was formed by wave erosion which means that it is ever changing and could be gone the next time we visit Hawai'i. There This arch is super easy to reach it is right next to the parking lot.

My Large checks dress is from Not Perfect Linen
Thurston Lava Tube
It is fun to explore lava tubes. It is crazy to imagine that fast moving molten lava had created this 500 foot long lava tube. If you've been to Subway Cave in California or anywhere in Lava Beds then you won't be as impressed with Thurston Lava Tube. It is well developed and easy to explore lava tube. Here you will see how powerful the volcano can be and it is defiantly worth the stop.
My leggings are from Senita Athletics
Sulphur Banks Trail (Ha'akulamanu)
Let's just say that I am fascinated with everything that has to do with volcanoes. Sulfur banks are so neat but the smell is not pleasant because it almost smells like rotten eggs. If you have kids with you then you'll want to keep them close to you because the vents are extremely hot . Here you will find the beautiful bright yellowish/greenish color of crystals which has been created from sulfur gases.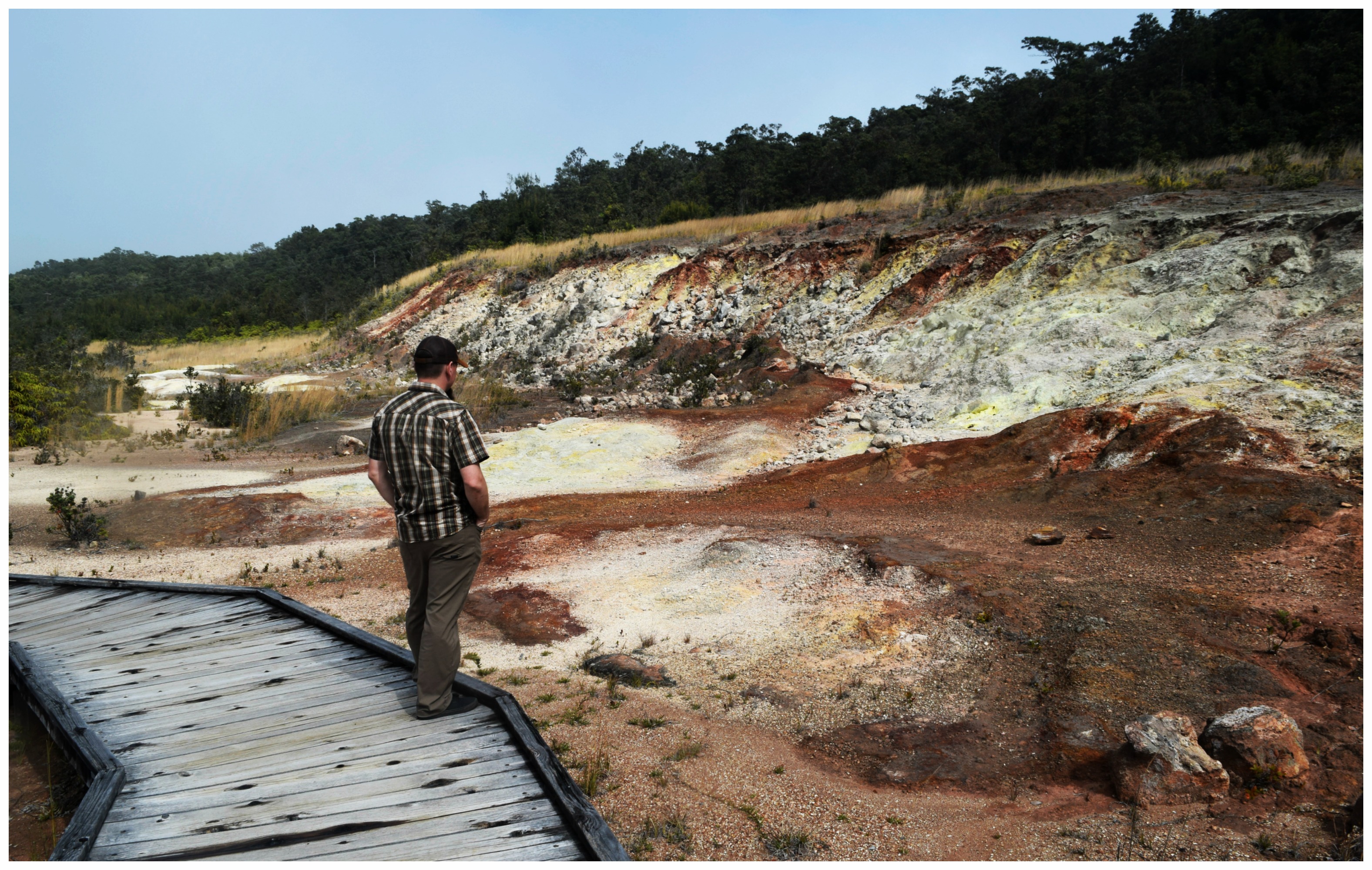 Namakanipaio Campground
Did you know that you can sleep within half a mile from Jagger Museum? It is located within the national park which gives you great opportunity to spend more time to explore this incredible volcanic wonder. We stayed two nights in this cabin and we loved it. This is glamping at its best because there is no need for you to bring your mattress or bedding. To reserve your stay call 1-808-756-9625.
Thank you for reading our post. We share a new post every Thursday, 8 pm Pacific Eastern Time.
What is your favorite National Park? Why?