Toys? Electronics? Crafts? What child has time for all that when they are exploring Arches National Park ? Seriously, we did not bring any toys, electronics (ok maybe I did but we aren't talking about me), or crafts with us and our children never even noticed because there were too many things to climb. Now I would be deceiving you if I said that I wasn't tempted to give them something to keep them distracted from almost scaring me half to death. However, I tried to keep sane at least for the sake of my husband. I am not sure if it looked that way to others but I sure tried.
Arches National Park is by far the best to explore with children. They made is fairly easy for you to get to most of the best arches and land marks. You can cover quite a bit of this park within a day if your just passing by but we like to focus on one area at a time and we would rather come back multiple times. If you want to see pretty much the whole park it will take you about four days. Now this is just our guess. We were only able to dedicate two days to this park, we wish we had more time.
Delicate Arch:
Have you seen Utah's license plates? Well if you haven't it is an image of Delicate Arch. Delicate Arch is the most popular hike in this park. Does that surprise you? Probably not since Delicate Arch is the symbol of Utah and to understand why you have to hike the Delicate Arch trail. We do have a few guesses to why this is so. We are guessing it could be due to the fact that it's a 65 foot tall freestanding arch formed of Entrada Sandstone. But we could be wrong. 🙂
Delicate Arch can also be seen from the distance from Lower Delicate Arch view point with almost no effort. If you want to put a little more effort into it and see the Delicate Arch better then go to the Upper Delicate view point which is only 100 yards (round trip) But to really experience and see it up close you have to hike the Delicate Arch trail which is a moderate 1.5 mile trail (one way) with slick rocks, uphill climbs, and really cool spots where walking on the edge of the rock gives you a feeling of adventure.
Finally as you turn the corner you will get to a spot which almost feels like an amphitheater created by nature with plenty of space for you to sit down and to admire the center piece of this natures exhibit. When your done admiring this arch from a distance you can walk up to the arch and take pictures with it. When your heading back to the parking lot don't forget to stop by and check out the rock art panel and the historic Wolfe Ranch.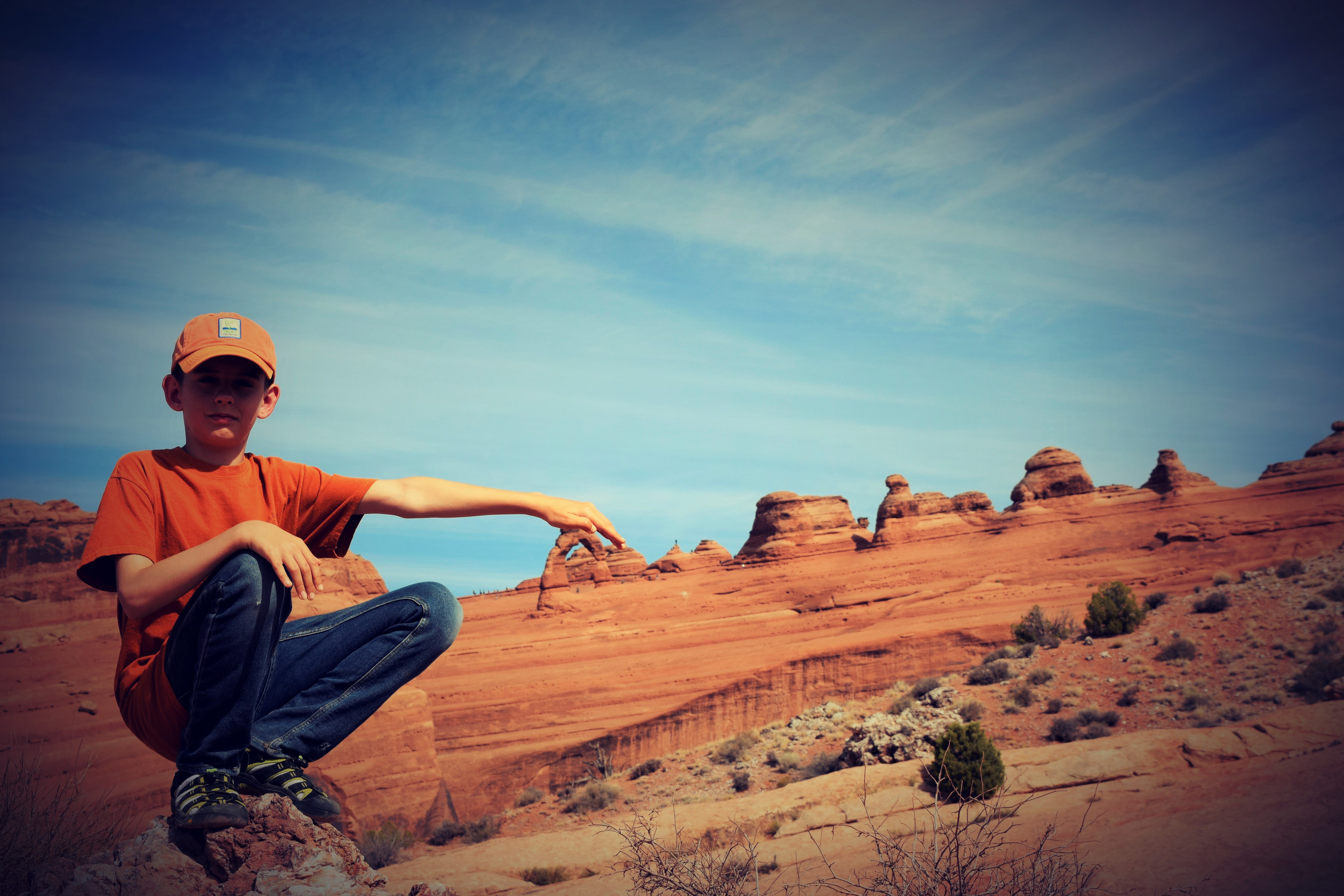 The window Section:
This very popluar area is especially great to explore with kids. You can see not one but five amazing nature exhibits within walking distance from each other. The most popular one of these depends on who you ask but ours was the Double Arch which has its own trail (0.5 mile roundtrip) .
As your walking on this trail to see the Doubled Arch you will also be able to see The Parade of Elephants which are massive rock formations that resemble giants elephants. As you get to the end of the trail you will see the beautiful Doubled Arch which is truly spectacular to behold.
The second most popular nature exhibit to check out in the window section is the Turret Arch and South and North Window. The Turret Arch is pretty neat because the width (100 Ft wide) is much smaller than the height.
North and South Windows are worth checking out and there are some great picture opportunities especially when you can line up North Window with Turret Arch.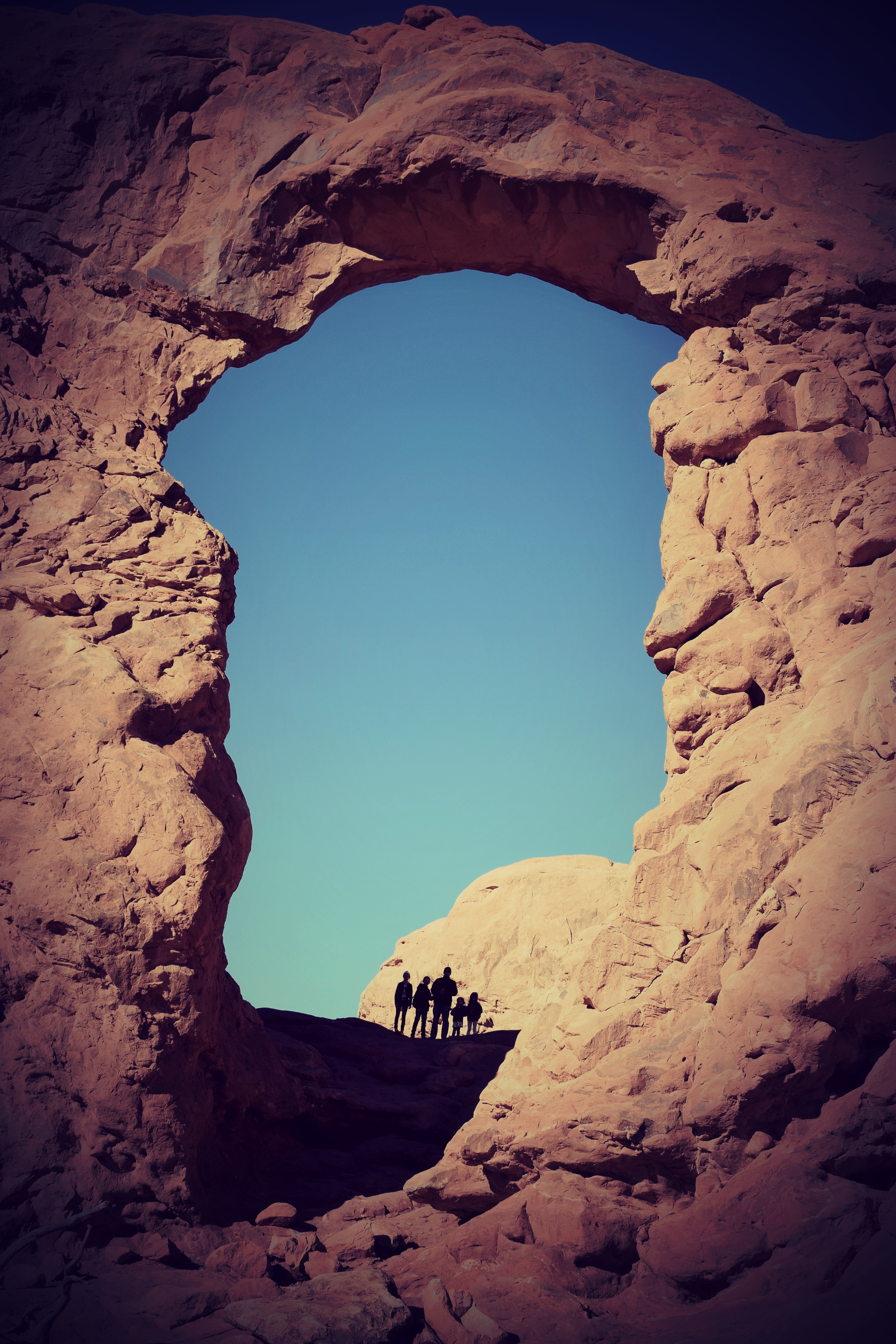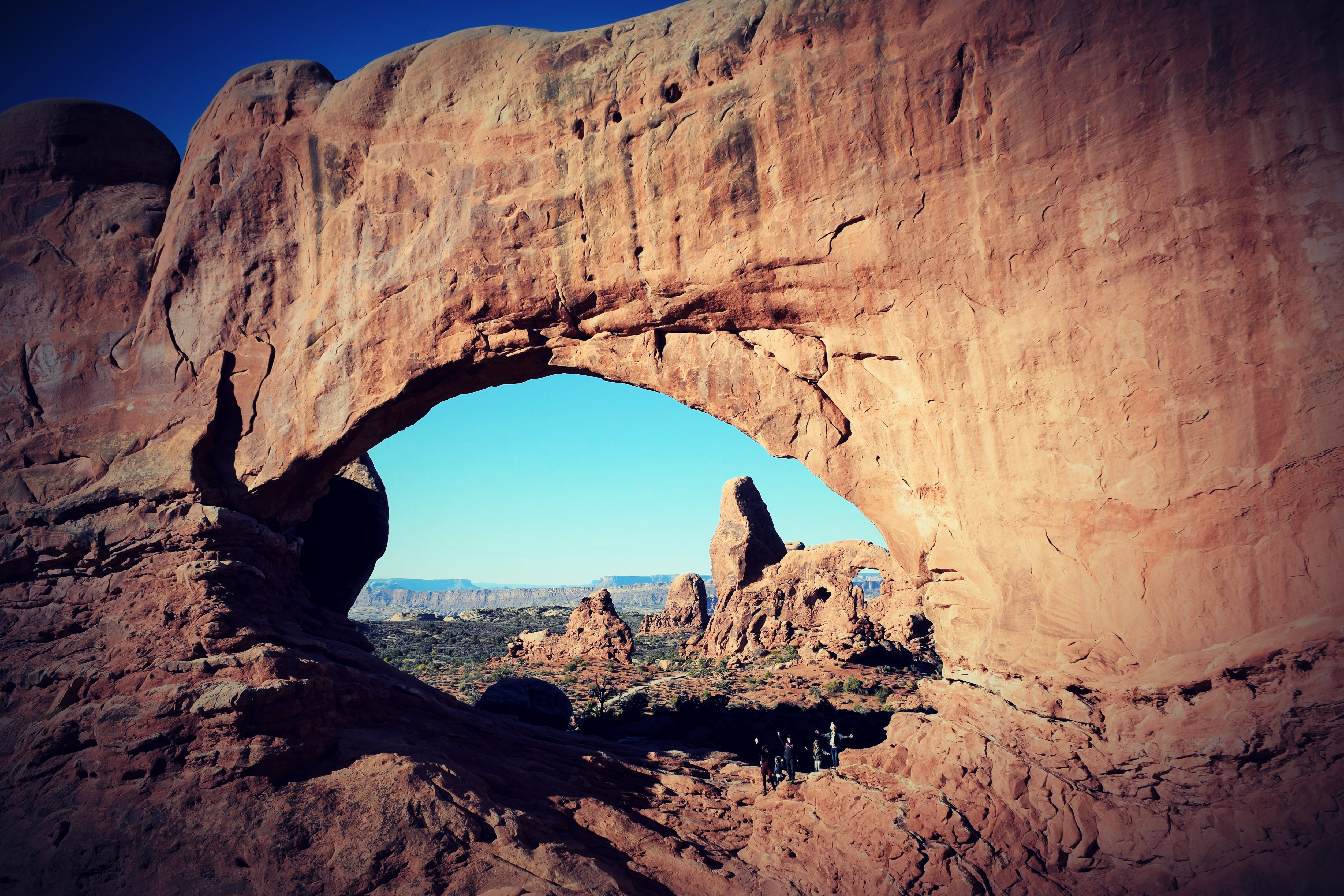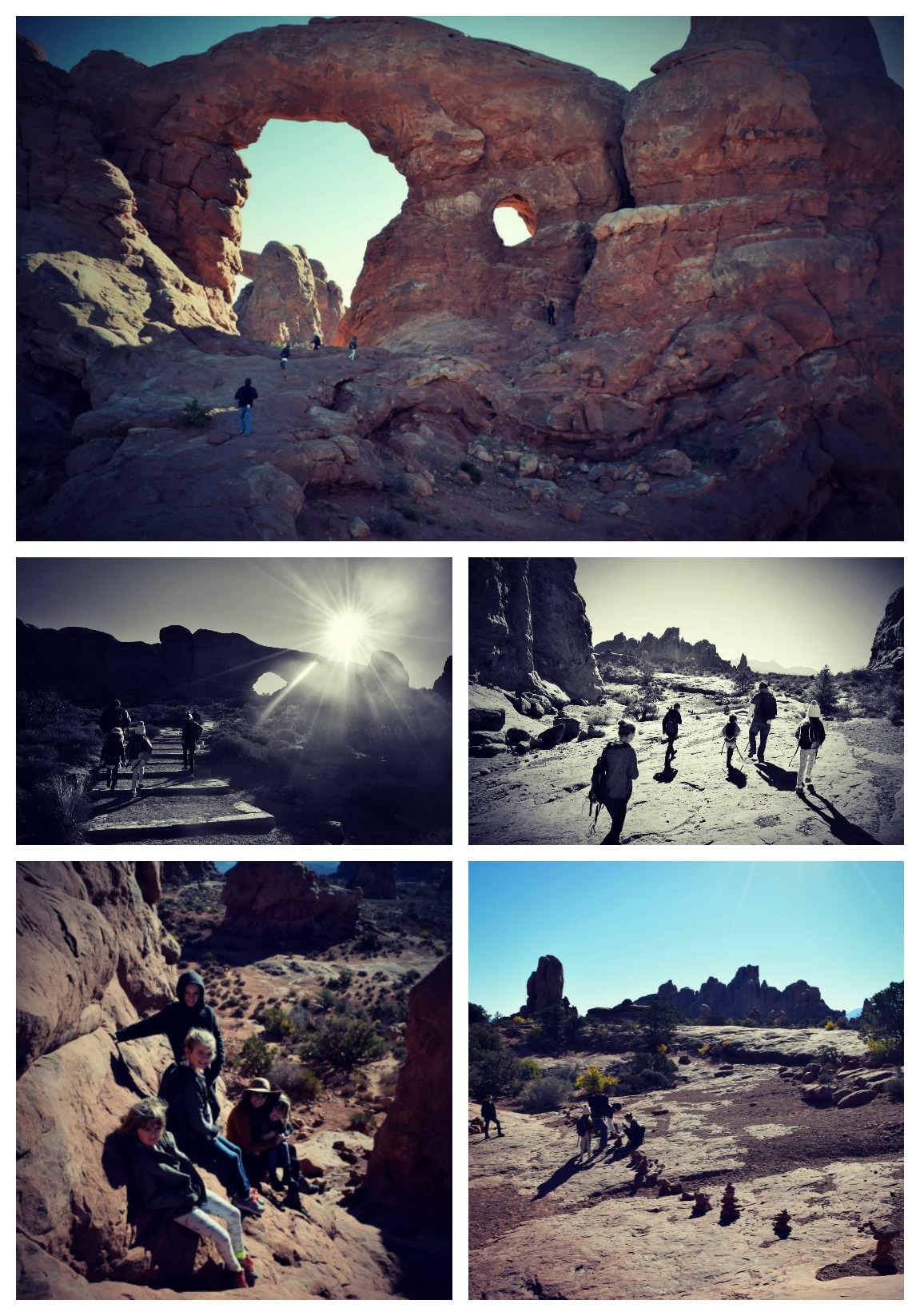 Balanced Rock:
To get to Balanced Rock you only need to walk 0.3 miles round trip until you get up close to one of the most iconic symbols of this park. You can walk all the way around it so you can see all the angles. This was our 5 years olds most favorite nature wonder to see.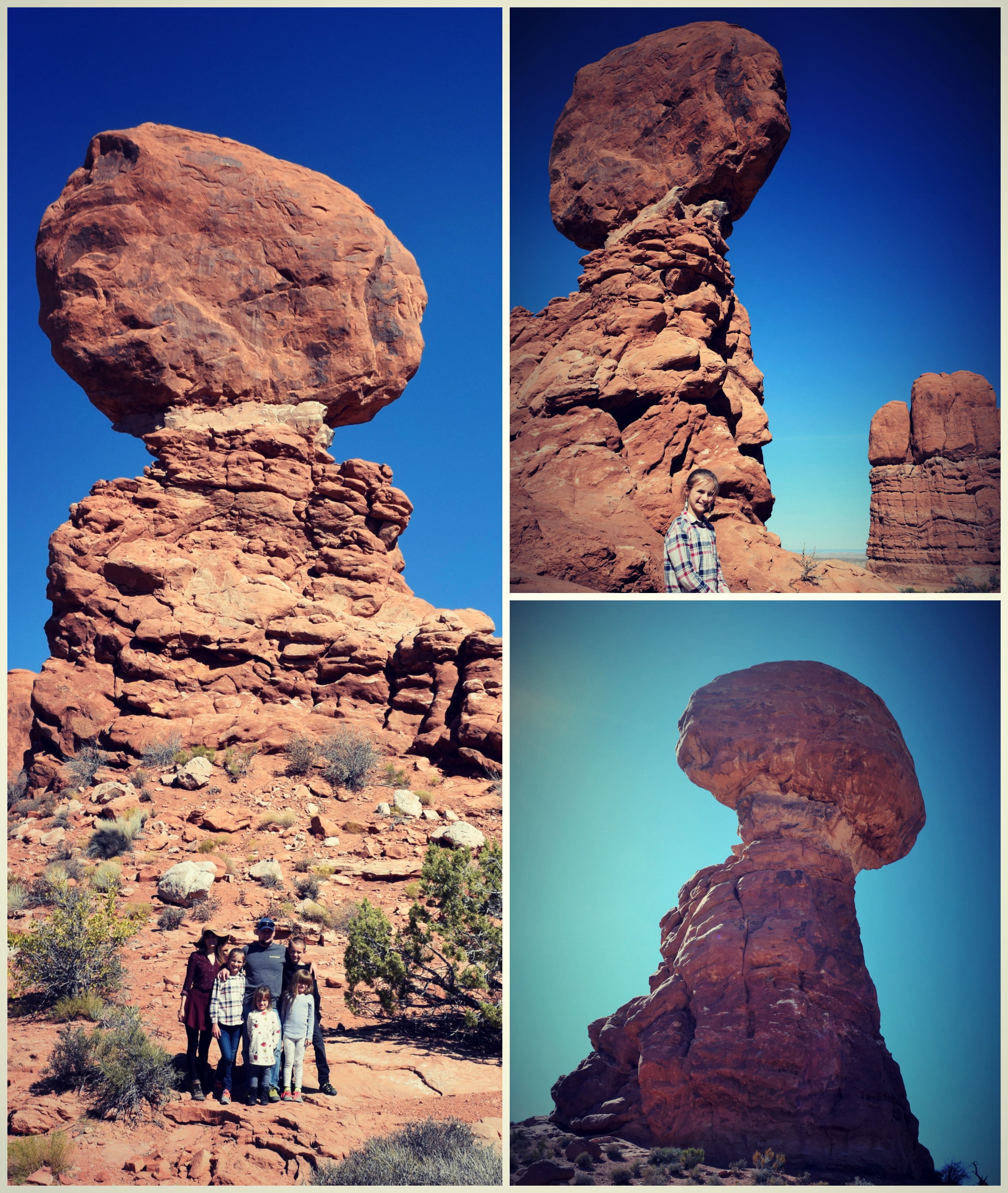 Park Ave Trail :
This easy 1 mile hike leads you in between two sheer walls that look just magnificent. This hike is best to do toward the end of the day as your heading out of the park because when the sun is not directly above it, it shines on the walls and brings out the color in a beautiful way. Make sure this is on your to do list for this park because it is totally worth your time.
Garden of Eden:
This is a great place to stop by and take some pictures.
Sand Dune Arch:
This really short trial (0.3 miles round trip) is super easy to do with kids. If you have flip flops or sandels with you then you might want to leave your hiking shoes behind and put on your flip flops or sandles because you with feel as if you have arrived at the beach very soon. The trail starts from the parking lot and leads you to a very narrow canyon which will force you to walk in one at a time. Once you have entered you will find yourself in the land of shade and coolness and there will be sand everywhere under your feet. You will discover the arch a few steps away as you bend around the massive rock in the middle of this canyon. Here you can safely play in the sand because on this trail there is no pets allowed.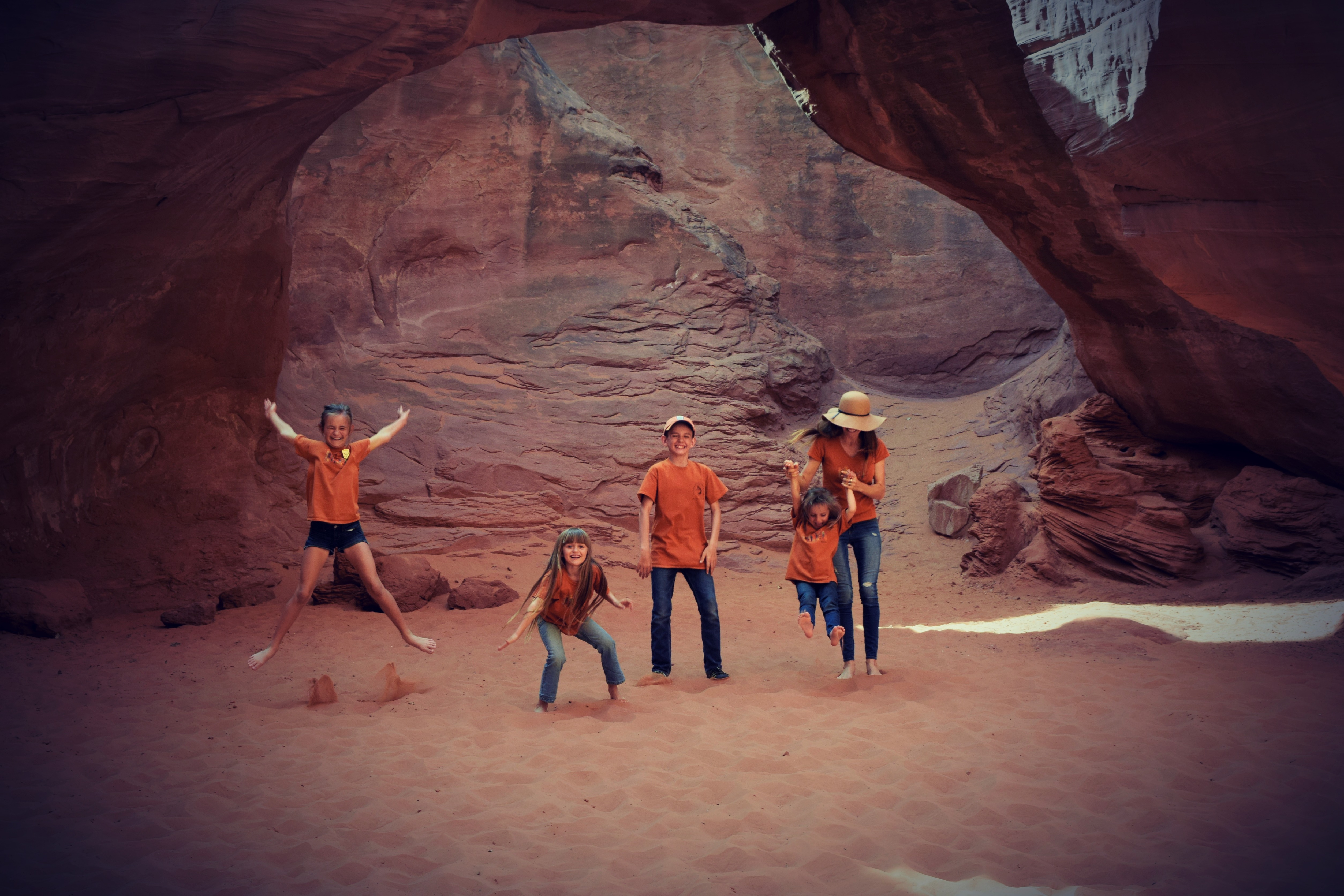 Skyline arch:
This very short trail leads you to an arch way high into the mountain, that's where it gets its name. It is really easy to do and only takes 10 to 20 minutes to accomplish. One of the unique features of this trail is that you might feel as if you are walking through the desert.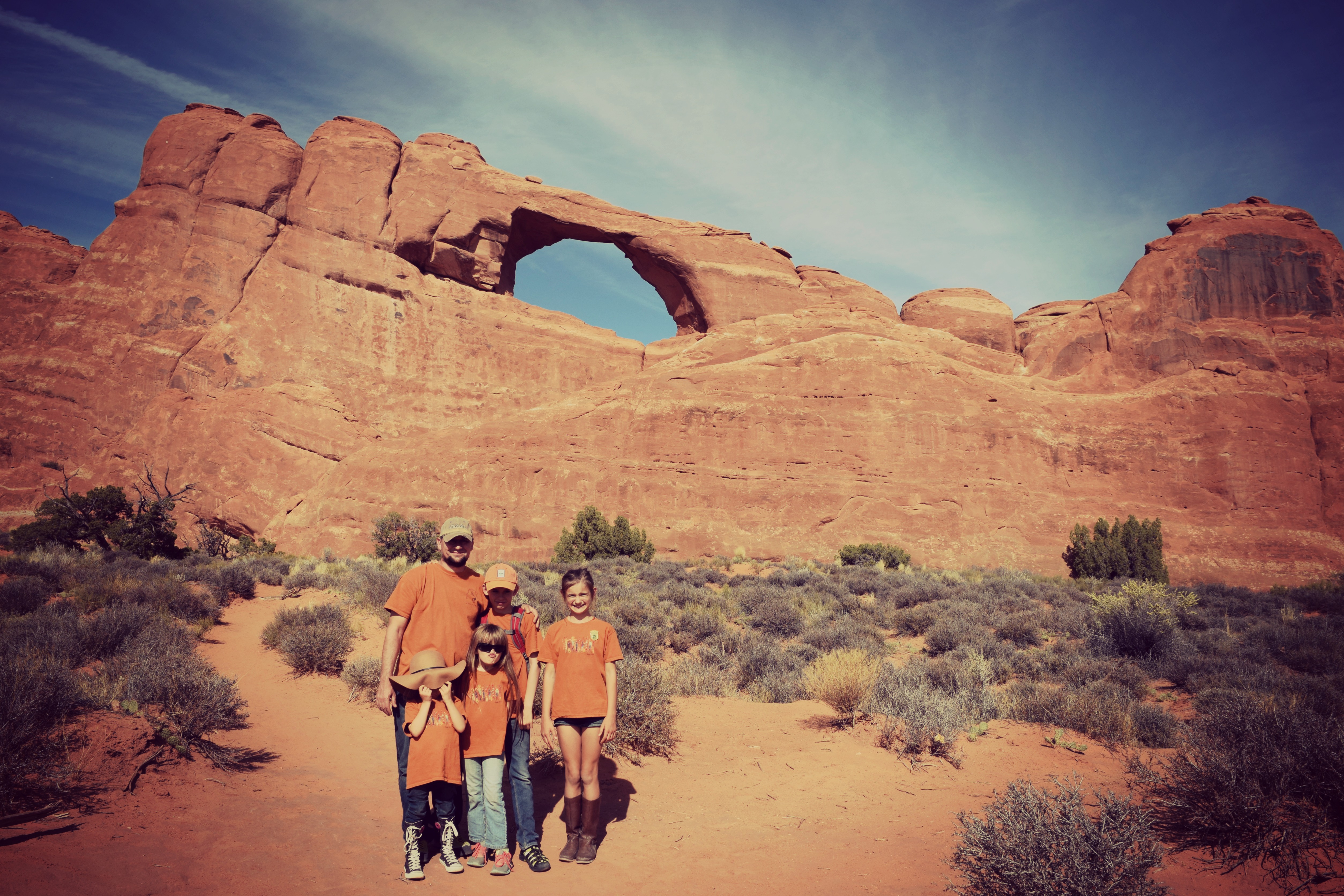 View Points:
There are lots of great view points to pull over and take some great shots in this park. We stopped by all of them on the main road.
*Courthouse towers viewpoints:
From this view point you can see some really amazing formatons: The Organ, Sheep Rock, Three Gossips, Tower of Babel.

*Fiery Furnace Viewpoint:
How strong is an Arch anyway?
This semicircle structure which is supported by both ends is incredibly strong. In nature we find a perfect arch in an egg. You could even walk on eggs without cracking them. Take a look at our Let's Celebrate : Eggs post. What you need to show your children how strong an arch is are four eggs and lots of books. You want to cut the bottom of the smaller side of four eggs. Next, empty out the inside of the four eggs and place the empty arches in the shape of a square. Now, stack the books on top of the arches and see how many books you can put on the arches (eggs) until they start to crack.

Hands on Fun:
When we got home we knew that we wanted to draw the Delicate Arch so we printed out one of the pictures we took and got to drawing.
Time for Questions:
What was your favorite part in Arches National Park ?
Why ?
How do you think it was formed ?
1)Park Ave 2) Because the walls are so massive and amazingly straight. 3) Water caused it. Years of erosion. -Dad
1)Window Section 2) I loved being able to look through the windows to see the rest of the incredible formations. 3) Wind and water caused it. – Mom
1)Balanced Rock 2)Because I liked how the rock looked like it was going to fall on everyone but it didn't. 3) A round rock fell on top of a narrow rock and it stayed that way. -Peter (13 years old)
1) Sand Arch 2) We were able to play in the sand and it was kind of chilly and it cooled us down. We saw tiny foot prints in the sand which was neat. 3) The water started rising and the arch was formed. -Esther (11 years old)
1) Delicate Arch 2) It was beautiful, really cool, and really big. 3) I think it was formed with salt and water. -Elizabeth (7 years old)
1)Balanced Rock 2) Cause it so cool balanced rock. 3) One rock broke and fell on the ground. The other rock broke and fell on the top of the first one. Then it stayed that way. -Eve (5 years old)
Thank you for reading our post. Don't forget to subscribe : It's on the right side of this post under my picture. We are always learning new things and going places.
We share a new post every Monday and Thursday, 1 pm Pacific Time.
XO,
Irina