Oh, National Parks how much we love you !!!!
Did you know that Mongolia has the oldest national park in the world? Yep, in 1778 the Mongolian government established the area surrounding Bogd Khah Uul Mountain as a national park. We are so glad that there are 58 national parks in the United Sates for everyone to explore.
We have been to Hawai'i Volcanoes National Park, Pinnacles National Park, Olympic National Park, Arches National Park , Canyonlands, and many other but Yosemite is by far one of the most celebrated National Parks that we have enjoyed. People travel from all over the world to see what the fuss is all about.  We are very blessed to live only 3 hours away from this extraordinary place so we have been here multiple times and we still have many trails to explore.
Most people when they hear Yosemite their mind automatically goes to Half Dome and the beautiful Yosemite Valley with all its beautiful waterfalls and amazing scenery. On this day trip we decided to take Tioga Road through Yosemite all the way to Mono Lake.
Olmsted Point
Here you get a view towards the Yosemite Valley and you can clearly see the half Dome so even on this road you know you are in Yosemite. However, when you get to the end of the parking lot it opens up a whole new view of Yosemite with its view of Tenaya Canyon.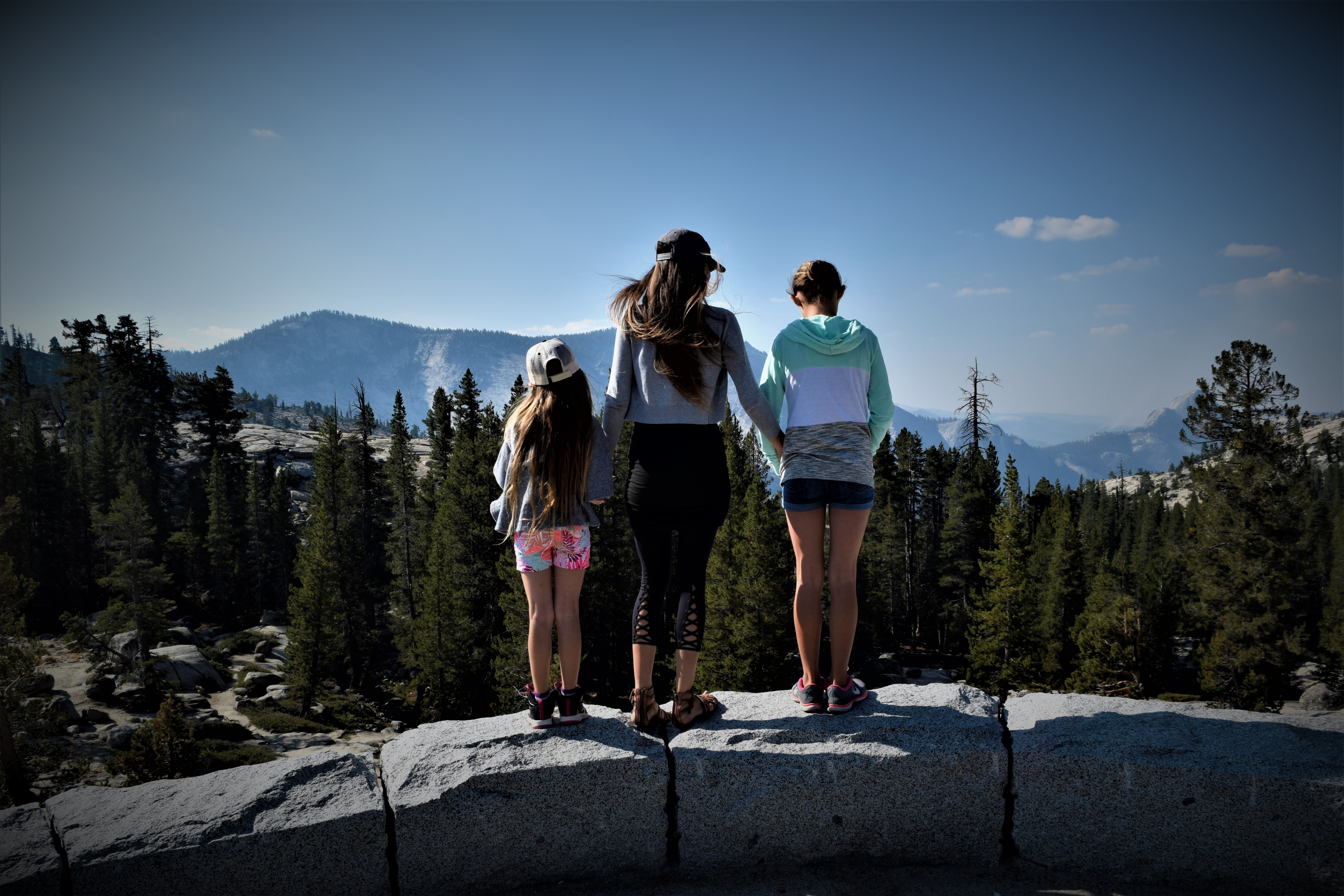 Tenaya Lake
It is no wonder that Tenaya Lake is referred to "Jewel of the High Country." This lake has clear water that you can see all the way to the bottom and with the reflection of the clouds and mountains. Bringing our canoe here would be a great idea.
Pothole Dome
This is definitely not like hiking up half dome but for an easy hike it is hard to image a better payoff. This hike is only 1 miles long (round trip). Here you hike through the meadow for a bit and then you start going up to the top of the Dome. It is only 239 feet elevation gain but it gets you way above the tree line and opens up an amazing 360 degrees view of the meadows, cathedral peak, and the surrounding mountains. If your not able to do a long hike, due to time, then this is one hike you will not want to miss.
The best time to visit is June until September.
Tuolume Meadows
This is a beautiful meadow through which Tuolume River runs through with all its tributaries. Most of this area is off limits due to the meadow restoration so you'll want to stay on the trail. The river is so pretty because the water is clear enough for you to see fish swimming in it. What got us the most was the color of the rocks and the way they look when water runs through it. The water is so cold that it makes us wonder that if it is this cold in September, how cold is it in May?
The road from Yosemite to Mono Lake is an adventure in itself. As you start descending from Yosemite National Park to Mono Basin the first thought that might pop into your mind is, " I wonder why this is not part of a National Park. " It is that spectacular.
Mono Lake
Once you get to Mono Lake you feel like you are in a whole different world. It is warmer, you see no longer granite but tufas and your surrounded by sage bush and not a forest. We were given a small container to take some water out and see what we were able to see in the water. Brine shrimp and black flies thrive in this salt water. In this water there are brine shrimp species that are not found anywhere else in the world. I wish we could spend all day observing the brine shrimp. Did you know that the lake's alkalinity is pH 10. It is incredible how much hydroxide ions Mono Lake contains.
I also wish that we had brought our pH paper with us as well as our microscope. This is our third visit to Mono Lake and I can't wait to come here again and swim here because it is said that you can't sink in this water but instead you'll float without putting any effort. Now we just have to get past the idea of getting in water that is 2 and a 1/2 times saltier than the ocean and is covered with flies and shrimp. We will just have to make sure we will be able to take a shower right after it but I'm so up for the challenge.
Hands on Learning
We decided to hatch brine shrimp ourselves. They hatch within 24 hours and all you need is a glass container, bottled water, sea salt, and brine shrimp eggs which we ordered from Home Science Tools. They are extremely small. We were able to see them but my camera had a hard time capturing them. We learned about their life cycle and all about the effects of pH and environmental changes. We used a pH paper and I'd have to say that my younger daughter Eve thought it was magic.
Thank you for reading our post. We share a new post every Thursday at 8 pm. Have you ever been to Yosemite or Mono Lake? Would you dare swim in Mono Lake?